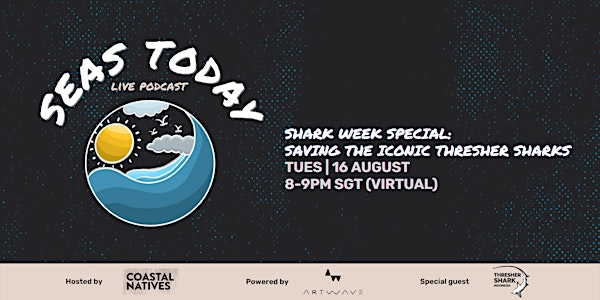 Seas Today LIVE Ep.5 Shark Week Special: Saving the Iconic Thresher Sharks
In this episode, we learn more about the iconic thresher sharks and conservation efforts to save this species in Indonesia
About this event
Seas Today is an innovative series organised by Coastal Natives, powered by Artwave Studio. Aimed at developing wonder for the ocean, a special guest is invited each episode to explore exciting ocean topics ranging from marine life and fun facts, to current conservation topics and entire ecosystems. Tune in to the virtual event to take part in the interactive talkshow. A condensed version will be released at a later date as a podcast available on Spotify. This series is all about getting our audience excited about discovering the marine environment and taking a deep dive into all that it has to offer! Through channeling the passion of local and regional speakers, we hope to inspire viewers and listeners to start protecting the ocean they love today.
Episode 5 - Shark Week Special: Saving the Iconic Thresher Sharks
To celebrate shark week, in this episode of Seas Today, we're expanding into the Southeast Asian region and speaking to Rafid Shidqi, co-founder of Thresher Shark Indonesia. With strong interests in shark and ray conservation, Rafid began his journey with the Indonesian Manta Project, before dedicating his work to protecting thresher sharks. Collaborating with local communities, Rafid and his team develop long-term solutions that respect the rights of local livelihoods, while protecting the endangered shark species. During this casual evening chat, we'll learn more about these fascinating creatures who have roamed (or swam) our planet longer than the dinosaurs have, as well as what Thresher Shark Indonesia and the rest of us can do to protect them. Mark your calendars and join us on the 16th of August 2022, 8pm-9pm for a jawsome evening with Rafid!