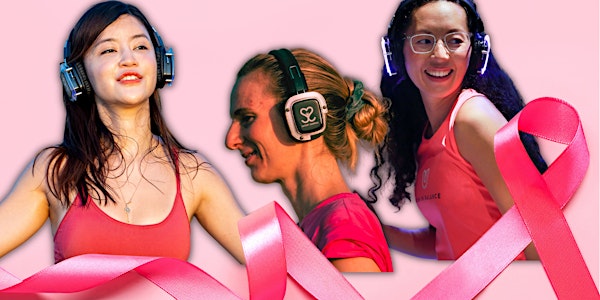 Secret Sunrise Singapore - I Pink I Can!
Join our Global Joy community, and celebrate the sunrise using wireless Headphones.
When and where
Location
Empress Lawn Fullerton Road Singapore Singapore
About this event
In the spirit of Breast Cancer Awareness month we are unifying the theme of our public dances, globally. So whether you are in Bali, Cape Town, Singapore, Amsterdam or anywhere in between... we invite you to come and dance in aid of Breast Cancer Awareness
In aid of Breast Cancer Awareness Month we invite you to come and dance with us, in unity and community
We are holding this session at the Empress Lawn in front of the Asian Civilisations Museum, although there might be a change in venue to Fort Canning, depending on the availability of space at Empress Lawn
Session starts at 6:30am!!! The magic is at Sunrise!
WHAT TO EXPECTUsing headphone technology, headsets are handed to you on arrival. Our accredited facilitators guide you through a series of music of all genres. Secret Sunrise sessions encompass a variety of mindful practices, including meditation, breath work, movement and dance.
Each session is unique, often curated according to a theme that attendees come together to celebrate and are encouraged to dress up. We welcome all bodies, ages and fitness levels, backgrounds and creeds. Our sessions are fully accessible to everybody.
THE VALUE OF ATTENDING
The formulae which makes Secret Sunrise such a success over the past decade includes evidence based health benefits underpinned by a science called psychoneuroimmunology. This fascinating and HOPE filled evidence is clear and unquestionable; the community aspects, initial awkwardness, playful interaction and meditative elements affect your hormone expression, epigenetics, towards health and regeneration in our physical bodies. Plus the exercise, laughter and beauty of nature make it fun, joy filled and a space to safely feel the good feels.
Support for The Breast Cancer Foundation Singapore
A percentage of ticket sales will be donated to the Breast Cancer Foundation (BCF)
It is a social service agency which advocates for the early detection of breast cancer and supports the breast cancer community in Singapore.Established since 1997 in Singapore, BCF actively raises breast cancer awareness through talks, events, research and publications that advocate for early detection through regular screening.BCF supports those affected by breast cancer through psycho-social programmes, support groups and befriending activities.BCF offers subsidy assistance to support low-income women for their first-time mammogram screenings and runs a complimentary wig loan programme.As a registered charity in Singapore, BCF is self-funded and is dependent on public donations to provide quality services and programmes for more women and their families.BCF runs Singapore's very first Breast Cancer Centre at Sin Ming Court. The Centre also welcomes members of the public who wish to find out more about breast cancer.
What to bring:
- Comfortable colourful clothes that you can dance, move and sweat in : Dress in Pink!
- Comfortable shoes (although we do often dance barefoot and feel the grass under our feet)
- Some water as we'll be dancing for an hour.
Rain plan:
Until you hear otherwise, always assume that the session is taking place.
We will make the final call one and a half hours prior to the start of the session as to whether the class can take place. Unfortunately our headsets are not "downpour proof", but we do like dancing in the rain.
In the event of cancellation, you will be notified with an email that you provide on your reservation informing you of the cancellation. Your credit will be transferred to a future session of your choice, subject to availability.
TERMS AND CONDITIONS
No refunds within 72 hours of the session and no transfers to future events
If you can no longer attend, please request a refund >72 hours in advance
Transfers to other events within this 72 hours is also not possible.
PLEASE INFORM SINGAPORE@SECRETSUNRISE.COM IF YOU DO NOT WISH FOR YOUR PHOTOS TO BE USED
By purchasing tickets you automatically agree to Secret Sunrise using any photos taken on social media or for other marketing material.
PLEASE INFORM SINGAPORE@SECRETSUNRISE.COM IF YOU DO NOT WISH FOR YOUR PHOTOS TO BE USED
Disclaimer: Secret Sunrise, Secret Sunrise Singapore and it's facilitators will not be held liable for any loss, theft or damage to personal property or self.