Description
Organizations can greatly achieve benefits from emerging technologies. But in doing so, they must recognize and manage the risks created by these new technologies. In this seminar, AISP present to the audience the insights of Cloud and Near Field Communication (NFC) technology and their associated cyber risks delivered by industry experts.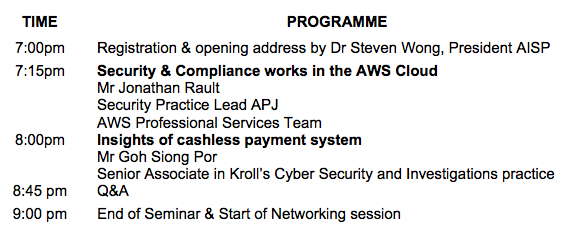 Industry Experts
Jonathan Rault
Security Practice Lead APJ, AWS Professional Services Team
https://sg.linkedin.com/in/jonathanrault
Jonathan specializes in cloud security, risk and compliance. He has worked in various regulated environments for major banks, insurance and sensitive business in the United States, France and Asia-Pacific where he is responsible for managing organization-wide information security programs.
Within AWS, large enterprises tap on his expertise to evolve their security strategy, policies and processes for a secure cloud adoption. Additionally, Jonathan enables customer teams in aspects of cloud security and provides guidance on the implementation and automation of cloud controls. His goal is for AWS customers to harness the full potential of their Cloud environment platform with continuous visibility on their security posture and compliance.
Synopsis
This talk aim to provide you a strong foundation on how Security and Compliance works in the AWS Cloud: from assisting on the due diligence to be performed by Customers to the due care Customers can apply. Additionally, it covers a range of security recommendations for Identity and Access Management, Logging and Monitoring, Infrastructure Security, and Data Protection for Customers running their architecture in the Cloud using AWS security services.
Mr Goh Siong Por
Senior Associate in Kroll's Cyber Security and Investigations Practice
Siong Por is a Senior Associate in Kroll's Cyber Security and Investigations practice, based in the Singapore office. His key areas of expertise include wireless and Near Field Communication (NFC) assessment, external and internal network penetration testing, web application and mobile application penetration testing and source code review. He has performed various red teaming exercises with resulted in gaining system privilege in clients' domain controllers.
Siong Por holds Offensive Security Certified Expert (OSCE), Offensive Security Certified Professional (OSCP), Crest Registered Tester (CRT), Certified Hacking Forensic Investigator (CHFI).
Synopsis
As technology advances, there's more and more usage of near field communication (NFC) in payment system and security definitely plays a critical role in the ecosystem. This presentation provides insights of the implementation and used technology in a cashless payment system, identified strengths and weaknesses of the technology as well as the exploitable vulnerabilities in some payment systems. A demo of successful attacks will be demonstrated in the presentation.
Admission & Fee
This seminar is open to the public with a fee of S$21.40 (inclusive of GST). Free admission for AISP members and partners.