Seed to Soul is Crane's monthly celebration of all things green and glorious!
About this event
Centered around the themes of sustainability and holistic wellness, Seed to Soul allows you to explore the many ways in which you can live your best life. From natural products to upcycling, mindfulness practices to family time, you'll find it all here! Make it a fun learning experience with floral jam, candlemaking ,home composting, pizza jam for the kiddos; or pop in to try nature sounds meditation and laughter yoga.
Please note this ticket is for ENTRY ONLY. Seperate fees apply for individual workshops.
Featuring:
Flower Jam Workshop (Beverley's Blooms) - @HERON
This is a fun and casual flower jamming session with light guidance by Min of Beverly's Blooms! (@beverlysblooms)
In this session, you'll learn practical tips on how to mix and match blooms to create something stunning, which flowers and foliage are easy to find in Singapore that can last longer, and ample free time to freestyle your arrangement in a vase.
Connect with like-minded people in a hands-on approach to learning while being inspired and creative. Learn relevant principles and elements of design to create inspiring floristry pieces to show to your family and friends. Take home your creations and impress everyone!
Crane Members: $60
Non Members: $65
3 Sessions: 12-1pm, 2-3pm, 4-5pm
10 Pax Per session
Pre-Purchasehttps://www.eventbrite.sg/e/seed-to-soul-flower-party-with-beverlys-blooms-tickets-98552692757
Sound & Nature Meditation @ TSURURegistration Booth at the door. Enter a multi-sensory experience. In soothing, dim light, with visual and audio projections of nature and essential oils. Sound therapist Amelia Kang will take you on a sound journey like no other, channeling the power of nature to soothe your soul. by @ADLHolistic
Experience runs every 15-20min.
Drop-Ins welcome.
Candlemaking with Moana @GRU
Learn how to make your own aromatherapy Soy Wax Candle with us! Enjoy a fun and informative session where you will learn more about essential oils, its characteristic and therapeutic benefits. We will guide you through the different aromas and notes and help you blend your very own personal blend. Experience over 20+ different essential oils.
We will identify your birthstone crystal and explain the healing benefits of your crystal. Combined with your essential oil blend you will create your very own personal crystal candle!
Each participant gets to take home 1 x 150ml Soy Wax Crystal Candle, you may make your own blend or can follow one of our recipes. by @moana.skin
3 Sessions: 12pm, 2pmCrane Members: $69Non Members: $80Pre-Purchase: https://www.eventbrite.sg/e/crystal-candle-workshop-introduction-to-essential-oils-candle-making-tickets-119972168987
Pizza Jam with Susan @ KINGFISHER
You've all seen baker Susan Lim's amazing sourdough loaves at Magpie market! Join Susan for this fun, child-friendly Pizza Jam with sourdough pizza base and Timperio olive oil. Learn the secrets and health benefits of real sourdough, while having fun with the kiddos! Recommended for 8 years and above with parental supervision.
3 sessions: 1pm, 3pm, 5pmCrane Members: $18Non Membes: $2530-45min eachby @bread.natural.way
Pre-Purchase: https://www.eventbrite.sg/e/pizza-jam-a-seed-to-soul-workshop-tickets-120934166347
Home Composting Workshop with Bollywood Adventures @SWIFT60 minutesJoin urban farmer and educator Ee Peng A 60 minute workshop that will bring you closer to waste-free living! Learn how to convert your daily food waste into compost to grow your own little urban garden. Topics covered include the basics of sorting food waste, types of kitchen waste for aerobic composting, simple composting system set ups at home and different examples of composting set ups for different needs. Participants will be encouraged to collect and bring their own kitchen waste for further discussion. by @bollywood_adventures
Upcycling Booth by Bollywood AdventuresWant to get crafty with recycled bottles, containers, scrap cloth and even empty toilet rolls? Bring your own or use some of our materials to create functional and aesthetic upcycled pieces for your home! Make things like wall ornaments, dream catchers, pouches and little bug houses for your garden. Great for kids and adults.
Walk in, $5-$20. By @bollywood_adventures
Mental Health & Diet
How does mental health affect the way you eat - and vice versa? Learn more in this free entry, 30min workshop on healthy eating with Ania of Living Veggie by Ania!
12pm & 2pm
Persian Journey: Culture & Cuisine
Persian cuisine is hard to find. It is full of exotic flavours, scents and textures that you rarely encounter in any other type of cuisine. Learn more with Ania of Living Veggie by Ania!
$10 per entry
1pm & 3pm
Introduction to Laughter Yoga, 5pm at our newly launched outdoor deck!
30min session by @theschoolofmid.lifeLaughter yoga (Hasyayoga) is a modern exercise involving prolonged voluntary laughter. This type of yoga is based on the belief that voluntary laughter provides similar physiological and psychological benefits as spontaneous laughter. It is usually done in groups, with eye contact and much playfulness between participants. Intentional laughter often turns into real and contagious laughter.
If you've always wanted to try out this fun and fabulous way to destress, join Lisa and DJ at Crane on 4 October, as part of our Seed to Soul series of workshops!
Please note this event takes place OUTDOORS. (We will move indoors if there is wet weather)
FREE Registration
Pre Purchase: https://www.eventbrite.sg/e/laughing-yoga-a-seed-to-soul-workshop-tickets-120937151275
Pop-Up Gin Bar with @GainbrandsGain Brands is back with their ever-popular gin bar! Discover artisanal gins from around the world, and get a little advice on how to mix the best possible g&t in your own home!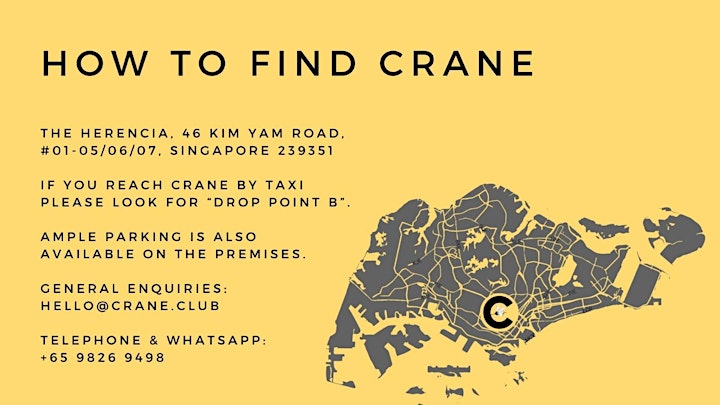 Organiser of Seed to Soul: Celebrate Nature