Seed to Soul is Crane's monthly celebration of sustainability and holistic wellness, in support of local businesses and causes.
About this event
Every month Seed to Soul by CRANE will celebrate a different theme.
We'll bring you marketplaces with local small businesses, from artisanal crafts to homemade F&B workshops to discover a greener and better way to live; and a chance to meet and mingle with like-minded folks in a vibrant and eclectic atmosphere.
Entry to the event is free.
Fees apply for individual workshops and services.
Follow the links to see each month's theme.
SAT 16th OCT 2021
SEED TO SOUL presents SELF-MADE
SEED TO SOUL is the inclusive all-encompassing banner event hosted by CRANE.
On 16 October, Crane celebrates the handmade, hand-built and hand-grown.
We've invited carpenters, bag-makers, resin craftspersons and even tattoo artists to showcase their work here at Crane.
In conjunction with this, we'll also be running a Farmer's Market (you can't get more hands-on than organic farming!), and a delicious brunch will be available from Bollywood Adventures' Earth Shop & Cafe (pre-booking essential!)
This time round we celebrate ownership and authorship manifested in the most tangible forms.
Co-curated primarily with alumni and the brainchild of the punk rooted, decade-old Distro Day Out series, we present SEED TO SOUL : SELF-MADE!
Run in tandem with a buffet of vendors and workshops, SELF-MADE is a representation of sustainability stories from the DIY subculture circles!
Be treated to pop ups by
STRAITS RECORDS : amongst the longest running DIY record stores, first starting out in a few spots across Kampong Glam and Balestier and then culminating in their most recent residency in the recently-closed seminal artspace: The Substation.
EMPRINSTIC : nestled in a quiet shophouse in Geylang, meet the master of self-printed shirts, tote bags and other paraphernalia and accessories.
VIVOS APPARATUS : a one-woman show in many ways, Vivos Apparatus is behind the impressive array of backpacks, sling bags and more!
AGAINST THE GRAIN : from boxes to containers to shelves, ATG does them all! Known for coming up with wondrous wooden wonders for all uses and purposes!
VIVA LA VIDA Tattoos : with their flagship store in Madras Street then moving to different parts of Balestier, VIVA LA VIDA Tattoos is a husband-and-wife duo doing tattoos of all shapes and sizes! Get inked!
POPPYXCRAFTS : Come experience this creative pixie effort of home wares with jesmonite, resin and clay!
***
EVENT RUN DOWN
11am-1pm: Brunch with Earth Shop & Cafe (Register with https://www.bollywoodadventures.com/public-events/)
11am-5pm: Farmer's Market (open to public - workshops can be found on https://www.bollywoodadventures.com/public-events/)
1:30 & 4:30pm: Flower Arranging Classes by Beth Glory Floral Design (Register separately at wearecrane.com/happenings)
12noon - 7pm : SEED TO SOUL presents SELF-MADE (AVIARY, TSURU)
MORE ABOUT THE FARMER'S MARKET!
Register for workshops with Bollywood Adventures (https://www.bollywoodadventures.com/public-events/)
11am - 2pm Farmers Brunch (Ticketed and walk in)
1130am - 1230pm Urban Chicken Husbandry, including hands on session with live chickens (Indoor Meeting Room & Outdoor Deck)
130pm - 230pm Meet the Farm Animals, including hands on sessions with chicks, quails and frogs (Indoor Meeting Room & Outdoor Deck)
230pm - 330pm Microfarming and Food Composting Workshop (Common Area)
330pm - 430pm Kokedama and Succulents Workshop (Common Area)
11am - 5pm: Mini Farmers Market - Sale of Local produce (eggs, aquaponic vegetables, fish, goats milk, hashima, herbs (Common Area)
***
Time slot registration is required for crowd control.
Vaccinated attendees only please (excepting children under 12years).
Registration for Brunch will be organised separately by Bollywood Adventures.
To register for Brunch & Flower Arranging Classes, look for separate links on wearecrane.com/happenings.
Social distancing measures are in place.
Entry is staggered for crowd control purposes.
Please keep to your designated social group according to restrictions in place during this time period.
Masks must remain on unless eating or drinking.
Strictly vaccinated attendees only.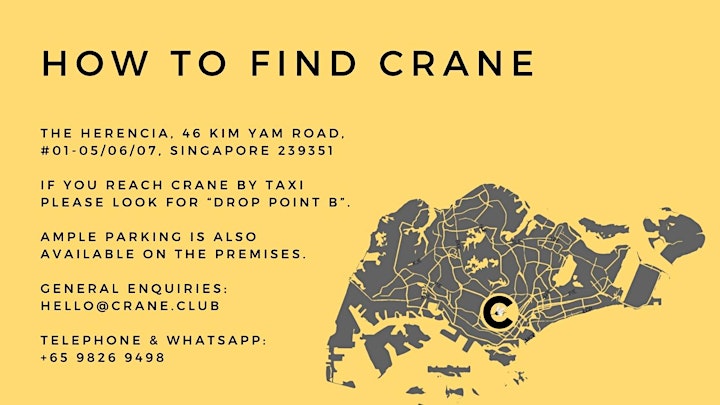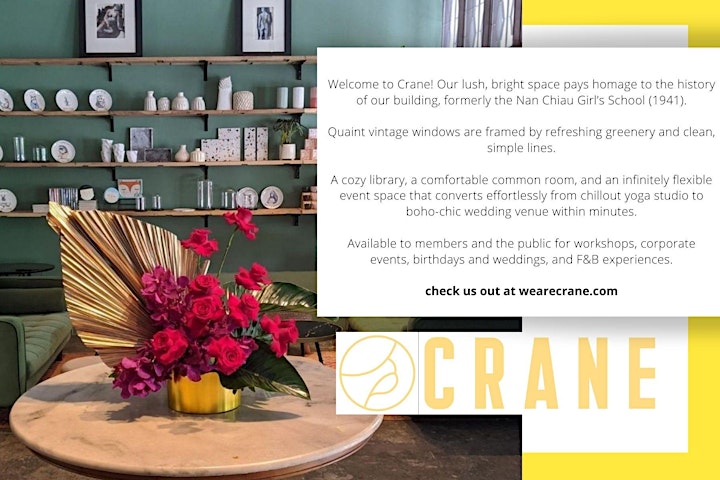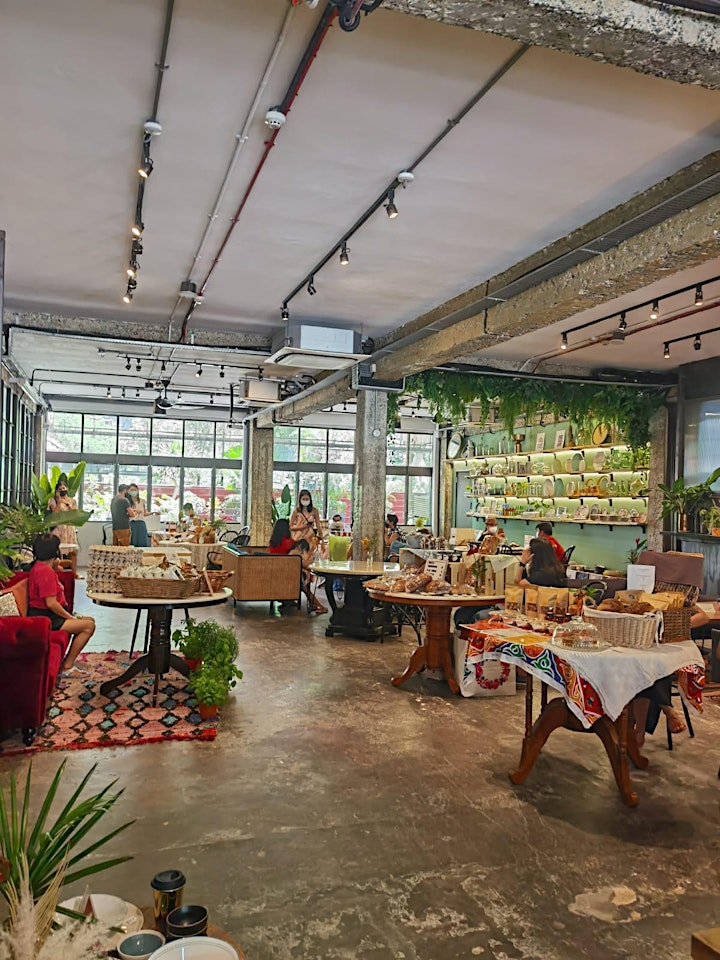 Organiser of Seed To Soul: Self-Made