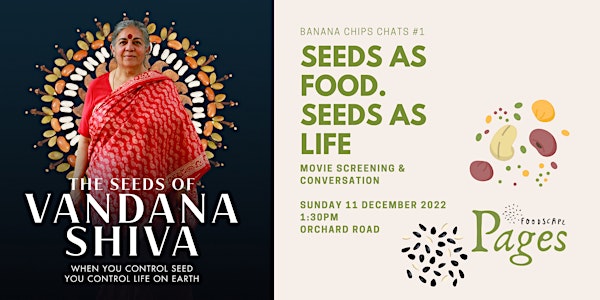 Seeds as Food. Seeds as Life. Movie Screening & Conversation
Please join us for a movie and conversations around these tiny and yet powerful elements in our ecosystem and society
When and where
Location
Orchard Road Orchard Road Singapore Singapore
About this event
Foodscape Pages is excited to host a community screening and casual conversation around Seeds, and officially celebrate the launch of the Second Issue of our Journazine, The Sauce.
Location
Orchard area, near Lucky Plaza department store*
* Exact address will be provided closer to the date upon registration. The event will be held indoor.
*Chairs are limited, so feel free to bring your own yoga mat/camping chair/cushion to make yourself comfortable!
Program
1:30 pm | HOUSE OPEN | Welcome, Introductions and Chit Chat
2:00 pm | MOVIE SCREENING | "The Seeds of Vandana Shiva" - check out the trailer below!
3:30 pm | CONVERSATION with Guest Speakers Aditi Punj Sood and Nithiya N Laila, and Moderator Megan Sin
4:15 pm | POTLUCK REFRESHMENTS | bring a simple dish/snack/drink to share with the community and your own serving utensils :)
5:00 pm | END OF EVENT - let's go home inspired and stay in touch!
About Foodscape Pages
Foodscape Pages is a community-driven platform for publications and gatherings that inspire meaningful conversations and new perspectives around the ecology and culture of food. Through the lens and medium of food, we hold space for personal stories of lived experiences and direct connections with practitioners on the ground.
Foodscape Pages is an editorially independent initiative of Foodscape Collective.
If you are an old friend of Foodscape Pages, we look forward to reconnect in person!
For those new to us, we welcome you to join us in our explorations in the ecology and culture of food, biodiversity, inclusivity, regenerative ways of living, and much more!
Visit our Website and IG Page
---
About the Speakers
Aditi Punj Sood's journey in Anthropology led to a deep exploration of food and agriculture. She has worked on farms since 2012, spanning the US, Singapore and India, including Navdanya with the remarkable Dr. Vandana Shiva.
She's grown food in the ground and greenhouses, on rooftops and vertical racks. A big believer in food and farming as equalisers, Aditi has been teaching and designing engagement programs on environmental education for 10 years. Most recently, she's written a curriculum for Living Soil, with the intention of creating open spaces for conversations and learnings on regenerating the interconnected communities below and above ground.
Nithya N Laila has dedicated a decade to educating people of all ages on the importance of culturally diverse diets and quality farm to table artisanal produce, while preserving biodiversity and ensuring longevity of the planet's resources. In addition to her sold out cultural dining pop ups and farmers markets, she is an award-winning TV presenter on Channel News Asia Singapore for 'Edible Wild', a traveling docu-series featuring how ultra urbanites of Asia's megacities grow, forage and cook with indigenous ingredients. Her current focus is on a biodiverse diet for the Global South, creating mindshifts in the value and aspiration for locally grown ingredients. She has been profiled for her work in the field of sustainability in Vogue, Tatler, Female Magazine and Singapore Tourism Board amongst others.
Megan Sin Megan finds herself with multiple foots in different fields — in performance, in experimental writing, in literature and in gardens and not-gardens. Seemingly unrelated but all connected, through love for food, care for nature and humans.
Currently, she is the co-editor of Foodscape Pages and the second issue of The Sauce - On Seeds, and endeavouring into research on ecofeminism, looking forward to where she will be heading next…