About this Event
CEO, COO, Director of Business Development, Director of Supply Chain and Logistics, Business Owners of SMEs and all key decision makers who are involved in ASEAN, Asia, global expansion, internationalisation strategies and planning should attend to find out about strategies that can be taken to diversify/expand into the region in a more than ever threatening trade environment.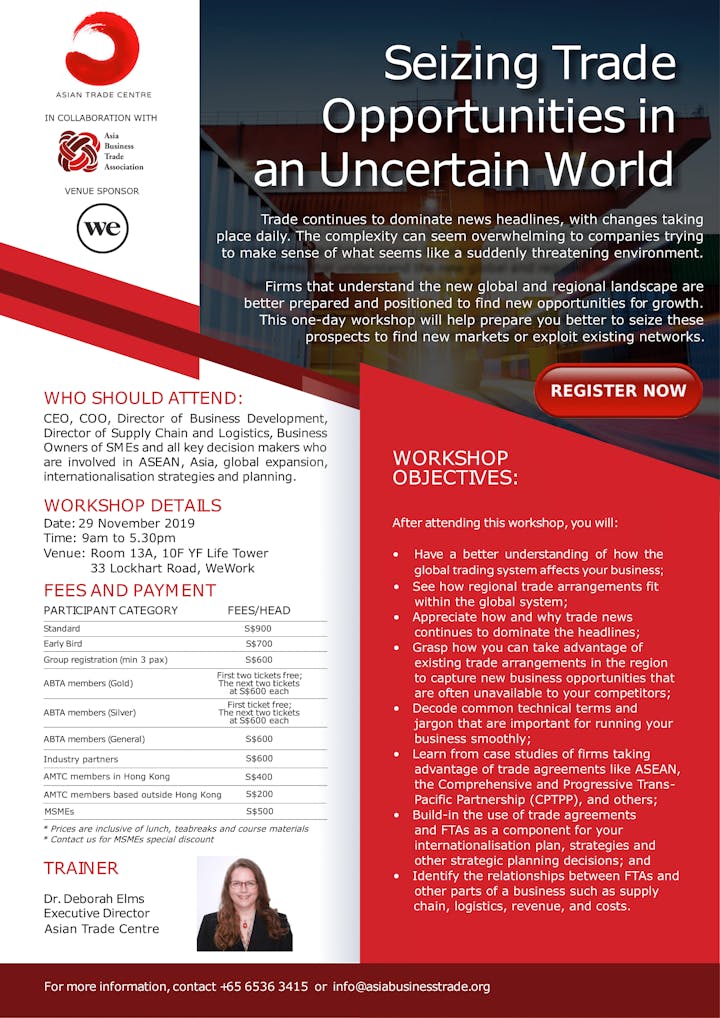 TRAINER PROFILE
Dr. Deborah Elms
Executive Director, Asian Trade Centre
Dr. Deborah Elms is the Founder and Executive Director of the Asian Trade Centre (ATC). She is Vice Chair of the Advisory Board for the Asia Business Trade Association (ABTA), Co-Chair of the Trade Policy Committee of the Global Trade Professionals Alliance (GTPA), and also a senior fellow in the Singapore Ministry of Trade and Industry's Trade Academy.
Previously, Dr. Elms was head of the Temasek Foundation Centre for Trade & Negotiations (TFCTN) and Senior Fellow of International Political Economy at the S. Rajaratnam School of International Studies at Nanyang Technological University, Singapore.
Dr. Elms received a PhD in political science from the University of Washington, a MA in international relations from the University of Southern California, and bachelor's degrees from Boston University. Dr. Elms publishes the Talking Trade Blog.
Contact info@asiabusinesstrade.org for more information and special discounts.
Visit our web page here.