About this Event
Trade continues to dominate news headlines, with changes taking place daily. The complexity can seem overwhelming to companies trying to make sense of what seems like a suddenly threatening environment.
Firms that understand the new global and regional landscape are better prepared and positioned to find new opportunities for growth. This one-day workshop will help prepare you better to seize these prospects to find new markets or exploit existing networks.
CEO, COO, Director of Business Development, Director of Supply Chain and Logistics, Business Owners of SMEs and all key decision makers who are involved in ASEAN, Asia, global expansion, internationalisation strategies and planning should attend this in-depth training to gain further insights on how to diversify/expand your regional footprint.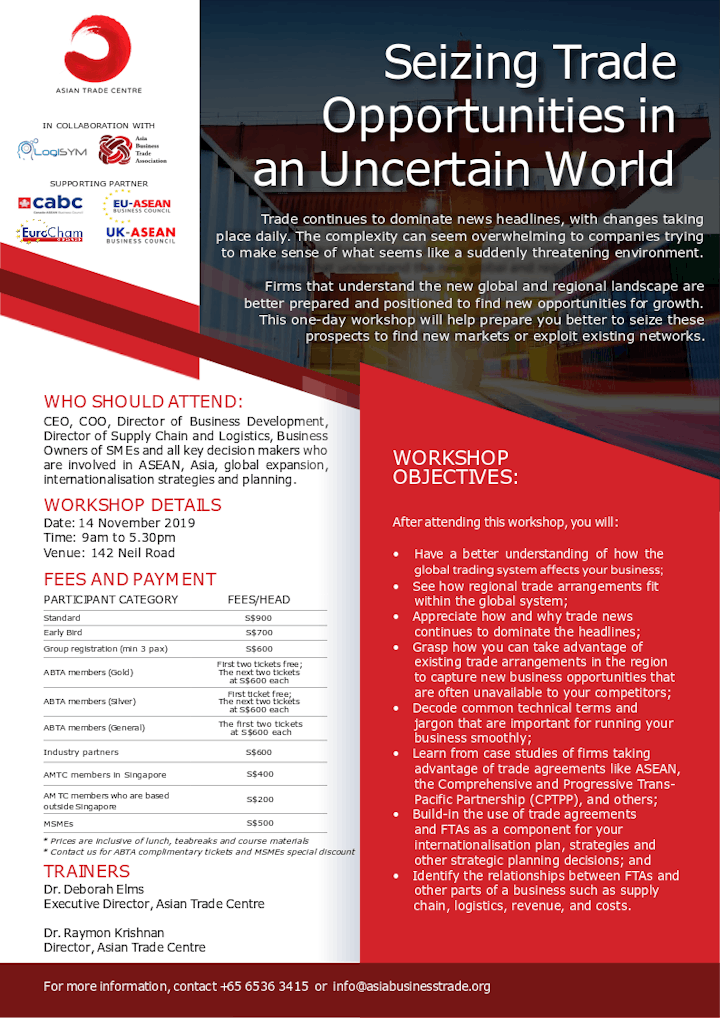 TRAINERS PROFILE
Dr. Deborah Elms
Executive Director, Asian Trade Centre
Dr. Deborah Elms is the Founder and Executive Director of the Asian Trade Centre (ATC). She is Vice Chair of the Advisory Board for the Asia Business Trade Association (ABTA), Co-Chair of the Trade Policy Committee of the Global Trade Professionals Alliance (GTPA), and also a senior fellow in the Singapore Ministry of Trade and Industry's Trade Academy.Previously, Dr. Elms was head of the Temasek Foundation Centre for Trade & Negotiations (TFCTN) and Senior Fellow of International Political Economy at the S. Rajaratnam School of International Studies at Nanyang Technological University, Singapore.Dr. Elms received a PhD in political science from the University of Washington, a MA in international relations from the University of Southern California, and bachelor's degrees from Boston University. Dr. Elms publishes the Talking Trade Blog.
Dr. Raymon Krishnan
Director, Asian Trade Centre
Dr. Raymon Krishnan is the Director at the Asian Trade Centre Foundation (ATCF) and the Asian Trade Centre (ATC). He works with clients on supply chain diagnosis, strategy and network design. Raymon has close to thirty years experience in logistics and supply chain management as an end user, educationist and service provider. He currently serves as President of The Logistics & Supply Chain Management Society and is Editor-At-Large of LogiSYM, the collaborative platform of the Society. Raymon's experience covers the full Logistics spectrum, from raw material procurement to physical distribution and eventually customer service and care, with a strong grounding in Quality and Six Sigma. He was the Global Commercial Director for 3PL with operations worldwide and prior to this role, he was responsible for Asia Pacific Logistics & Trade Compliance for W.R. Grace.
Raymon holds a degree in Logistics from the Royal Melbourne Institute of Technology and a Master of International Business from the University of Wollongong and a Doctorate in Business Administration. He is also a Fellow of the Chartered Institute of Logistics and Transport and The Australian Logistics Academy and Associate Fellow of the Australian Institute of Management and was an Honorary Fellow of the University of Wollongong.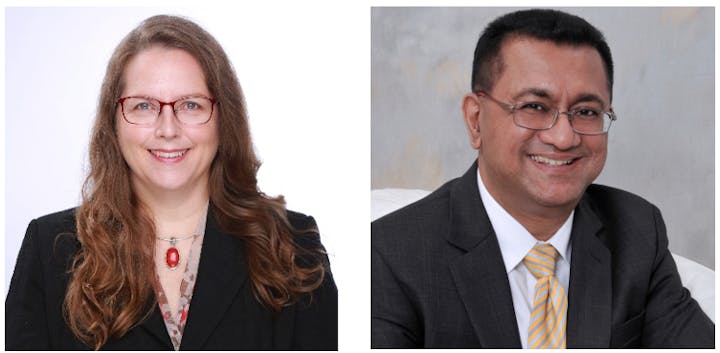 Contact jiahui@asiantradecentre.org for ABTA complimentary tickets and special discounts for MSMEs.