Description
Crossing from one city to another, the magical social event of Drinks Entrepreneur is finally coming to Jakarta, Indonesia!!! Get ready for the one event that connects the world's start up eco system...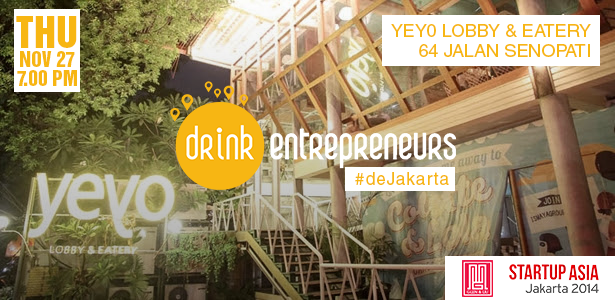 What is Drinks Entrepreneur?

DE is a monthly social event for entrepreneurs to gain connections over a relaxed and chill environment. DE is all about fostering entrepreneurship around the world, being the catalyser of innovation, execution, synergies by connecting entrepreneur-minded people in a friendly way.
It about creating the perfect environment where magical serendipity is likely to happen, where people with the same interest or values will socialize, meet each other informally, make friends inside the community and then help each other, inspire others, work together and in a common effort to achieve their dreams, change the world.
DE believe that magical connections always happen over beer or whisky. It is not just a networking but a social event for entrepreneurship ecosystem, which is totally different from the "entrepreneurs events.

(DE first started off in San Francisco and till date is active in 30+ cities all over the world)
When is Drinks Entrepreneur Jakarta?

Date: 27th November 2014
Time: 7 - 11 pm
Venue: Yeyo Lobby & Eatery
Dress Code: Anything comfy...you can even come naked! (but please dont blame me if you get caught by police. :P)

All magic happens over alcohol
All you need to do is to arm yourself with at least 1 beer from the bar and then start connecting!! If you had always been a shy person, not to worry! We have what we call: "The Linkers" on the day to help break the ice and connect you to another person!

Because we believe every business can start around a drink...

Who knows you may meet your next partner, coder, designer or even investor!

Reserve your tickets now!! Its FREE!!

LATEST UPDATES

- We just got confirmed with Start Up Asia Jakarta and will serve as their official after party venue. RSVP with us and get a special discount code to the party.
- Grabtaxi is our official transport partner and will give all DE attendees cashback worth at 40k Rupiah for usage of normal taxis and 80k rupiah for usage of their premium taxis. Download the grabtaxi app now and GRAB A TAXI to DE PARTY!

Download here
Google Play Store:
https://play.google.com/store/apps/details?id=com.grabtaxi.passenger

iOS App Store:
https://itunes.apple.com/en/app/grabtaxi-book-a-taxi/id647268330?mt=8
Also, stand a chance to win an iPhone6 when you ride with GrabTaxi! More details here: http://grabtaxi.com/jakarta-indonesia-en/great-grabtaxi-giveaway/