Description
Happiness is a Choice Seminar - Learnings from Bhutan (Oct 5, Thurs)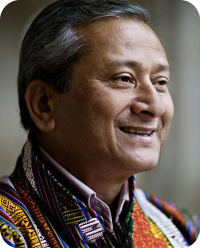 Speaker: Dr Saamdu Chetri, Executive Director of Bhutan's Gross National Happiness Centre
Dr. Saamdu Chetri was born on 15 October 1957 in rural Bhutan in a cowshed and holds a PhD in Commerce. He was the first government graduate who chose to work on the development of the private sector in the country in 1982, working closely with TATA, Tractors India Limited, McLean Magor and Durgapur Steel Plant, among others.
He has 18 years of experience in socio-economic development, working as the Bhutanese Head for bilateral development programmes in and outside Bhutan, engaging in consultancies for organizations including UNDP, UNCDF, and Helvetas. His experience and expertise range include rural development, microfinance, teaching, research, project management and administration.
He was appointed to the Office of the first democratically elected Prime Minister in May 2008. In Oct 2011, he was tasked to establish the Gross National Happiness Centre and now serves as its Executive Director. He has been travelling around the world sharing Bhutan's Gross National Happiness and learning from other countries as well.
Dr. Chetri has published many articles and written two books: 'Money and Microenterprises' and 'Far Apart and Close Together'. He has also contributed to the books on Gross National Happiness.
He was featured by BBC: http://www.bbc.com/news/world-asia-33617673