Description
CALLING ALL YOUTHS AGED 35 AND BELOW! :)
Are you...
TECH-savvy? Sure.
A savvy SHOPPER? You can say that.
How about SENIOR SAVVY? :) ...maybe?
Come join us for a day of learning, exploration and inspiration as eldercare-related groups from almost every corner of our sunny little island converge, to engage YOU(ths) on the various eldercare causes they champion!
Look forward to:
1. Gaining new insights and perspectives on a myriad of issues related to eldercare, from elderly poverty to the creation of dementia-friendly communities, through talks, activities and exhibits!
2. Eldercare-related volunteering opportunities!
3. Learning new skills that can help you volunteer more effectively with the elderly, or simply take better care of the seniors around you. :)
Excited? Sign up for Senior Savvy 2018 today, and see you there! :)
(Senior Savvy 2018 is organised by the Eldercare Cluster, Youth Corps Singapore)
---
IMPORTANT! PLEASE READ BEFORE SIGNING UP!
1. Senior Savvy is a marketplace-type event, with exhibits, talks and activities on-going throughout the day. Participants are welcome to attend anytime, from 10am to 5pm.
2. After clicking on "Register", please select:
a) A General Admission ticket, AND
b) Tickets for any other talks and activities you may be interested in
3. Limited spaces for all the talks and activities - hurry and sign up today! :)
4. Please ensure that the timing of the talks and activities you sign up for DO NOT OVERLAP with one another. Check out the schedule for talks and activities below, or here!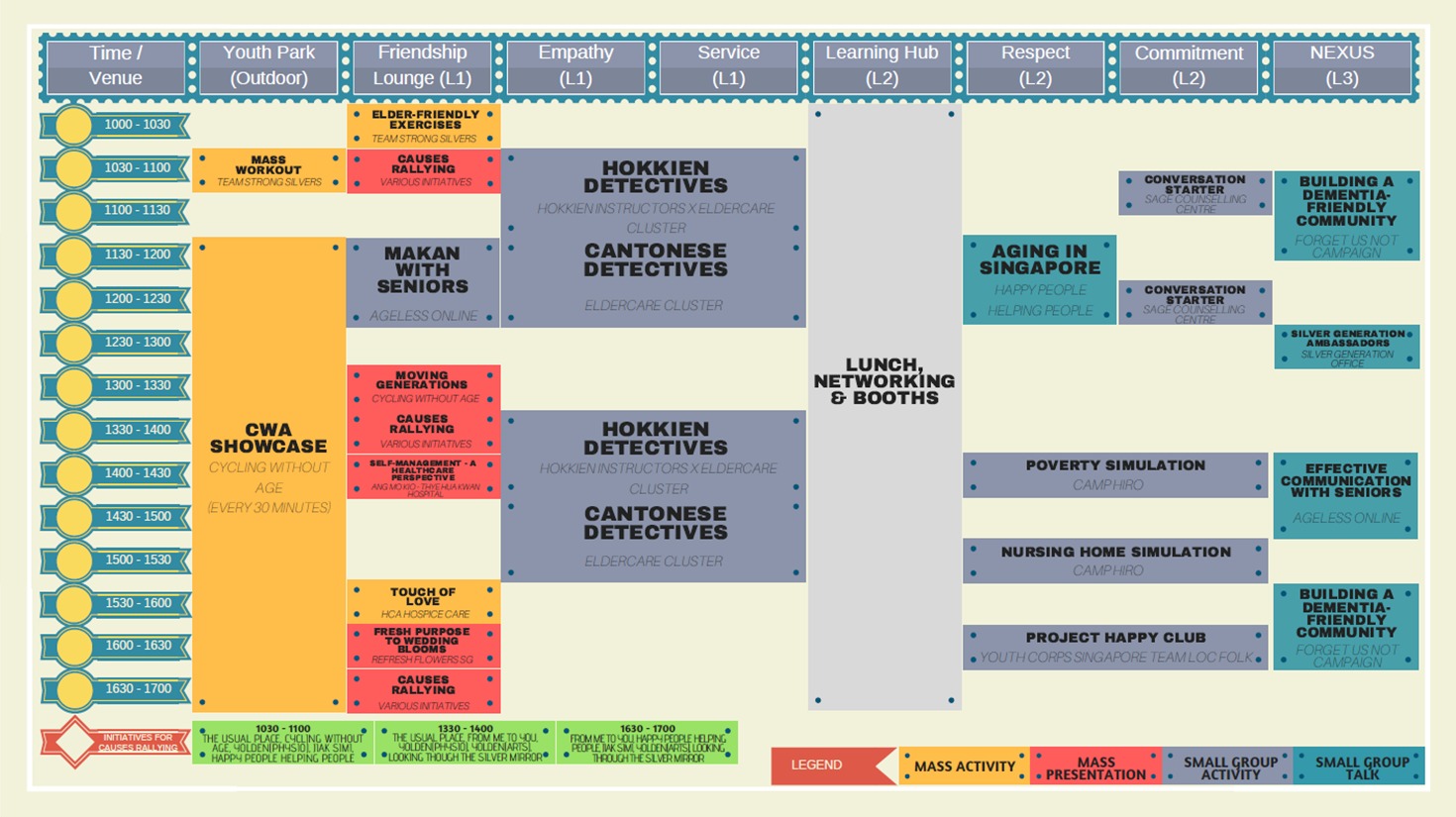 5. Although mainly targeted at youths (aged between 15 and 35), Senior Savvy 2018 welcomes participants of all ages.
6. Both Youth Corps Singapore (YCS) members and non-members (i.e. general public) are welcome.