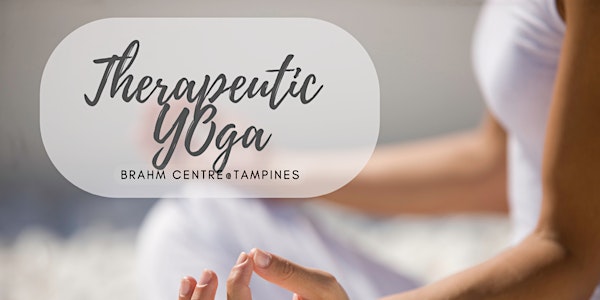 SEPTEMBER Therapeutic Yoga by Linda Wong (Saturday, 10.15am)-TP20220924TY2
Relax and melt away your tightness and stress through Yoga Practice.
When and where
Location
Brahm Centre @ Tampines Blk 473 Tampines Street 43 #01-94 Singapore, east 520473 Singapore
About this event
WHAT?
Therapeutic yoga is gentle to create space in areas that are compressed, relieve tight muscles and tightness in the body. It helps to induce the relaxation response when restorative postures are incorporated. Classes are designed to move slowly so you can feel what's happening on the inside. There is a strong focus on breath, and many aspects of the sequences are done dynamically in an effort to bring more blood flow to the muscles. The intention is to create healthy movement patterns so circulation can flow and improve joint mobility. Slowing down and being patient with your body will help you heal faster. It provides the opportunity to step away from the busy-ness of the outside world and access the deeper wisdom that resides within us. You will find more ease in your body, peace of mind, and greater levels of health and well-being.
*Mask will be worn throughout the session.
Please bring your own yoga mat, towel, and water bottle
WHEN?
Saturday, 24 September - 10.15am-11.15am
Saturday, 1 October - 10.15am-11.15am
Saturday, 8 October - 10.15am-11.15am
Saturday, 15 October - 10.15am-11.15am
Saturday, 22 October- 10.15am-11.15am
Saturday, 29 October - 10.15am-11.15am
Saturday, 5 November - 10.15am-11.15am
Saturday, 12 November - 10.15am-11.15am
Total: 8 Sessions
WHERE?
Brahm Centre @ Tampines
COURSE FEE:
$80.00 for 8 sessions.
**Please be advised that you are able to join the class mid-way during the month, however the fee ($80.00) remains the same regardless of registration date. There is no discount if you register partial way through the course.
Trainer's Bio:
Linda Wong has a passion for Yin Yoga, and is certified to teach Yin Yoga, Kids Yoga, as well as Yoga with Essential Oils. She is also a certified WuTao Dance Instructor.
Linda believes that both Yoga and dance are practices that quiet the mind, body and soul. These practices offer a perfect opportunity for you to be curious about who you are. They will also enable you to experience inner bliss and help you relax through movement. 
She is an advocate for life-long learning and is currently pursuing Mindfulness courses to integrate it into her teachings to share it with her students. 
*Please Note:ALL PAYMENTS ARE NON-REFUNDABLE