Learn 2 winter Qigong forms you can sequence intelligently into your Winter solstice Yoga workshops/classes for better balance and vitality.
About this event

"Thank you for a wonderful & informative masterclass!" - Jacqueline, Yoga Teacher & past masterclass participant
"Wenlin's masterclasses are intelligently structured to draw out what is deep inside you." - Rebecca, Yoga Teacher, Massage Therapist & Mentee
Learn two Qigong forms for Kidney health to support your Fertility, relating to the Water Element (Kidney/Bladder). Qigong is a mind-body energy-cultivation practice with roots in Chinese Medicine that coordinates your body (調身), breath (調息), and heart-mind (調心). This session will include theory as well as movement.
Beginners to Qigong are welcome.
INVESTMENT:
Program fee (US$49 | S$67) includes
1.5 CEUs with Yoga Alliance USA
Certificate of completion
Live participation on Zoom
2 weeks recording access afterwards. Link will be sent to your registered email.
For an idea of Wenlin's teaching style & testimonials from teachers who have trained with Wenlin, refer below:
"Wenlin's Qigong Flow is a wonderful practice with a nice combination of Qi Gong, Tai Chi, and Yoga blended together smoothly and comfortably." – Gail, Yoga Teacher from USA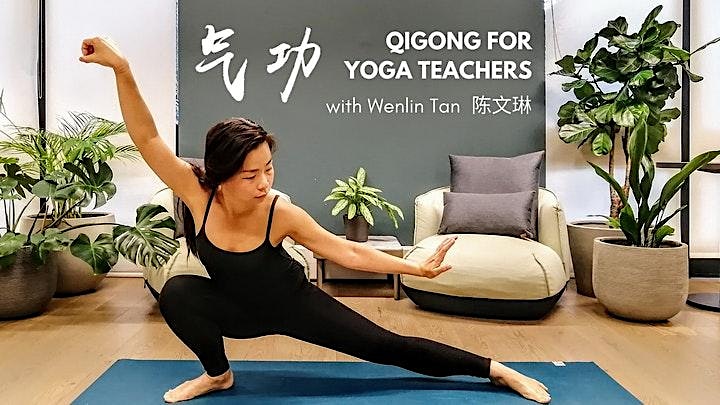 Your guide:
Wenlin Tan 陈文琳 E-RYT 200, RYT 500, YACEP Yoga Alliance USA.
Founder, Art of Teaching Yoga
Wenlin has been studying movement and mindfulness since she was 9, and teaching since 2016. She is known for her unique style, Qigong Flow, that integrates eastern philosophy, Qigong, Taichi and Yoga. A native Chinese speaker born and bred in Singapore, Wenlin's trainings and classes are informed by her continued training with various teachers, including Dr. Eleanor Criswell Hanna (Novato Institute), Dr. Gayl Hubatch (Blue Heron Centre), Dr Becky Chen (Mahota Clinic), Dr Wang Xun (Singapore College of Traditional Chinese Medicine), Master Zhongxian Wu, Master Chungliang Al Huang, Master Shi Yi-Heng, Mimi Kuo-Deemer and Daisy Lee.