"Series of Journeys" - 3 days, 3 short courses
When and where
Location
Masjid Ar-Raudhah 30 Bukit Batok East Avenue 2 Singapore, 659919 Singapore
Refund Policy
Contact the organizer to request a refund.
Description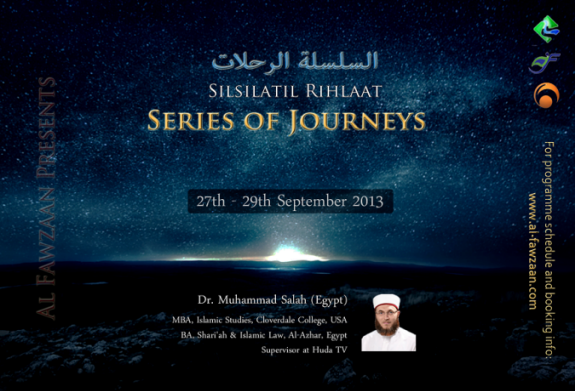 Theme: "Series of Journeys" - 3 days, 3 short courses

Date & Time: 27th, 28th & 29th September 2013 - 9am

Venue: Masjid Ar-Raudhah, 30 Bukit Batok East Avenue 2, Singapore (659919)

Dr. Muhammad Salah (Egypt)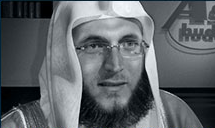 Dr. Muhammad Salah is a well-known and loved religious scholar. He attends many international events and is a dynamic and inspirational figure the world over. His Islamic credentials are equally impressive and include:

- A PhD in Comparative Fiqh
- MBA in Islamic Studies from Cloverdale College (USA)
- BA in Shari'ah and Islamic Law from the University of Al-Azhar (Egypt)

He also holds a BA in pharmacology, being an assistant professor of pharmacology previously. As well as obtaining a pre-master diploma in Islamic studies from the American Open University. He also holds a four-year diploma in Muslim Arts and Arabic Calligraphy.

Dr. Muhammad Salah is currently the adviser of Huda Satellite TV, one of the world's leading Islamic Channels broadcasting exclusively in English since 2005. He is the presenter of "Ask Huda" fatwa program and other renowned and highly rated series. Dr. Salah had enriched the Islamic video library by producing more than 1500 of live and recorded broadcasting hours in both English and Arabic languages.

Occasionally, he teaches at Al-Azhar University, Shariah Academy; Islamic University of North America, and London College Online. During his time in the USA, he led the Islamic Center of Victoria (Texas), and founded two educational institutions, namely Iman Stems and the Muslim Generation. By the Grace of Allah, he remains very much active in the educational and social sphere, revitalising global da'wah and its dynamism.

PROGRAMME OVERVIEW

Friday 27th Sept:


Short Course - Fundamentals of Creed
Start time: 2.30pm

1. A detailed overview to the definition of the Muslim belief.
2. Explanation to the six pillars of faith.
3. Methodology employed by Ahlus-Sunnah in acquiring and deriving matters of creed.
4. Important qualities and distinguishing characteristics of the Ahlus-Sunnah.


Saturday 28th Sept:



Short Course - Understanding Worship




Start time: 2.30pm

1. What is the meaning of ibadah and what are its forms.
2. Conditions for the acceptability of ibadah.
3. Misconceptions in understanding the application of ibadah.
4. Reason for these misunderstandings.


Sunday 29th Sept:



Short Course - Introduction to the Fiqh of Business Transactions (1)



Start time: 9.30am

1. General overview to the concepts and framework necessary in understanding Islamic finance.
2. Cursory overview of various Islamic financial tools and instruments.



Short Course - Introduction to the Fiqh of Business Transactions (2)




Start time: 1.45pm

3. A real life case studies: Daily transactions and common business dealings.
4. Safeguards in Islam and pitfalls of alternative finance systems.


Note: Light lunch will be provided during each programme.





DIRECTION TO THE VENUE



Nearnest MRT: Bukit Gombak, Bukit Batok


Bus service: Please refer to http://www.sbstransit.com.sg