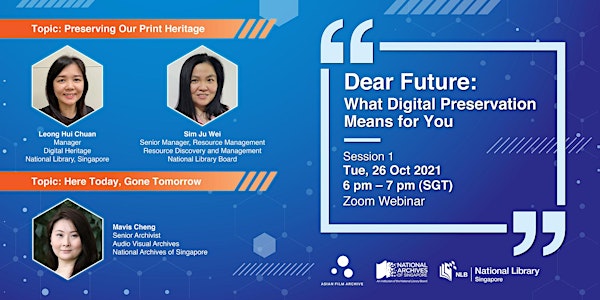 [Session 1] Dear Future: What Digital Preservation Means for You
Get insights from the National Library, Singapore, National Archives of Singapore and Asian Film Archive on digital preservation.
About this event
1. Preserving Our Print Heritage
Leong Hui Chuan and Sim Ju Wei will share an overview of the National Library Singapore's digitisation and digital preservation efforts for print materials, behind-the-scenes work as well as selected resources on preserving our heritage digitally for future generations.
Leong Hui Chuan is a Manager with the Digital Heritage Team at the National Library, Singapore. Her responsibilities include digitisation of library materials, digital content management as well as providing reference and research services.
Sim Ju Wei is the Senior Manager of Resource Management at the Resource Discovery and Management division at NLB. She manages the digitisation of newspapers and preservation of digitised print materials in the National Library Singapore's collection. She also has experience in the management and organisation of digital resources.
2. Here Today, Gone Tomorrow
This introductory session on audio-visual preservation by Mavis Cheng provides a basic understanding of audio-visual media, considerations for preservation and access, and how the public can play a part in preserving our digital audio-visual heritage.
Mavis Cheng is an audio-visual Archivist at the National Archives of Singapore. She presently leads the digitisation of at-risk analogue formats to bring archival recordings to the public through curated online access initiatives and platforms such as Archives Online, NLB Multimedia Stations and meWATCH.
In this inaugural public seminar, our speakers will share insights on how digital preservation is carried out to preserve our memories for posterity. Join the zoom webinar sessions on 26 and 27 Oct, as well as a physical guided tour on 30 Oct to find out more.
This seminar is organised by the National Library, Singapore, National Archives of Singapore and Asian Film Archive in conjunction with the World Digital Preservation Day on 4 November 2021.
Online Programme/Event Administrative Information
This programme is conducted entirely online. You may access Zoom via the app or using a web browser.
Please ensure that you enter a valid email address as you will receive an email with the link to the online programme/event near the day of the programme/event.
The link of the programme should not be shared with others
 Do ensure you have a strong internet connection. Using your mobile data is not recommended.
The National Library Board, Singapore (NLB) reserves the right in its absolute discretion to disqualify or refuse admission to any registrant without any reason and notice.