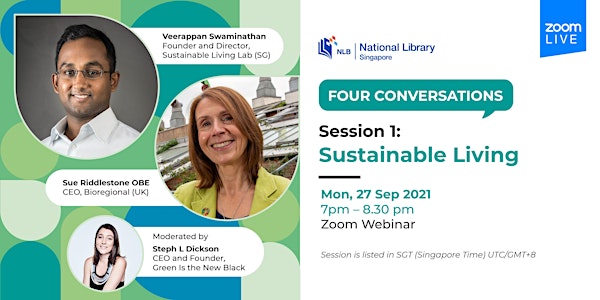 Session 1: Sustainable Living | Four Conversations
Learn about sustainable living and how making it a part of our daily lives can create an impact.
About this event
One of the most pressing issues of our times is sustainability. Hear from local and international speakers at our annual Four Conversations event as we explore the theme of Sustainability, and discover the changes we can make to support the circular economy. Be a part of conversations that will empower you and uncover new possibilities.
-----
Session 1: Sustainable Living
What is sustainable living? What changes can we make to our lives to achieve it? In this session, learn about sustainable living and how making it a part of our daily lives can create an impact.
Presented by
Veerappan Swaminathan, Founder and Director, Sustainable Living Lab (Singapore)
Sue Riddlestone OBE, CEO, Bioregional (United Kingdom)
Moderated by
Steph L Dickson, CEO and Founder, Green Is the New Black
-----
Join us for the other 3 sessions:
About the Speakers and Moderator
Veerappan Swaminathan is the Founder and Director of Sustainable Living Lab, a sustainability consultancy. Through his organisation, he works on issues such as electronic waste, corporate sustainability transition, active ageing and closing of the digital divide. He holds advanced degrees in Intellectual Property Management and Mechanical Engineering from the National University of Singapore. He presently volunteers as an executive member of the Climate Action SG Alliance and sits on the Lotus-NUS Funding Panel.
He is the 2016 recipient of the NEA Eco-Friend Award and was a representative of Singapore at the UN High Level Political Forum on Sustainable Development in 2018. In 2018, he was awarded the Joseph Jaworski Next-Gen Foresight Asia Special Award by the UK-based School of International Futures. In 2014, Veera also co-founded Repair Kopitiam, a community-based repair initiative.
-----
Sue Riddlestone OBE co-founded social enterprise Bioregional in 1994 and initiated the iconic BedZED eco-village in London in 1997. Sue and her team have pioneered approaches to enable sustainable living, working with partners to create homes, communities, eco-products and services that allow us to live a good life with a sustainable carbon and resources footprint.
To help others, Bioregional created One Planet Living, a sustainability framework used in over $30 billion of real estate development, as well as by individuals, municipalities, cities, organisations and companies around the world from Mexico and China, to the US and Australia. Sue also draws on the work of Bioregional and its partners to change policy and industry practice, from zero-carbon policy to eco-towns, to achieve UN Sustainable Development Goals.
Sue was a London Sustainable Development Commissioner from 2002 to 2014. She is also a founding board member of the global social entrepreneur network Catalyst 2030 and chairs the work to foster partnerships at the UN and national levels. In 2013 Sue was awarded one of the UK's highest honours, an OBE, for her work on sustainable business and the London 2012 Olympic and Paralympic Games.
-----
Steph L Dickson is a leading voice in sustainability in Asia. She founded Green Is The New Black, Asia's first Conscious Festival and media platform that uses stories and curated experiences to advocate for social and behavioural changes that lead to little green steps with big impact. Her mission is to make conscious living mainstream, accessible and sexy.
Steph is also the host of the podcast Live Wide Awake, which brings conversations at the intersections of consciousness and climate change, sustainability and spirituality to life. As a changemaker in the green space, Steph has been described as a sustainability entrepreneur helping Asia businesses combat climate change (CNBC) and a force of nature (Honeycombers). She is also a two-time TEDx speaker (P&G), a Gen.T by Tatler Leader of Tomorrow (2020), and on Prestige's 40 Under 40 (2018) list.
Online Programme/Event Administrative Information
This programme is conducted entirely online. You may access Zoom via the app or using a web browser
Please ensure that you enter a valid email address as you will receive an email with the link to the online programme/event near the day of the programme/event
The link of the programme should not be shared with others
Do ensure you have a strong internet connection. Using your mobile data is not recommended
The National Library Board, Singapore (NLB) reserves the right in its absolute discretion to disqualify or refuse admission to any registrant without any reason and notice