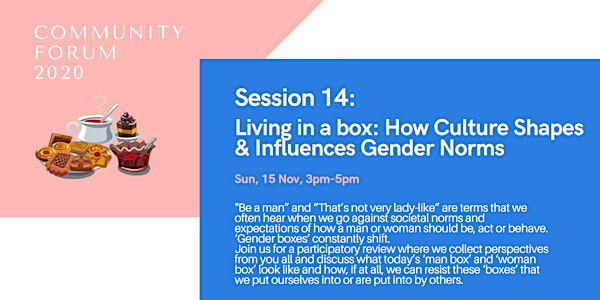 Session 14: Living in a box: How Culture Shapes and Influences Gender Norms
.
About this event
"Be a man" and "That's not very lady-like" are terms that we often hear when we go against societal norms and expectations of how a man or woman should be, act or behave. These 'gender boxes' that we are put into are constantly shifting based on both challenges and reinforcement through our ongoing interactions with certain elements and groups in society. Join us for a participatory review where we collect perspectives from you all and discuss what today's 'man box' and 'woman box' look like and how, if at all, we can resist these 'boxes' that we put ourselves into or are put into by others. Our goal is to collate the perspectives from this session into a shareable resource that can create awareness about how these gender norms coerce and shape our lives and how we can find solidarity in our struggle for self-expression.
===
Speakers / This session is facilitated by:
Kwek Jim See (she/her)
I grew up not knowing that 'Jim' is a boy's name. It was just my name. Maybe that was why I was quite a tomboy all my life and really dislike baby pink. We were 'labelled' with a name when we were born. Mostly, the name was a hope that our parents bestowed upon us. As we grew up, we collected more labels. Labels that relate to our age (student, parent), profession (teacher, actor), hobbies (dancer, tennis player), etc.
Vivian Lim (she/her)I enjoy bringing people and diverse perspectives together. I believe when you bring a roomful of people with ideas together, magic happens. I co-founded Women In Asia, a community which helps to amplify perspectives from Asia, and help bridge cultural and gender differences. With educating women and girls as their key outcomes, we run programs like photo story exhibitions, mentoring circles to connect and engage the women community. I'm enthralled with Asia's diversity, and strongly believe its about time we hear more voices from Asia.
Hana Alhadad (she/her)
As a second generation immigrant daughter of feminists, I comfortably rocked my baggy-shirt grunge-look before and after it was "fashionable". Growing up in a home that rejected gender stereotypes, I struggled with the labels that society put on me, or "people like me". Somehow, there was a certain way that a "good, Muslim girl" should behave. I found myself floating between conformity and deviance – from "aw, she's such a good well-behaved girl" to "wah, this one a bit havoc ah?" All through that, I held on to my family's mantra "Let them say. You keep doing you." So here I am. Being me.
Ethan Nava (he/him/his)
Growing up as a mixed race kid educated in an all boys school, I struggled a lot with my identity because I never fit the masculine expectations perpetuated in school nor the cultural expectations set forth by specific races. I have learnt the hard way what happens when you try so hard to be what you are not. Life can be hard when you live your life on someone else's terms. Truth be told, I'm still figuring out who I am, but I find solace and solidarity in the fact that we all are. I've found strength in vulnerability and weakness in being 'perfect'. Why live in a world of black and white when you can see more colors in the shades of grey?
https://zoom.us/j/95162686342?pwd=UkhMWm1yZjNOZjNjMThGSXNGZm9HZz09
Meeting ID: 951 6268 6342