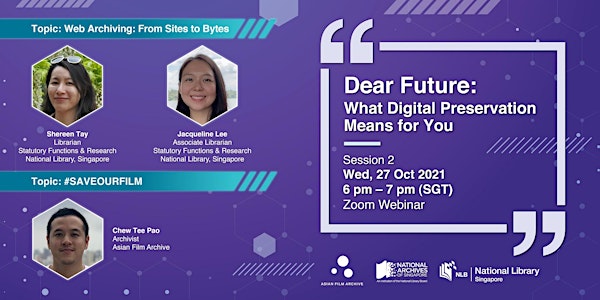 [Session 2] Dear Future: What Digital Preservation Means for You
Get insights from the National Library, Singapore, National Archives of Singapore and Asian Film Archive on digital preservation.
About this event
1. Web Archiving: From Sites to Bytes
Have you ever bookmarked a favourite website, only to watch it disappear without a trace? Web archiving is a way to take a "snapshot" of a website or webpage and preserve it forever! Find out from Shereen Tay and Jacqueline Lee about how you can use Web Archive Singapore to browse and preserve your favourite Singapore websites.
About the Speakers
Shereen Tay and Jacqueline Lee are Associate Librarians at the National Library, Singapore. They are part of the team that oversees the statutory functions of the National Library Board, in particular, web archiving.
2. #SAVEOURFILM
Hear from Archivist Chew Tee Pao as he shares the issues and challenges in preserving films and related materials in the digital format, as well as highlight the importance of managing and caring for your film data.
About the Speaker
Chew Tee Pao has been with the Asian Film Archive (AFA) since 2009. As an Archivist, he oversees the development of the film collection, helps to plan the Archive's preservation strategies and is also responsible for selecting and overseeing film restorations at the AFA. He has contributed articles on film preservation and co-written a chapter "Independent digital filmmaking and its impact on film archiving in Singapore" for "Singapore Cinema: New Perspectives" published in 2017.
In this inaugural public seminar, our speakers will share insights on how digital preservation is carried out to preserve our memories for posterity. Join the zoom webinar sessions on 26 and 27 Oct, as well as a physical guided tour on 30 Oct to find out more.
This seminar is organised by the National Library, Singapore, National Archives of Singapore and Asian Film Archive in conjunction with the World Digital Preservation Day on 4 November 2021.
Online Programme/Event Administrative Information
This programme is conducted entirely online. You may access Zoom via the app or using a web browser.
Please ensure that you enter a valid email address as you will receive an email with the link to the online programme/event near the day of the programme/event.
The link of the programme should not be shared with others
 Do ensure you have a strong internet connection. Using your mobile data is not recommended.
The National Library Board, Singapore (NLB) reserves the right in its absolute discretion to disqualify or refuse admission to any registrant without any reason and notice.