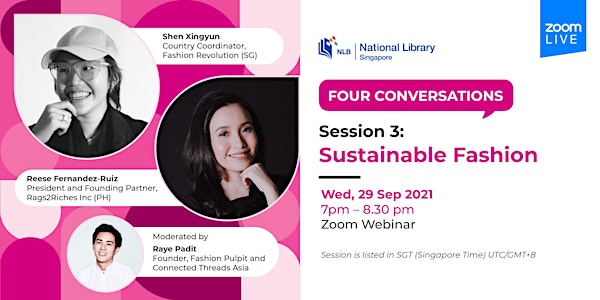 Session 3: Sustainable Fashion | Four Conversations
Uncover the ecosystem of fashion production and how we can make conscious choices to reduce throwaway culture and value heritage artisans.
About this event
One of the most pressing issues of our times is sustainability. Hear from local and international speakers at our annual Four Conversations event as we explore the theme of Sustainability, and discover the changes we can make to support the circular economy. Be a part of conversations that will empower you and uncover new possibilities.
-----
Session 3: Sustainable Fashion
How can we make small but valuable conscious fashion choices in a world dominated by fast fashion? In this session, uncover the ecosystem of fashion production and how we can make conscious choices to reduce throwaway culture and value heritage artisans.
Presented by
Shen Xingyun, Country Coordinator, Fashion Revolution (Singapore)
Reese Fernandez-Ruiz, President and Founding Partner, Rags2Riches Inc (Philippines)
Moderated by
Raye Padit, Founder, Fashion Pulpit and Connected Threads Asia (Singapore)
-----
Join us for the other 3 sessions:
About the Speakers and Moderator
Shen Xingyun is the Country Coordinator of Fashion Revolution Singapore and runs @noordinaryprotest as a platform to call for a shift in mindset. Seeking to address the importance of intersectionality when analysing fashion sustainability, Xingyun reimagines a more equitable fashion industry through her work, which centres the planet and its people at the core of its intentions and operations. She currently works with The Fashion Pulpit, Singapore's first clothing swap retail space, on research and education projects to promote greater sustainable fashion literacy and re-introduce new ways of speaking about our clothes.
-----
Reese Fernandez-Ruiz is one of the most-awarded and influential social entrepreneurs in the Philippines. Her areas of expertise include enterprise development, strategic management, sustainable design and product development, sales, marketing, and financial modelling for SMEs.
As the President and Founding Partner of the fashion and design house Rags2Riches (R2R), Reese has earned global acclaim for her enterprise's role in improving the lives of urban poor Filipino artisans through upcycled, eco-ethical and sustainable fashion. Her accolades include Forbes 30 under 30 Social Entrepreneurs (2014), Schwab Social Entrepreneur of the Year (2013) and Rolex Young Laureates Award (2010).
Reese is a Young Global Leader of the World Economic Forum (WEF) and has spoken at various WEF panels. She is also a Founding Member of Global Women in Business by Ernst & Young, a member of the WEF Ecommerce Expert Group, and was a Representative at the World Trade Organization's Trade Dialogues (Geneva Switzerland) in 2018. She has also been recognised by CauseArtist as one of 40 Global Social Entrepreneurs to watch in 2021.
Aside from her work in R2R, she is also the Strategic Finance Consultant for inclusion tech venture builder Talino Venture Labs, where she has created financial models and business plans for some of the most promising inclusive tech companies in Asia.
On top of her professional roles, she is also a key opinion leader for entrepreneurship and public speaking, but, most importantly, wife and mother of two.
-----
Raye Padit is a fashion designer on a mission to promote sustainable fashion in Singapore and beyond. In just three years, fashion's green-warrior Raye founded The Fashion Pulpit, Singapore's first ever retail space for swapping and upcycling apparel, and Connected Threads Asia and Swapaholic, two non-profits that advocate for sustainable fashion.
Raye regularly conducts talks and workshops and provides mentorship on the circular fashion concept, entrepreneurship, fashion sustainability and conscious consumerism in cities around Asia.
Online Programme/Event Administrative Information
This programme is conducted entirely online. You may access Zoom via the app or using a web browser
Please ensure that you enter a valid email address as you will receive an email with the link to the online programme/event near the day of the programme/event
The link of the programme should not be shared with others
Do ensure you have a strong internet connection. Using your mobile data is not recommended
The National Library Board, Singapore (NLB) reserves the right in its absolute discretion to disqualify or refuse admission to any registrant without any reason and notice