Description
We are back for another series of Round Table Discussion.

In this discussion, we share with you the tips on how to win on social media without spending a cent. We believe that genuine relationships build a much more effective community, that transact more sales through trust and referrals.

In this seating over a nice dinner, we shall go through the strategies that you can apply immediately to impact your brand awareness, and convert to higher sales.
Your network is your networth. How to convert likes to sales?
Community Building exercises to strengthen bond with followers.
Convert online followers to offline followers, or shoppers.
Learn to make money from people who are not shopping with you.
Understanding the profile of the followers, how to attract the right ones.
"If you are not buying a product, then you are the product."
Find out how your followers can earn revenue for you, even if they are not your customer.
About your Trainer - Leza Klenk
Leza Parker is obsessed with business and entrepreneurship. If she is not lecturing at some universities, she would be answering business questions from the public via videos or blogging.

She runs as CEO of a technological firm, SC Beauty Network Pte Ltd that scaled across 17 countries globally. She's authored several books, and appeared in multiple media newspapers & books. . She is a sought after speaking having spoken about entrepreneurship, investment & trade equity financing, networking, evolution of retail e-commerce etc at global & international conferences. In 2014, she (then 28) was acknowledged as Singapore Youngest Business Guru and her story told in a publication "The Lady Boss" available in book stores. She is an active angel investor, having incubate, invested and exited in over twenty companies from various industries over the last 6 years. Her recent investments include the launch of edtech platform Spendless Academy and mobile app for baby goods marketplace, Bebebargains.
Some of Leza Parker's media feature include:
Case Study 1: Spendless Cosmetics Global
Case Study 2: The Baking Studio
Case Study 3: Spendless Creative Studio
MEET OUR GUEST SPEAKER

Mike Li left 2 cushy government jobs to pursue his calling in life - helping others achieve success and breakthrough in their career and finances. He specialises in helping professionals achieve the performance and outcome they desire through simple and practical strategies. He is best known for his career branding strategies that helps elevate professionals to the next level in their career and business.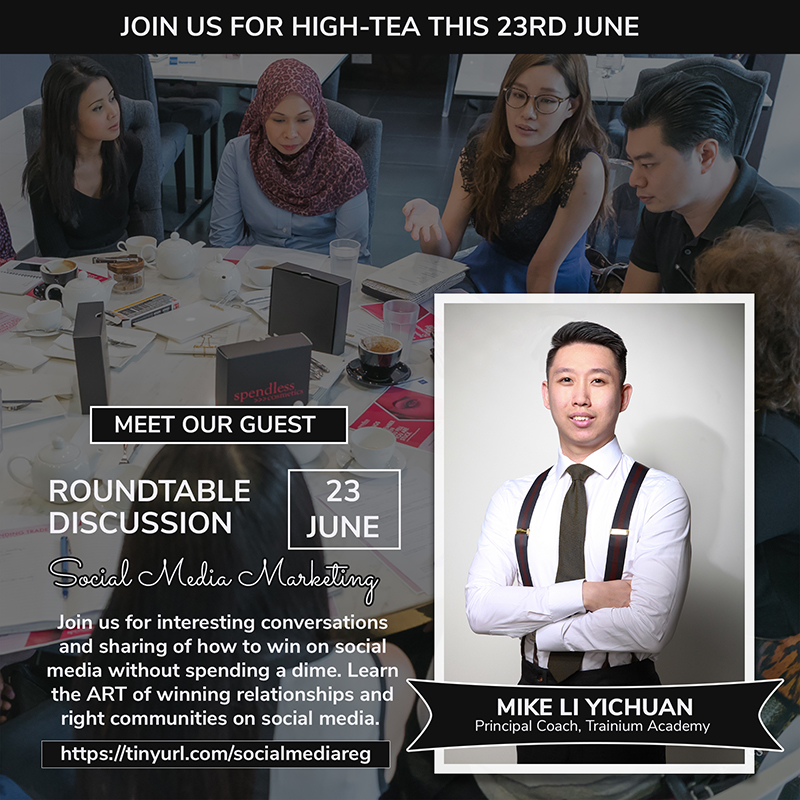 THIS IS A HIGH TEA EVENT.
FOUR SEATS LEFT