(SG) SheSparks: Personal Branding & Personal Leadership for Women
Description
BRIEF ABOUT BOOTCAMP
Puja Talesara & Leza Klenk, both experienced entrepreneurs with a knack and passion in personal & corporate branding brings to you She sparks one day immersive session. The two important component of bootcamps are Personal Leadership and Personal Branding. This one day long, power packed immersive session is purposed to enable women to strive for excellence, achieve excellence and let excellence be their brand. The bedrock of the bootcamp is "Success is knowing oneself being comfortable with thy self and leveraging self to create impact and influence".
This bootcamp aims at enabling women to create an impact and influence in all settings.
The methodology deployed is a blend of tools, role-plays, real life insights and the key mantras to practise.
AGENDA
9 am: Registration & Coffee/Tea
9:20 am: Opening Speech
9:30 am: Puja on "Personal Leadership"
12:30 pm: Lunch & Networking
1:00 pm: Leza on "Personal Branding"
4:00 pm: Panel Discussion 1 : How women can rise, key attributes needed , sharing of Personal story and challenges
4:45 pm: Panel Discussion 2 : How women can rise, key attributes needed , sharing of Personal story and challenges
5:30 pm: Award Ceremony
6:00 pm: Close
Here are our panel speakers this 26th May!
Learn from their stories and have a chance to network and connect with them too!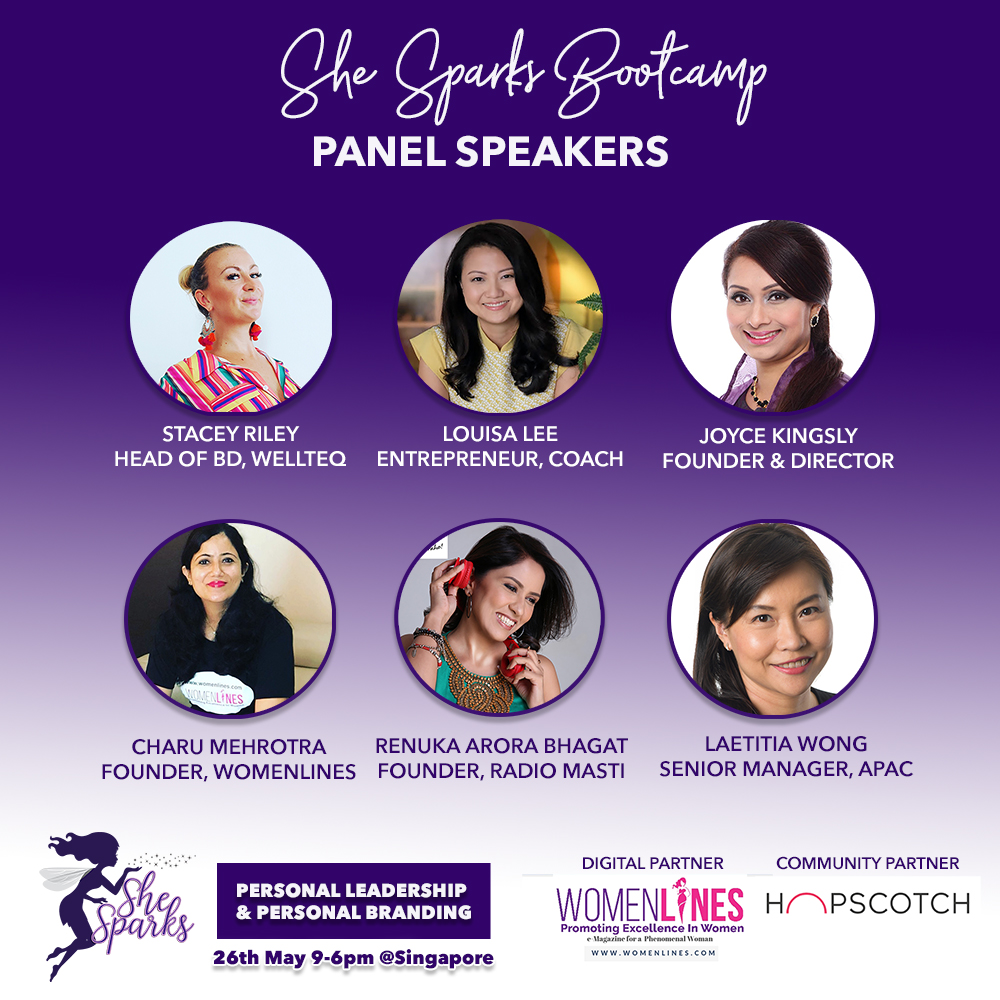 Personal Leadership:
"Formal education will make you living while Self education will make you a fortune ;Your vision becomes clear when you look within , one who looks outside mere dreams , one who looks within and works incessantly is awaken"
2 Core Topics – Personal leadership
Your strengths and gaps

Passion vision, motivating factor

Craft ,your purpose statement

Develop action strategies

Discover your own leadership style
Key takeaways: greater understanding of self and creation of vision board
Energise your environment
Communicate with impact to connect, being Assertive

Confidence building and learn tips for effective Decision making

Work life integration : circle of perspective

Shift from Fear to Focus; identify your fears and learn how to overcome them

Building Interpersonal and Intrapersonal relationship

Understanding limiting and strengthening empowering beliefs
Key takeaways: Practical tools and tips to help you move from being stuck to being unstuck.
6 Core Topics - Personal Branding
Clarity of business objectives and personal brand

Cu ration of content to meet the objective

The important and 'how to' gather the right and marketable social assets

Scheduling, analysing of posts & raising engagement

Connect, know how to tap on opportunities presented by existing online network

Building a community and sustaining engagement and long term friendships within the community.
Case Study 1: Spendless Cosmetics Global
Case Study 2: The Baking Studio
Case Study 3: Spendless Creative Studio
---
Meet Your Trainers

Meet Your Facilitators

Puja Talesara
Leadership coach, Workplace wellness expert, Speaker, OD consultant, Podcaster, Global Goodwill Ambassador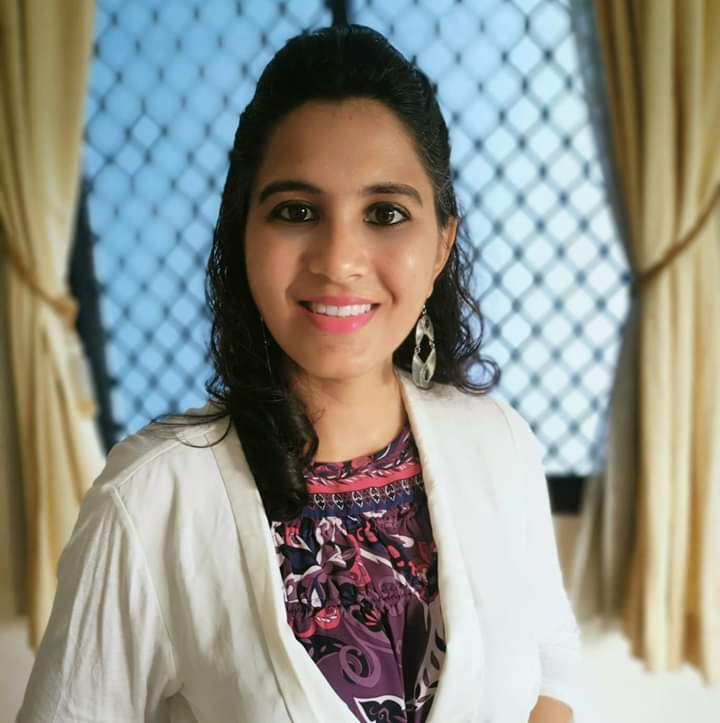 Puja is a mother to two kids, creative, go getter, passionate and intuitive woman on an audacious mission. Her mission is to create communities of courageous, authentic leaders who inspire, encourage, give hope and in turn bring out the best in others. She believes everyone has capacity to Lead and it a choice one needs to make.
Her personal life experiences piqued her interest in coaching . She is humbled to be mentored by John Mattone (ex coach of Steve Jobs) one of the leading and only authority in Intelligent leadership.
Puja's life is reflection of trust, grit, and courageous decision, and collaborative approach, entrepreneurial and empowering spirit. She is an advocate of Personal leadership.
Puja has curated and driven many initiatives successfully for empowerment of women in her corporate tenure with Asian paints , UPL and other well known leading MNC and SME. As an extension of her mission she has collaborated with Leza Klenk to form She Sparks.
She believes inward excellence leads to outward excellence. She works relentlessly with her coachees to develop their authentic leadership, gain recognition and promotion, lead an abundant life in personal and professional space. Her goals is simple to help her coachee achieve their goal.
Her Coachees view her role as a Change agent who facilitates them to discover and be the ' Best version of Self' that they can, will and must be to achieve the greatness in all space.
Puja is being nominated 5 times as linkedin Wonder Women. She was recently awarded, Excellence in the millennial leadership space at an International Leadership Summit. She has also received recognition and accolades as the youngest leader, rising star in various roles she led in leadership capacity during her corporate tenure. She was the first Women member in the senior leadership role in a leading and conservative manufacturing organisation. She is often interviewed for the various podcast and blogs to share her views on Personal Leadership. She enjoys her role as a Podcast speaker as well as host to her show Leadership Demystified.
---

Leza Klenk
Entrepreneur, CEO, Mentor, International Speaker, TedX Speaker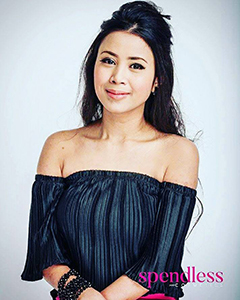 Leza is currently CEO of a technological firm, SC Beauty Network Pte Ltd that scaled across 17 countries globally. She's authored several books, and appeared in multiple media newspapers & books. She often spoke at global conferences, universities and in 2014, lead an empowering women campaign with Singapore Committee of UN Women, as well as becoming the face to Shiseido in the same year. She was a marketing ambassador to a SSA Consulting Group. She is a sought after speaking having spoken about entrepreneurship, investment & trade equity financing, networking, evolution of retail e-commerce etc at global & international conferences. At 28 she was acknowledged as Singapore Youngest Business Guru and her story told in a publication "The Lady Boss" available in book stores. In 2019, she recently bagged the award as Asia's Best CEO. She is an active angel investor, having incubate, invested and exited in over twenty companies from various industries over the last 6 years.
Some of Leza Parker's media feature include:
Listen to some of podcast recorded of Leza Parker:
LOOK FORWARD FOR A GREAT NETWORKING SESSION WITH US.
If you are looking to sponsor your products or branding, please reach out to us via email to leza@scbeautynetwork.com.