Description
We've decided to gather and connect women leaders together, making it easier and more beneficial for you to network and learn from them.

How does #speedmentoring works?

There will be 6 mentors and 6 mentees.
Each mentee move along their seats to speak with every mentor.
You have 3 minutes with each mentor, to ask questions and share of your business.
You will have the profile of each mentor, so you'll know more of their area of expertise.
Agenda includes:
7 pm - 730 pm : Registration & Introduction, Food served
730 pm - 8 pm : Speed Mentoring Session
8 pm - 820 pm : PANEL DISCUSSION
820 pm - 9 pm : Award of Certificate of Appreciation, Networking, Lucky Draw.
9 pm : Event close
We do not earn profit with the ticket sales, but merely to cover the cost of the meals and venue to make this event happened. We appreciate your support and looking forward to see you in person.
How can mentors help you?
You have a chance to speak to them individually for 3 minutes, asking them questions in their area of expertise that can help your career or business grow. Together, they can provide your advice on investments, equity financing, tech development, business development, strategic partnerships, growth and scalability, sales and marketing strategies, personal branding, leadership, mindfulness, stress management, human resources and global expansion.

You will receive an email of each of their profiles via email 2 days before the event, as well in physical copy on the day itself.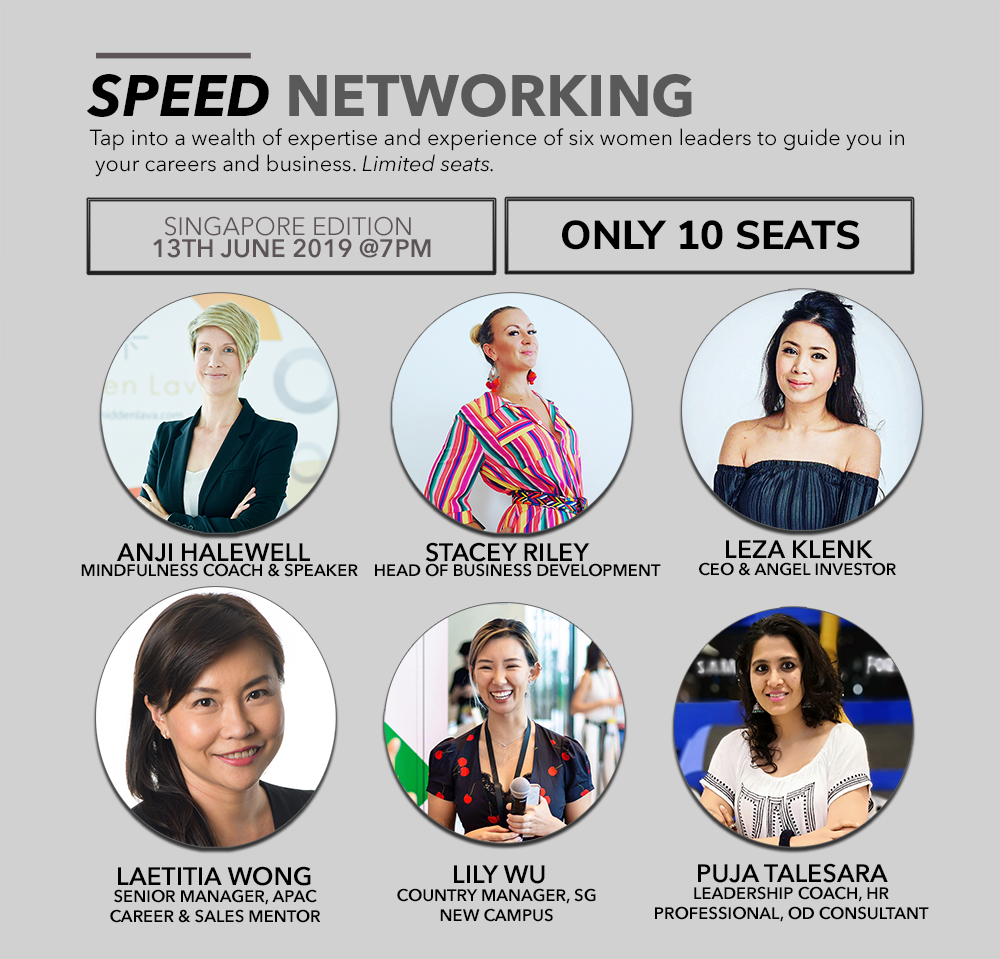 Limited Seats
This event is limited to only 6 seats, for mentees. The mentors are exclusively invited by us, via formal invites.
Who is this event best for?

Women in corporate
Entrepreneurs
Start Up Founders
Small Business Owners
Women Leaders and Coaches
Note: Each of the mentee and mentor, will be receiving a sponsored door gift as well as light food & refreshments.
See you soon!
We will update soon with details of the 6 mentors you can expect to meet that day!