About this Event
Explore our *Experiential Workshops* which are Mindfulness teachings integrated with mindful craftswork. These workshops are around 2.5 hours.
Our craftworks are mindfully selected to let you experience patience , focus and calmness. Most of them involves beading, knotting, weaving, stringing and more. Don't worry if you have no prior experiences, such new involvements will stimulate an even deeper learning for your Mind.
1) 18 Mindfulness Beads (From $148 per pax)
2) Knotted Mindfulness Bracelets (From $108 per pax)
3) Weave Your DreamCatcher (From $148 per pax)
4) Power Paracord Bracelets (From $89 per pax)
2 Timeslots Available, Every Mon to Sun:
(1) 10am - 12:30pm
(2) 3pm - 5:30pm
*****
What is 18 Mindfulness Beads? Do you know it's a meditation tool in the ancient Tang dynasty?
18 Mindfulness Beads Experiential Workshop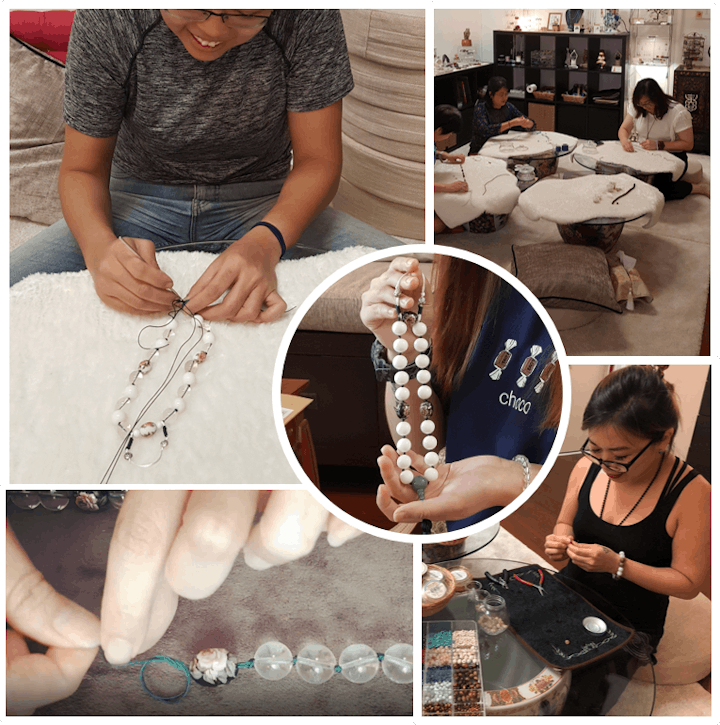 What You'll Experience In The Workshop
***2.5 HOURS WORKSHOP***
30 mins - Experience "Mind Spa"
30 mins - Learn To Meditate
90 mins - Practise Mindfulness Through Crafting
************************************
We hope you'll relax the minute you step into our workshop. Flower tea will be served as you cool off your feet in our peppermint energised water.
The Workshop will commence with a brief meditation to first remove any tensions, relaxing your Mind and calming your energy. In this section, you will be experiencing different types of meditation, including breathing, guided meditation and visualisation.
After this, we will proceed with the mindfulness beading process, which will take around one and a half hour. Your facilitator will provide all the guidance you need to enjoy the process
This class takes around 2.5 hours, you should be able to complete your Mindfulness beads on time and bring home your lovely creation.
Shan Workshop focuses on your therapeutic experience and we hope you will totally enjoy your time in the class.
Do come in comfortable clothing for ease of sitting on the cushions.