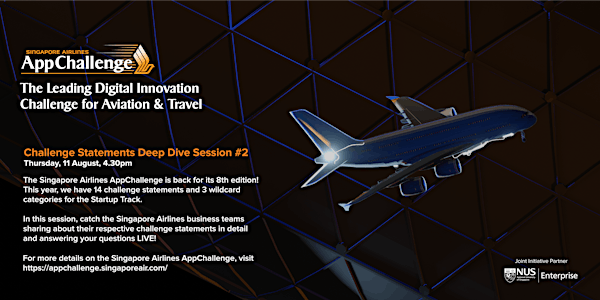 SIA AppChallenge - Startup Track - Challenge Statement Deep Dive #2
Hear more about the Singapore Airlines AppChallenge Startup Track challenge statements from the SIA business teams themselves!
About this event
This year expects 14 challenge statements and 3 wildcards categories for the startup track.
In this session, hear from the Singapore Airlines business teams about their challenge statements in details and be ready with your questions LIVE!
Challenge Statements Featured on 11 Aug:
Product Innovation Department: How might we better promote take-up and stickiness of new inflight entertainment features on the Inflight Entertainment Seatback or passengers' devices?
SIA Product Innovation team and Information Technology team: How might we enable next generation Inflight Entertainment & Connectivity (IFEC) experience?
Engineering Division: How might we develop a technical knowledge database and use artificial intelligence / knowledge graphs to support operations?
KrisShop team: How might we use gamification through existing social media platforms to engage customers to increase revenue for KrisShop?
Global Baggage Operations: How might we track baggage movements more efficiently?
About Singapore Airlines AppChallenge
The Singapore Airlines AppChallenge is back for its 8th edition! Whether you are a startup or a student, you are invited to join in this exciting journey. Let your digital solutions help Singapore Airlines lead change and redefine the aviation and travel space.
Submission for the Startup Track is now open until 21 Aug 2022. Prepare the AppChallenge by attending the upcoming roadshows to gain insights from past winners and Singapore Airlines business units!
For information on the challenge statements and other details, visit https://appchallenge.singaporeair.com
Do Not Miss These Virtual Roadshows