Description
Simei: Lasting Power of Attorney - Apr 13 (Sat)
What is a Lasting Power of Attorney and why is it important to make sure you have this legal document in place? Come attend this free talk to find out more from Dr Darryl Tan.


1. WHAT IS THE LPA?
The LPA is a legal document that allows a person to appoint an individual to make key decisions for him, should he lose his mental capacity and become unable to do so.
2. WHO CAN MAKE AN LPA?
You must be at least 21 years old, have the mental capacity to make the LPA, and not be an undischarged bankrupt.
3. WHAT ARE THE BENEFITS OF MAKING AN LPA?
The LPA allows you to protect your interests by indicating your personal, considered choice of a proxy decision maker - someone you trust to be reliable, competent and capable - to make decisions and act on your behalf should you become vulnerable when you lose the mental capacity to make your own decisions one day.
By having an LPA in place, it also alleviates the stress and difficulties faced by your loved ones if you should lose mental capacity.
(Above taken from the Straits Times)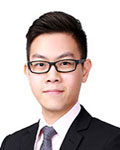 Speaker: Dr Darryl Tan, Medical Doctor, Ng Teng Fong General Hospital