Description
Simei: Overcoming Sleep Challenges - Jan 5 (Sat)
Had another sleepless night? Suffering from sleep problems or insomnia? Sleeping is the body's way of resting and recovering from the day's activities. If we're constantly facing sleep challenges, it would naturally affect our well-being and health in the long run. Learn how you can manage sleep difficulties, and get the rest you deserve.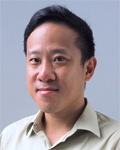 Speaker: Dr Julian Lim, Asisstant Professor, Duke-NUS Medical School
Dr. Julian Lim is an Assistant Professor in the Neurosciences and Behavioural Disorders department at the Duke-NUS Medical School, and the Principal Investigator of the Neuroergonomics and Cognition Laboratory. He graduated from Duke University with a B.S. in Psychology (Neuroscience) in 2004, and from the University of Pennsylvania in 2010 with a PhD in Psychology. His doctoral research focused primarily on sleep deprivation, in particular using fMRI to understand its neurocognitive effects. Among other areas, his current research focuses on the effects of mindfulness-based interventions on cognition, sleep, and health.