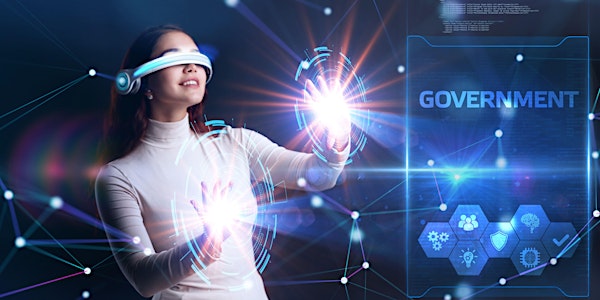 Simple, Seamless, and Secured Citizen Services: Digital Government Success
Singapore Standard Time 8:55 AM-11:10 AM (GMT+08:00)
When and where
Location
M Hotel Singapore 81 Anson Rd, Singapore 079908 Singapore, Singapore Singapore
About this event
Exceeding citizen expectations through exceptional personalised and consistent experiences whilst lowering costs, boosting productivity and collaboration amongst teams
Government agencies are in an unprecedented time and going through the largest digital transformation in history. 
Over the past two years, global events have accelerated the need to modernise and innovate citizen services. The pandemic raised the bar for more agile, collaborative structures that speed up the time-to-value – pushing governments to reimagine services with greater creativity and ingenuity.
Singapore government organisations have done a stellar job in delivering innovative, secure digital services, in healthcare, education, and support services, to citizens.
These agencies employed the latest digital tools and services like telehealth, smart chatbots, mobile apps like TraceTogether, and distance learning to serve the citizens seamlessly.
However, there's still room to grow and organisations cannot rest on past laurels and need to continuously innovate. A large number of government and public sector organisations believe their digital experience needs to keep pace with the public's expectations.
Meeting public preferences and unlocking next-generation government services rely on user-centric initiatives and priorities.
Delivering Powerful, Meaningful, and Actionable Digital Experiences
The pandemic has accentuated the demand for responsive, meaningful, and personalised digital experiences.
Even though agencies are still working to transform many offline services, there is much promise to innovate and deliver more intuitive services to the citizens.
Many government agencies are recognising the need to embrace new digital tools and platforms to develop more targeted and inclusive engagement with communities. At the same time, they are trying to ensure that this shift doesn't leave out citizens who are not digitally equipped and already struggling to keep up in an increasingly digital world. 
Citizens do not want to navigate multiple government websites and fill up multiple forms before finding what they need. Citizens expect services to be seamless, accessible, and readily available online.
How Government Transforms Citizen Services Using Digital Experiences That are Efficient, Engaged, and Secure
Citizen experience is crucial for governments of all sizes as they seek to overcome trust barriers and create efficiency in their processes.
Improving the citizen experiences online drives better critical outcomes such as increased trust, achieving citizen satisfaction whilst increasing their organisation's productivity, and collaboration between agencies.
As interactions with services become increasingly digitised, digital experiences become a yardstick for government competence. To increase trust in government, excellent citizen-oriented digital experiences have never been more critical for increasing confidence and satisfaction.
Delivering government services that anticipate citizens' future needs is no mean feat. It relies on a shift away from traditional technology-centric development models – and an unmistakable reorientation around the public's needs and outcomes.
This is only made possible by blending user experience, customer experience and employee experience by utlising technological tools.
OpenGov Asia is pleased to invite you to our exclusive OpenGov Breakfast Insight aimed at imparting knowledge on how public sector agencies can create seamless, personalised, citizen-centric digital experiences.
This session serves as a great peer-to-peer learning platform to gain insights and practical solutions to empower organisations to deliver seamless, integrated citizen-centric experiences and master their digital potential to build trust, confidence, and beyond.
We will be discussing:
Understanding the evolution of digital experience trends and finding opportunities for organisations to refine their strategies and better serve the citizens
Benchmarking governments' digital performance globally, nationally, and at a departmental level
Sharing global best practices and case studies
Adopting new digital tools to engage with communities, address the digital divide, and build trust
Enhancing the public sector's ability to navigate changing citizen expectations, escalating complexity, talent shortages, and the realities of hybrid work environments
Reimagining anticipatory, transparent, inclusive, easy-to-use services, accessible from anywhere
Who should attend:
Chief Information Officers
Chief Technology Officers
Chief Transformation Officers
Chief Digital Officers
Chief Marketing Officers
Chief Experience Officer
Chiefs of IT Operations
Chiefs of Digital and IT Infrastructure
Chiefs of Digital Transformation
Directors – Information Technology