Simply Meditate: Thu Evening Meditation Class (in-person & online)
Meditations for a Kind Heart: This course is perfect for those who are quite new to meditation and wish to receive guidance and instruction
About this Event
At this weekly class be guided by Resident Teacher, Kelsang Rabka, in simple meditations that relax the body and mind, reduce stress and anxiety and enable us to discover the natural peace and clarity that lies within.
May 06, 13 & 20 - Meditations for a Kind Heart
Each week be guided in a simple breathing meditation to relax your body and mind, and then a special meditation to develop our good nature and kind heart. All these meditations can be practised by anyone.
BOOK THE 3-WEEK MEDITATION SERIES AT THE SPECIAL RATE OF $30, or attend a single class at the standard rate of $13 per person.
Class Format:
5 min Liberating Prayer
10 min Introduction
15 min Breathing Meditation
10-15 min Meditation Instruction
15-20 min Guided Meditation
Optional Q&A with Kelsang Rabka after class for those who wish to stay back - feel free to ask him about anything you would like clarified about meditation
Other Information:
No previous experience required, everybody is welcome to join
Each class is self-contained, join anytime.
Both chairs & floor cushions are available at in-person classes
No dress code, wear something that's comfortable for you
For those joining us online the viewing link will remain available for 7 days after the live-stream.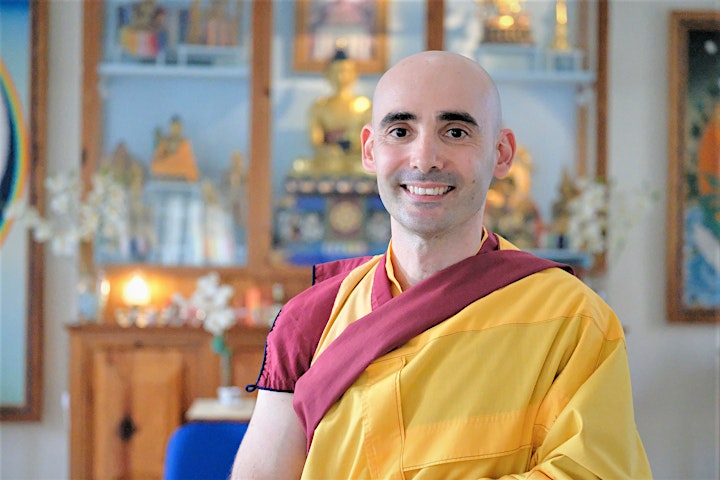 About the Teacher:
Kelsang Rabka was appointed as the Resident Teacher of KMC Singapore in mid 2020. He is an Australian Buddhist monk who has been studying and practicing Kadampa Buddhism with Venerable Geshe Kelsang Gyatso Rinpoche and his senior disciples for 13 years, and has taught both in Australia and the UK.
The clarity and warmth in his teachings has helped many students experience the practical benefits of modern Kadampa Buddhism in their daily lives.