Organized by Singapore Consortium for Synthetic Biology (SINERGY)and SynBio Africa.
About this event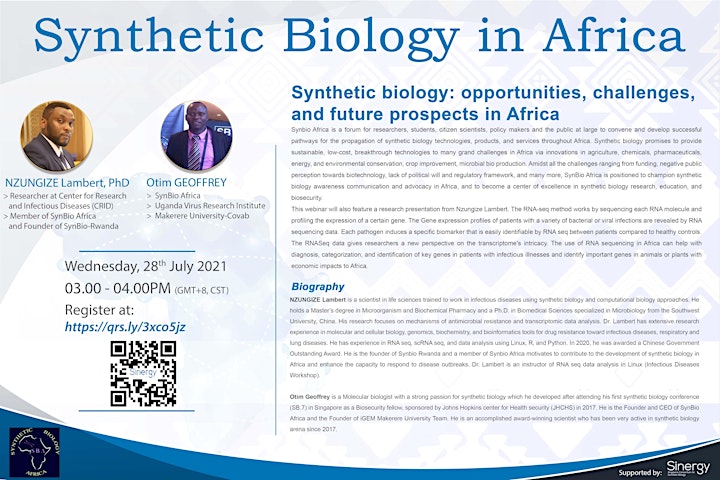 Synthetic Biology in Africa
Synthetic biology: opportunities, challenges, and future prospects in Africa
Synbio Africa is a forum for researchers, students, citizen scientists, policy makers and the public at large to convene and develop successful pathways for the propagation of synthetic biology technologies, products, and services throughout Africa. Synthetic biology promises to provide sustainable, low-cost, breakthrough technologies to many grand challenges in Africa via innovations in agriculture, chemicals, pharmaceuticals, energy, and environmental conservation, crop improvement, microbial bio production. Amidst all the challenges ranging from funding, negative public perception towards biotechnology, lack of political will and regulatory framework, and many more, SynBio Africa is positioned to champion synthetic biology awareness communication and advocacy in Africa, and to become a center of excellence in synthetic biology research, education, and biosecurity.
This webinar will also feature a research presentation from Nzungize Lambert. The RNA-seq method works by sequencing each RNA molecule and profiling the expression of a certain gene. The Gene expression profiles of patients with a variety of bacterial or viral infections are revealed by RNA sequencing data. Each pathogen induces a specific biomarker that is easily identifiable by RNA seq between patients compared to healthy controls. The RNASeq data gives researchers a new perspective on the transcriptome's intricacy. The use of RNA sequencing in Africa can help with diagnosis, categorization, and identification of key genes in patients with infectious illnesses and identify important genes in animals or plants with economic impacts to Africa.
Biography:
NZUNGIZE Lambert is a scientist in life sciences trained to work in infectious diseases using synthetic biology and computational biology approaches. He holds a Master's degree in Microorganism and Biochemical Pharmacy and a Ph.D. in Biomedical Sciences specialized in Microbiology from the Southwest University, China. His research focuses on mechanisms of antimicrobial resistance and transcriptomic data analysis. Dr. Lambert has extensive research experience in molecular and cellular biology, genomics, biochemistry, and bioinformatics tools for drug resistance toward infectious diseases, respiratory and lung diseases. He has experience in RNA seq, scRNA seq, and data analysis using Linux, R, and Python. In 2020, he was awarded a Chinese Government Outstanding Award. He is the founder of Synbio Rwanda and a member of Synbio Africa motivates to contribute to the development of synthetic biology in Africa and enhance the capacity to respond to disease outbreaks. Dr. Lambert is an instructor of RNA seq data analysis in Linux (Infectious Diseases Workshop).
Otim Geoffrey is a Molecular biologist with a strong passion for synthetic biology which he developed after attending his first synthetic biology conference (SB.7) in Singapore as a Biosecurity fellow, sponsored by Johns Hopkins center for Health security (JHCHS) in 2017. He is the Founder and CEO of SynBio Africa and the Founder of iGEM Makerere University Team. He is an accomplished award-winning scientist who has been very active in synthetic biology arena since 2017.
Organiser of SINERGY Seminar Series – Synthetic Biology in Africa