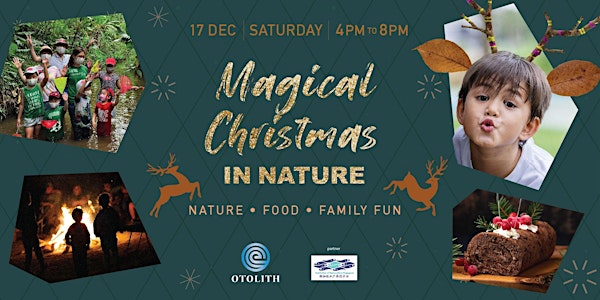 Singa-Tribe Celebrates: A Magical Christmas in Nature
| Christmas dinner under the stars | family fun | immersion in nature |
When and where
Location
Ground-Up Initiative (GUI) 91 Lorong Chencharu Singapore, 769201 Singapore
About this event
Held at 91 Lorong Chencharu, where one of the last few nature sanctuaries (not nature reserves) in Singapore is found. It is due for redevelopment soon, and will be repurposed for residential use. It is important to seize every opportunity to experience this natural ecosystem and its rich biodiversity before all is gone.
🦁🎄🎅 SINGA-TRIBE Celebrates 🦁🎄🎅
🌼☘️ A Magical Christmas in Nature 🌿🌺
🎁 c𝗿𝗲𝗮𝘁𝗲 𝗽𝗿𝗲𝗰𝗶𝗼𝘂𝘀 𝗖𝗵𝗿𝗶𝘀𝘁𝗺𝗮𝘀 𝗺𝗲𝗺𝗼𝗿𝗶𝗲𝘀 𝗮𝘀 𝗮 𝗳𝗮𝗺𝗶𝗹𝘆 🎁
Magical Christmas is about new experiences combined with discovery – all merrily wrapped for Christmas. Not only will explorers of all ages delight in the seasonal atmosphere, they may even heighten their eco-consciousness as they savour gifts of nature.
You will be making reindeer antlers (from branches and leaves), sled riding, guessing what's inside the gift box (a flower? a feather? a frog? ...) and, of course, creating a Xmas tree from wood and then enjoying the light-up.
You will also be going on a fascinating nature trail journey, catching fish with insects, setting up a fire and toasting marshmallows – and maybe even singing some Yuletide carols.
As night falls, everyone will come together and enjoy a merry Christmas dinner under the stars!
Magical Christmas has been specially curated with some extra-festive surprises and enchanting holiday delights, so expect the unexpected.
https://www.facebook.com/otolithenrichment/
https://www.instagram.com/otolithenrichment/
https://otolithenrichment.com/