Description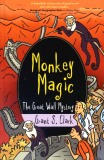 Date: 3 December 2011
Time: 2.30pm
Venue: Earshot, The Arts House (1 Old Parliament Lane)
Author Grant S. Clark will share what inspired him to write the Monkey Magic series, why he writes from the viewpoint of a girl, and why he writes about conservation. He will also talk about getting published, how to promote oneself as an author and his experiences of juggling a busy career with his passion for writing.
A special guest from ACRES (Animal Concerns Research and Education Society) will address issues about the wildlife trade and animal protection that are of current concern. Come join us and get a chance to win an ACRES merchandise!!!
All are welcome! No, you do not have to have read the book before coming, though we certainly hope you'll do so after the session.
For more information, please download this brochure.
The Singapore Children's Book Club is a joint collaboration between The National Book Development Council of Singapore and The Arts House, and supported by the National Arts Council. This programme is a lead-up to the 3rd Asian Festival of Children's Content (AFCC) which will be held from 26 to 29 May 2012.