Sales Have Ended
Registrations are closed
Thank you for registering with us. See you in DUCATUS CAFE!
Sales Have Ended
Registrations are closed
Thank you for registering with us. See you in DUCATUS CAFE!
Description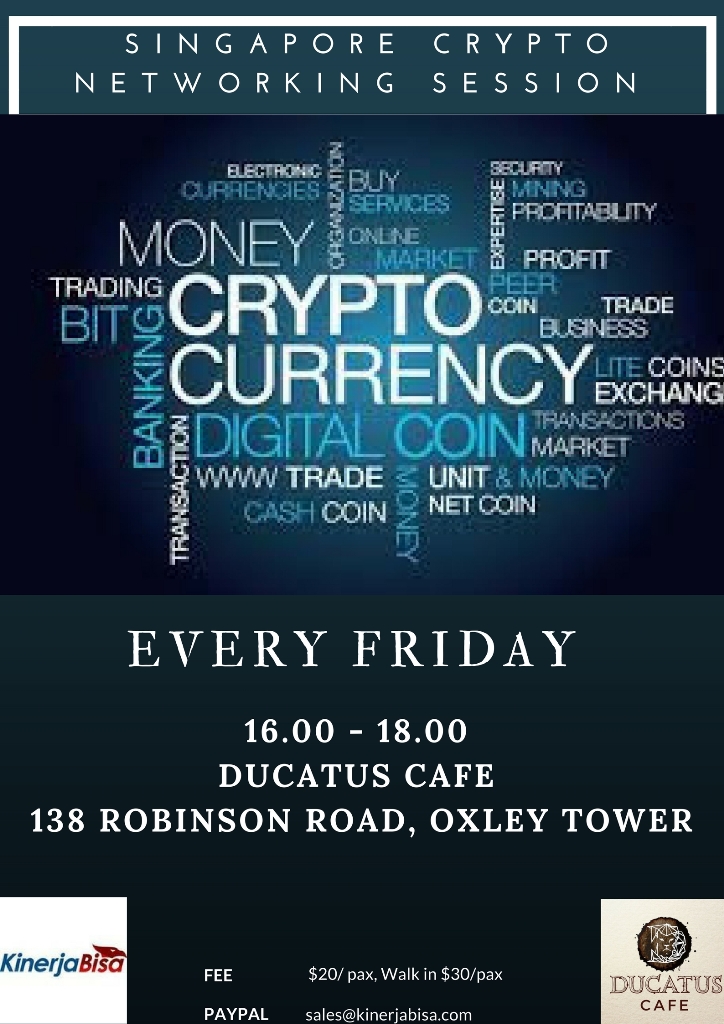 KinerjaBisa would like to inviting you on our new regular event, we call this "Singapore Crypto Kopi Darat", a business networking platform for beginners, students, entrepreneurs, professional, business owners, and investors who want to discuss, network, and learn about crypto matters.

"KOPI DARAT" or "KOPDAR" is very popular in Indonesia as a term for "gathering time with coffee", especially to build a strong vibrant community with the same "gotong royong / togetherness" and "saling membantu / help each others" spirit to learn a new things together.

At this casual and networking event, you can see and experience by your eyes how to do brick and mortar business using crypto and payment gateway as an alternative payment at the cafe business.

You also can explore more details how to grow your business with the network of cryptocurrency pioneers.

The world is going digital, everything is changing at rapid speed, and so must our way of payments.

A careful study of current financial markets and upcoming FINTECH trends have formed the basis of this innovative and modern approach for the creation of a new highly functional global crypto-currency!


When?

Every FRIDAY of May 2018 at 4-6 PM

Where?

DUCATUS CAFE, 138 Robinson Road, #01-01 Oxley Tower, Singapore 068901

Cost?

FREE!!!* Limited to 20 paxs only!
Register today to secure your seat!
*Pay as you order
About 1st Crypto Cafe in Singapore

https://www.youtube.com/watch?v=0eTzyxowO9E

https://www.youtube.com/watch?v=I7gzYoJ6P2o

https://sethlui.com/ducatus-cafe-singapore-pay-using-cryptocurrency/

https://cryptovest.com/news/singapore-opens-first-cryptocurrency-caf/

https://www.youtube.com/watch?v=5X7CzSjaXw8


Join as Our Members:

http://alturl.com/9kxaj

https://bit.ly/2usS6HT

https://bit.ly/2GBGZS0