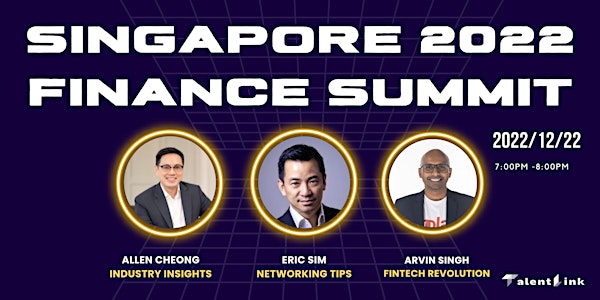 Singapore Finance Summit
Come join us at TalentLink Finance Career Summit to receive exclusive information from our mentors from Finance professions!
About this event
Date: Thursday 22 December 2022
Time: 19:00- 20:00(SGT)
Stay Tuned for more information release!
Singapore Finance Summit - Overview:
The aim of this Finance summit is to help youths & Junior working professionals to have a clearer picture of what to prepare and expect for a successful career in Finance.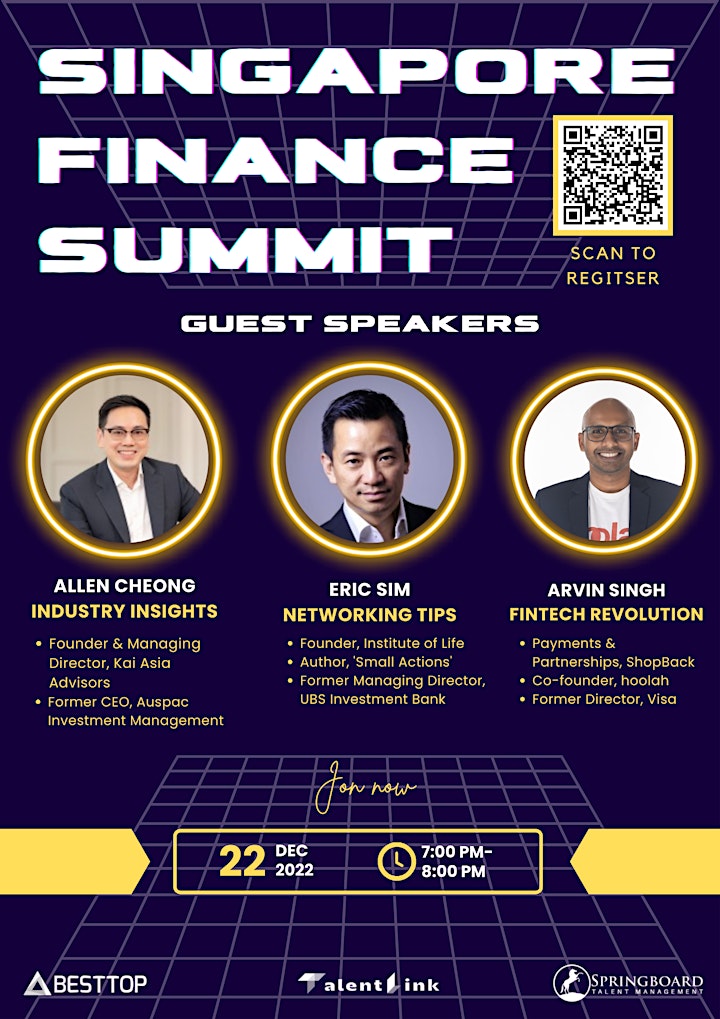 About the speakers:
Allen Cheong has 25 years of corporate finance and investment experience across geographies, sectors and cycles, and worked in market-leading financial institutions such as DBS Bank, OCBC Bank and Daiwa Capital Markets. A veteran investment banking professional with an established track record in fundraisings, IPOs and M&As, he currently runs his consultancy business in corporate finance and conducts finance-related trainings and lectures with tertiary institutions and financial education providers.
Allen actively mentors students from Nanyang Business School and CFA professionals, and has participated as panel judge for tertiary competitions such as CFA Institute Research Challenge and Singapore University Ethics Challenge.
Eric Sim, CFA, was formerly a managing director at UBS Investment Bank. He offered financing and capital market solutions to corporates and financial institutional clients across Asia. Before UBS, he spent eight years with Citi focusing on derivative structuring and sales in Singapore, Shanghai and Hong Kong.
With over 2m followers on Linkedin, Sim is one of the most followed banking professionals globally on social media. He is also the author of Small Actions: Leading Your Career to Big Success.
Check out his visual CV with notable failures here.
Arvin is the co-founder of hoolah, Asia's leading omnichannel BNPL platform, which was acquired by ShopBack in 2021. He now leads Payments and Partnerships at ShopBack.
Prior to setting up hoolah, Arvin was Director of New Channels at Visa, helping non-financial institution partners across Asia Pacific scale their businesses. His experience in payments started on the merchant side at a Canadian telco where he helped deliver a co-brand credit card. He subsequently joined Worldpay's business development team to deliver comprehensive payment solutions including gateway, acquiring, analytics and risk to eCommerce retailers across Asia-Pacific.
Singapore Finance Summit - Agenda:
1900 - 1910 Opening Remarks
1910 - 1920 Finance industry insights shared by Allen Cheong
1920 - 1930 Networking tips shared by Eric Sim
1930 - 1940 FinTech insights shared by Arvin Singh
1940 - 1955 Live Q&A
1955 - 2000 Lucky Draw
TalentLink Career Summits:
Since 2016, we have successfully organised the career fair and career summits for years, and the total number of event guests exceeds more than 1500. These career fairs and career summits serve as bridges between inspired individuals and working professionals.