Description
About Singapore Financial Conference
Singapore Financial Conference (SFC) is an annual event organized by NTU Investment Interactive Club (NTU-IIC) that brings together financial professionals, students and members of public.

Having successfully organized this event for five consecutive years, SFC is proud to be able to improve our society's financial literacy by bringing together top investing gurus to share their knowledge and experience with our participants. We hope that through such conferences our participants will work towards financial freedom and lead a prosperous life.
Event Poster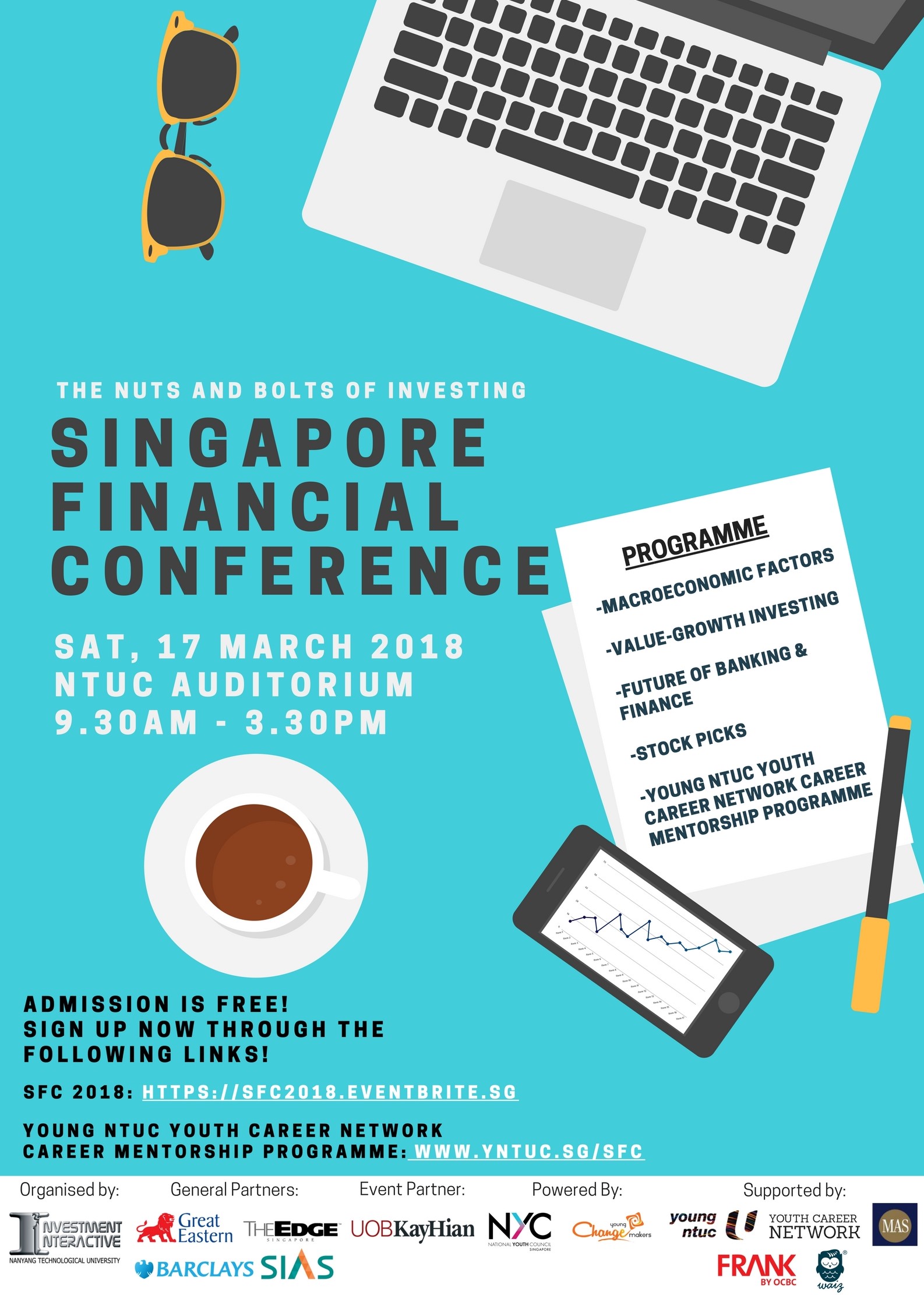 *Entry to the event is on a first-come, first-served basis due to the limited number of seats available. Register early to avoid disappointment.

About The Event
The theme for this year's conference is 'The Nuts & Bolts of Investing' which focuses on the
following questions:

Why you need to invest?
What are the various styles of investing?
How do I start investing?
What to look ahead towards in the future?
About Young NTUC Youth Career Network Career Mentorship Programme
Exploring what could be a possible career upon graduation? Join us in this mentorship session to interact with volunteer Financial professionals who will share their knowledge and expertise with you, help you set career goals and offer insightful advice on the industry of Banking & Finance!
Please click here to sign-up for the Young NTUC Career Mentorship Programme.
Speakers
S K Selvan - Senior Portfolio Manager, Lion Global Investors
S K Selvan is a senior portfolio manager in the multi-asset strategies team at Lion Global Investors. He has 21 years of financial industry experience. Prior to joining Lion Global Investors, Selvan was with Nomura Asset Management Singapore as a senior portfolio manager for absolute return mandates and Nissay Deutsche Asset Management Asia (Singapore) as head of investments managing portfolios in the Asia ex-Japan markets as well as a team of portfolio managers. He was previously with Nippon Life Insurance International (Singapore) as a fund manager and Keppel Securities as a senior investment analyst.
Stanley Lim - Co Founder of Value Invest Asia
Stanley Lim has spent the last decade in the finance industry, focusing on equity research in Asian companies. He is currently the co-founder of ValueInvestAsia.com, an independent investment publishing site that focuses on the stock markets of Singapore, Malaysia and Hong Kong. Before co-founding ValueInvestAsia, he was with The Motley Fool as a fulltime analyst for 3 years and is still a freelance contributor to their articles. Over the course of his career, he has written close to 2,000 investment articles. He is also the co-writer for the investment book: "Value Investing In Asia; The Definitive Guide to Investing in Asia".
Dr Mark Shmulevich -
Councillor, SGTech
Mark has an established career in technology innovation. From 2010 to 2012, Mark was Head of Business Development of Russian Space Systems, the largest space technology corporation in Russia. Under Mark's supervision the first joint venture in satellite navigation between USA and Russia was established. He served on its board afterwards.

In 2012 Mark was appointed Deputy Minister of ICT of Russia. During his term, he elaborated a nationwide IT industry support strategy, introduced tax benefits for SMEs in IT and extended free higher education in IT. In 2014-2018 Mark has been Chief Strategy Officer at Acronis, a data protection company.
Mark holds a Ph.D. degree in applied mathematics and INSEAD independent director certificate. Mark was also a World Economic Forum Global Shaper in 2012.
Edison Chen - Head of Retail Research, UOB Kay Hian
Prior to joining UOB Kay Hian as the Head of Retail Research, Edison Chen served with Institutional Sales at Maybank Kim Eng, where he serviced internationally renowned institutional investors such as Aberdeen, Wellington and Point 72. He was also one of Singapore's leading equity analysts at RHB OSK DMG. His unique ability to discover hidden gems in the equity market has won him multiple accolades including the 6th Best Singapore Analyst (Overall), 1st in Technology Hardware and Internet Stocks in the Asiamoney Brokers Poll 2013/2014 and the Starmine Top Stock Pickers Award in 2014. With his concise views and wealth of expertise, Edison is frequently sought after by both international and local media such as BBC, Business Times, Channel NewsAsia and The Straits Times.
Moderator
Bryan Low - Banker & Adjunct Lecturer, Nanyang Technological University
Bryan Low is the adjunct lecturer and course coordinator for Wealth Management at Nanyang Technological University.
Travel Advisory
It is recommended for participants to commute via public transport. Do take note of the shorter operating hours at MRT stations and plan your journey early.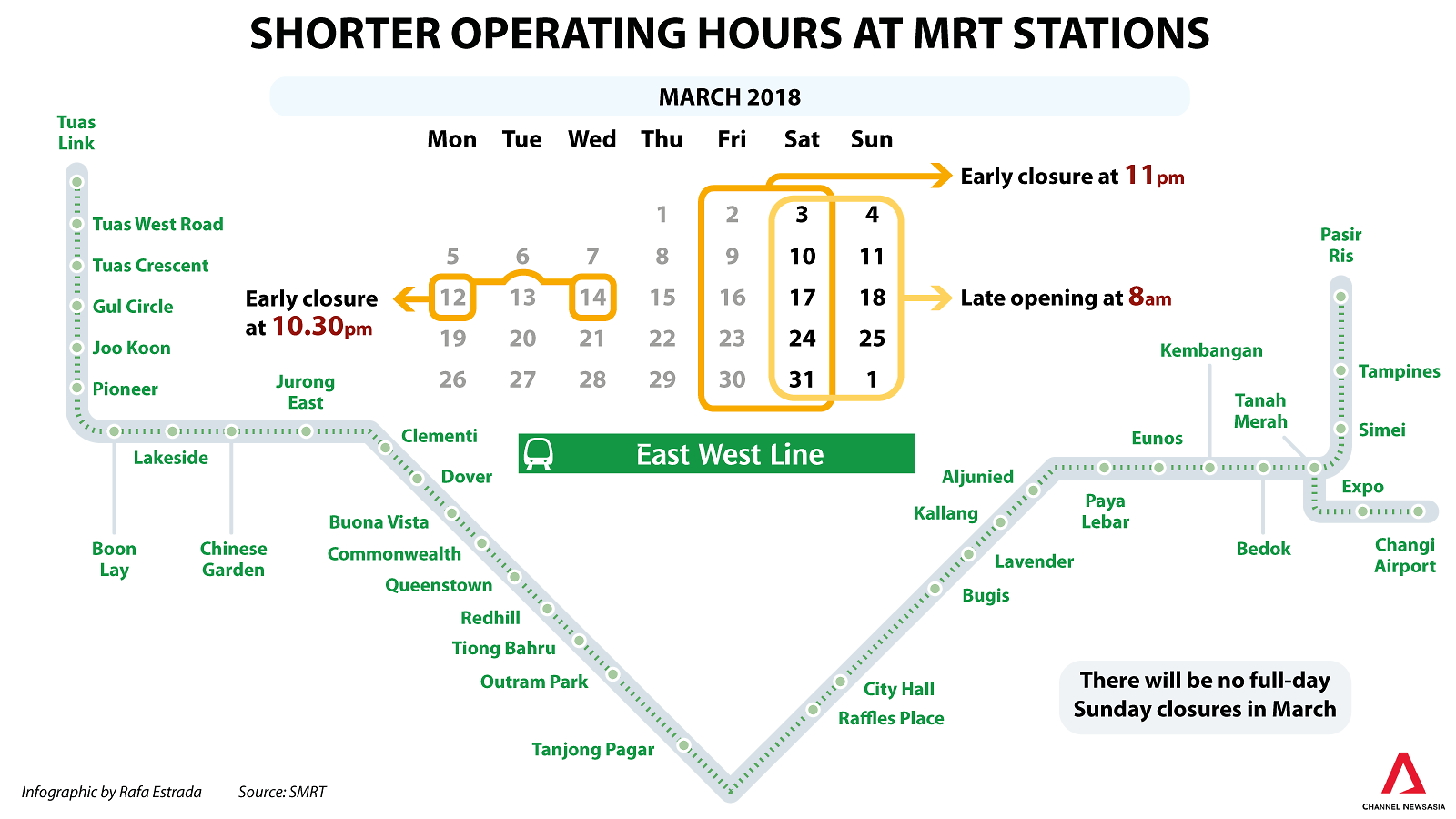 For more information please click here.
FAQs
How can I contact the organiser with any questions?
Drop an email to muhammed003@e.ntu.edu.sg or alternatively message us in our Facebook page.