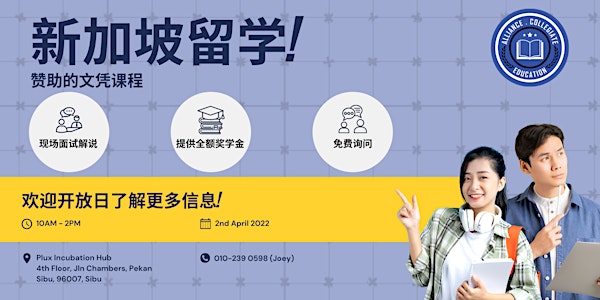 Singapore Full Sponsorship Opportunities | ACE Open House
Singapore Full Sponsorship Opportunities | ACE Open House
When and where
Location
PLUX INCUBATION HUB Jalan Chambers #4th Floor Sibu, Sarawak 96007 Malaysia
About this event
Interested in studying in Singapore? Not too sure what to do after SPM?
Find out more about our 100% 𝐅𝐮𝐥𝐥𝐲 𝐒𝐩𝐨𝐧𝐬𝐨𝐫𝐞𝐝 𝐖𝐨𝐫𝐤 & 𝐒𝐭𝐮𝐝𝐲 𝐃𝐢𝐩𝐥𝐨𝐦𝐚 Programme through our open house in Sibu! 🦢
⌚ 10AM - 2PM
📅 2nd April 2022
📍Alliance Collegiate of Education, No. 32, Plux Incubation Hub, 4th Floor, Jln Chambers, Pekan Sibu, 96007, Sibu
✅ Fully Sponsored Education
✅ Learn on the Job
✅ Earn allowances with incentives!
Fast track your education today with us. RSVP by clicking on the link below or calling our representative Ms Yong at 010-239 0598 📞
________________________________
有兴趣在新加坡学习吗?不太确定 SPM 之后该做什么?
想了解更多关于我们 100% 赞助半工读文凭项目吗?欢迎出席我们的开放日活动在诗巫。
⌚ 时间: 10am - 2pm
📅 日期:2022 年 4月2号(星期六)
📍 地址:Alliance Collegiate Education, No. 32, Plux Incubation Hub, 4th Floor, Jln Chambers, Pekan Sibu, 96007, Sibu
✅ 全额赞助酒店与旅游管理课程
✅ 在工作中学习并实践
✅ 赚取津贴与奖励
今天与我们一起快速通过我们的一对一询问来申请您的100%赞助课程。前往我们的举办活动或致电我们的代表 Miss Yong 010-2390598 预约出席或询问详情。📞