Singapore Gramophone Music Festival 留声机音乐节 2017 - Divas Of Old Shanghai 老上海...
Description
2017's Music Event ✓ - 2017's Dance Event ✓ - 2017's Fashion Event

✓ -

Golden Classics - Strictly Ballroom - QiPao Preferred
**PROMO CODE FOR ZHOU XUAN'S 60TH ANNIV TRIBUTE CONCERTS = "ZX60" (20% OFF NORMAL TICKET)

Applicable for 22/9 & 23/9 Concerts
Singapore Gramophone Music Festival 2017 - Divas Of Old Shanghai
重温 Zhou Xuan 周璇 . Li Xiang Lan 李香兰 . Bai Guang 白光 . Bai Hong 白虹 . Gong Qiu Xia 龚秋霞 . Wu Ying Yin 吴莺音 . Yao Li 姚莉 . Ge Lan 葛兰 所唱过的名曲。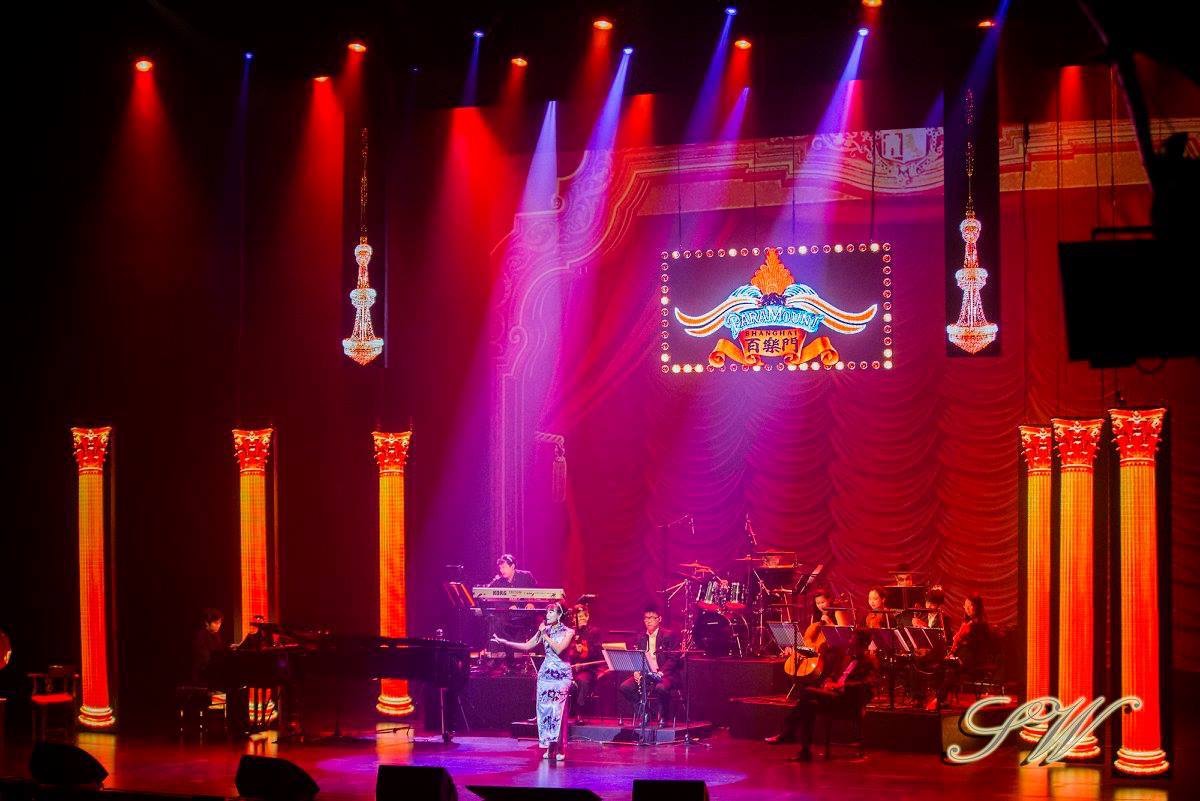 It all began 10 years ago ...
10 years in the making, the Singapore Gramophone Music Festival 2017 - Divas Of Old Shanghai, is a week-long music festival featuring a different concert everyday. Songs made famous during the 1930s to 1960s by the "Seven Great Singing Stars" namely Zhou Xuan 周璇, Li Xiang Lan 李香兰 (a.k.a. Shirley Yamaguchi), Bai Guang 白光, Bai Hong 白虹, Gong Qiu Xia 龚秋霞, Wu Ying Yin 吴莺音 & Yao Li 姚莉, plus Ge Lan 葛兰 (Grace Chang) will be showcased throughout the festival week in a nightly concert that starts at 8pm.
First staged back in 2007, the first of the series was a 50th Anniversary Tribute to Zhou Xuan 周璇 (1 Aug 1918 - 22 Sept 1957) at the Esplanade Concert Hall, which means this year's concert will be a 60th Anniversary Tribute to her, scheduled for the last two days of the festival.
Please pay careful attention to the date and featured artiste(s) before confirming your booking to ensure that you are purchasing the correct tickets.
The 5-Day Concert Programme is as follows: (Pls Note: There is no performance on 20/9)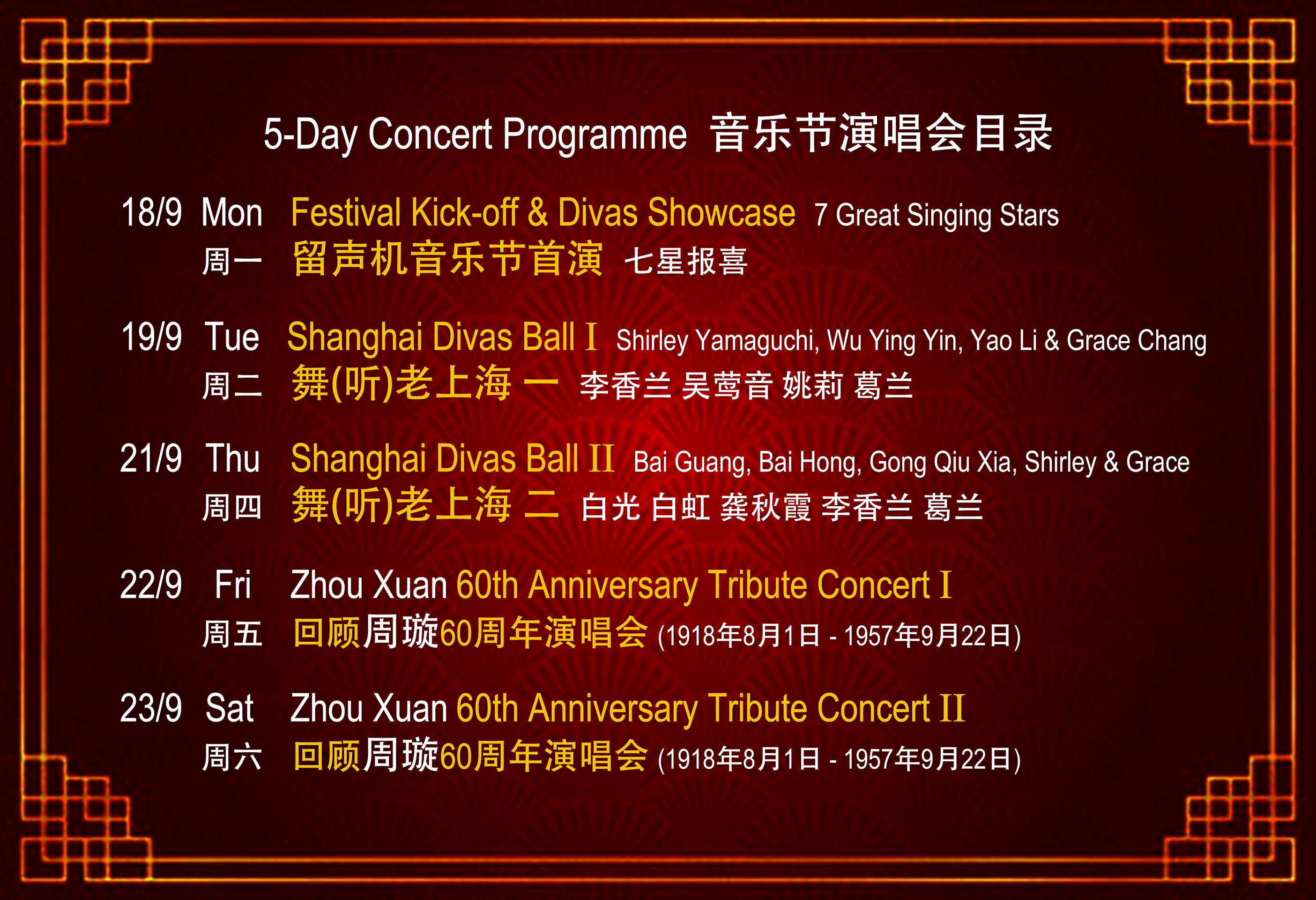 Every Seat In The House Is A Good Seat:

We have engaged renowned sound engineering company, Atlas Sound, as our sound reinforcement company. Together with Bose Professional Sound Systems, they will ensure that every seat in the house is a good seat to listen to the performance. Once you have made a booking here, we will assign your seating in the respective price zones on a first-come-first-serve basis. Again, there is not a single bad seat in the house.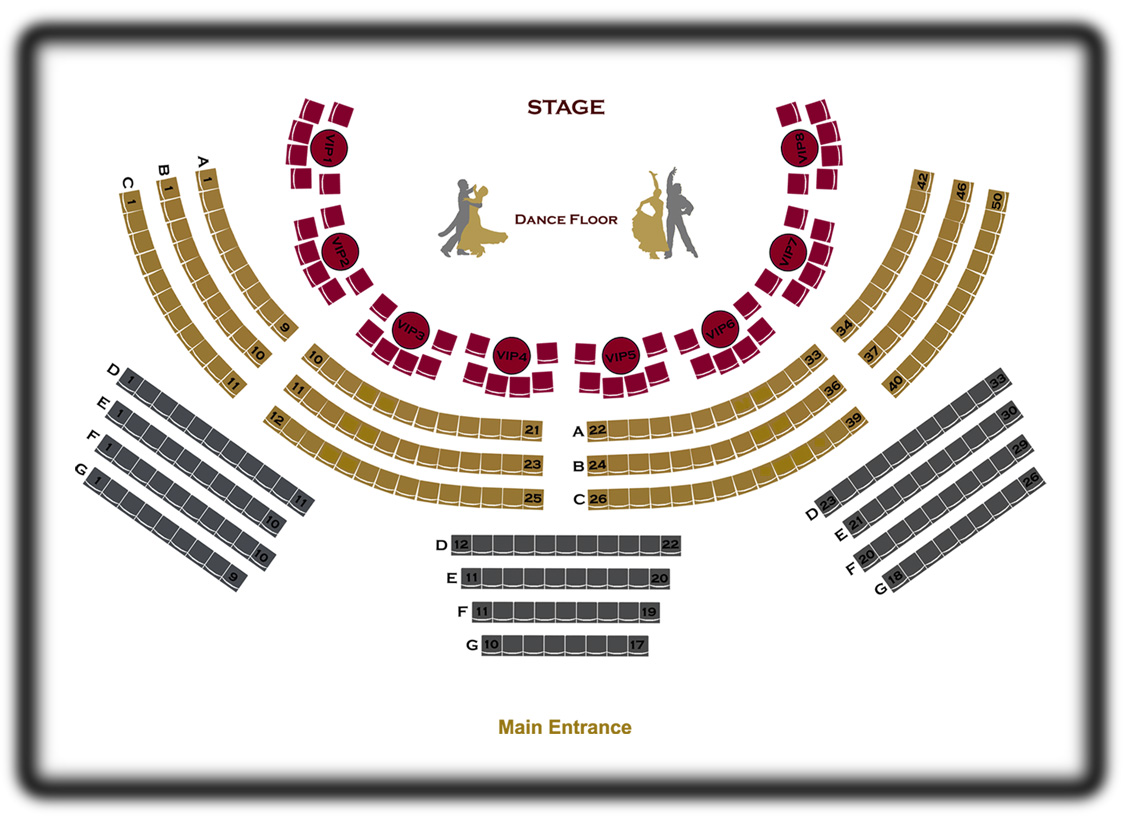 Assigned Seating Ticket Specimen
Exchange for an assigned seating ticket at the entrance on the day of the concert. Again, seat assignment is on a first-come-first-allocate basis and there is no lousy seat in the house.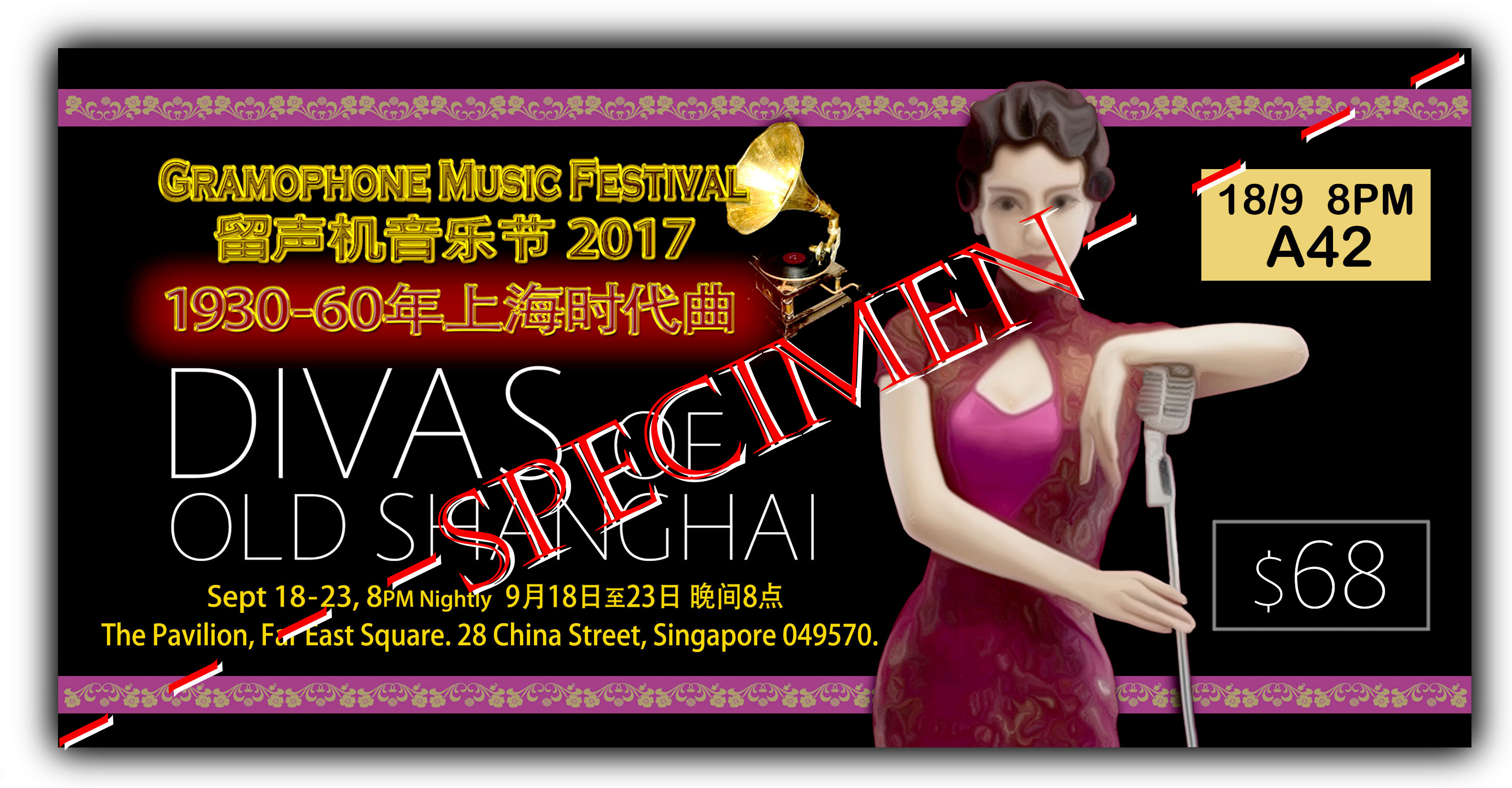 FAQs
What are my transport/parking options for getting to and from the event?
The nearest M.R.T. station is Telok Ayer Station of the Downtown Line. If you drive, parking is available at Far East Square or China Square. Entrance to car park is near to China Street/Upper Cross St junction. Address of The Pavilion is Far East Square, 28 China St, Singapore 049570.
How can I contact the organiser with any questions?
Call us directly at Singapore telephone number 6344 6223 or email info@etcmusic.com.sg

What's the refund policy?
Contact us directly via telephone 6344 6223 or email: info@etcmusic.com.sg should you require a refund for valid reason(s).
Do I have to bring my printed ticket to the event?
Any form of proof that you have purchased the ticket, hardcopy or electronic, will allow you to exchange for a reserved seat ticket at the registration point when you show up for the concert.