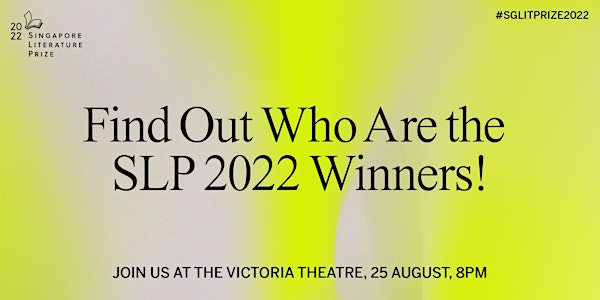 Singapore Literature Prize 2022 Awards Ceremony
Join us in person to celebrate Singapore's oldest and most prestigious literary prize!
When and where
Location
Victoria Theatre 11 Empress Place Singapore, 179556 Singapore
About this event
On behalf of the Singapore Book Council, we invite you to join us as we celebrate 30 years of the Singapore Literature Prize since its inception in 1992.
Forty-nine works have been shortlisted for Singapore's top literary award. They will be contesting in 12 categories across the three genres of Poetry, Fiction and Creative Nonfiction and four languages of Chinese, English, Malay and Tamil.
Join us as we toast the finest of Singapore literature with the theme of Resonance | 共鸣 | Resonan | ஒத்திசைவு.  
Dress Code: Literary Flourish
Twenty-eight writers are shortlisted for the first time, while five will contest in two or more different categories. Clara Chow is the first writer in the history of SLP to be shortlisted in three categories across two different languages! She has been shortlisted in English Fiction, English Creative Nonfiction and in Chinese Poetry. Cikgu Suratman Markasan and Professor Wang Gungwu are the oldest writers for SLP 2022, shortlisted at 91 years young.
Does Singapore literature resonate with you? Show your support for our shortlisted writers! If you haven't already, head over to our Readers' Favourite from now until 15 August to vote for your favourite book in each language!
Join us in person at the Victoria Theatre on 25 August 2022, 8pm to find out who the winners are!
*Limited seats available, registration will be on first come-first serve basis.
Advisory on COVID-19
Kindly note that from 1 Feb 2022, visitors entering Arts House Limited venues will have to be fully vaccinated. Only individuals who have recovered from COVID-19 within 180 days, medically ineligible for COVID-19 vaccination, and children aged 12 years and below may be exempted from Vaccination-Differentiated Safe Management Measures. For more info, please refer here.
About the Singapore Literature Prize
The Singapore Literature Prize is a biennial competition that is open to Singapore citizens and permanent residents whose works of fiction, poetry, and creative non-fiction have been published in Singapore or abroad during a specified period of time in any of Singapore's four official languages — Chinese, English, Malay, or Tamil.
Relive the SLP2020 award ceremony and programmes here! You can also learn about the shortlisted writers and winners from SLP 2022, as well as the noteworthy works that the Singapore Literature Prize has recognised over the years.