Description
Mind-Body Medicine, Behavioural Transformation & Neuroplasticity
Learn how mindfulness can enhance your personal performance, relieve pain, reduce depression, anxiety and slow down ageing.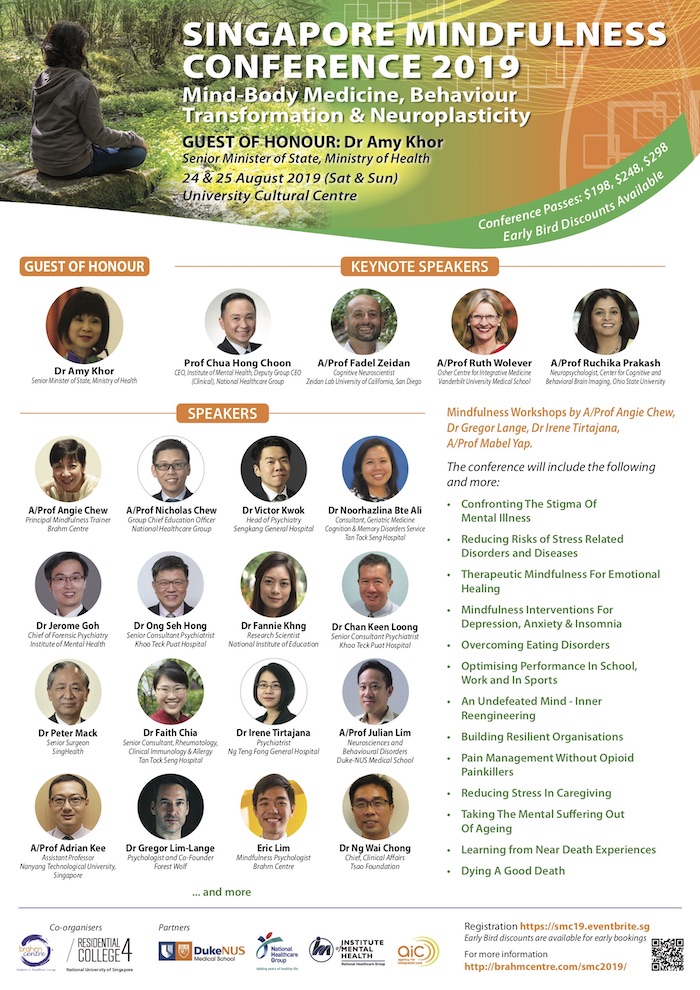 Guest of Honour:
Dr Amy Khor
Senior Minister of State, Ministry of Health
---
Keynote Speakers:
Prof. Hong Choon Chua serves as the Chief Executive Officer of Institute of Mental Health/Woodbridge Hospital at National Healthcare Group Pte Ltd. His teaching and research interests are in Psychiatric Epidemiology, Depression & Mood Disorders, Quality Improvement & Patient Safety in Mental Health.
Day 1 Keynote: Confronting The Stigma Of Mental Illness
---
Dr Fadel Zeidan, a cognitive neuroscientist, is the Director of University of California San Diego Brain Mechanisms of Pain & Health Lab. In 2014, the United States NIH Pain Consortium awarded A/Prof Zeidan the Mitchell Max Award for Research Excellence.
Day 1 Keynote: Pain Management Without Opioid Pain Killers
Day 2 Keynote: Cognitive Neuroscience - Changing Our Understanding Of The Brain


---
Dr Ruchika Prakash, a neuropsychologist, is the Director Ohio State University Clinical Neuroscience Laboratory and Associate Director of the Center for Cognitive and Behavioural Brain Imaging. She received the "Rising Star Designation" given by the Association for Psychological Science in 2013 and the Springer Early Career Achievement in Research on Adult Development and Ageing by American Psychological Association in 2016.
Keynote: Effects Of Mindfulness Training On The Aging Brain
---
Dr. Ruth Wolever, a clinical health psychologist, is an Associate Professor of Physical Medicine & Rehabilitation at Vanderbilt University Medical Center, Department of Psychiatry & Behavioral Sciences and the School of Nursing. Her research focuses on mindfulness-based approaches to self-regulation and lifestyle change for those with, or at elevated risk for, diabetes, heart disease, insomnia, tinnitus, chronic pain and other stress-related disorders. She has published a book on "The Mindful Diet."
Keynote: Reducing Risks Of Stress Related Diseases And Disorders
---
PROGRAM TIMINGS
(Program details subject to adjustments, will be published in June 2019)
Day 1
9.30am Opening and Guest of Honour Welcome Speech
10am Keynote Session
12pm Lunch
1:15pm Session 1 (2 tracks)
3:30pm Break
4pm Session 2 (2 tracks)
Day 2
9.30am Session 3 (2 tracks)
11.45am Lunch
1.15pm Session 4 (2 tracks)
2:45pm Break
3:15pm Keynote Session

Minimum Age
Primary 6 and above

For more info
For more information, including the complete list of speakers to date, please visit www.brahmcentre.com/smc2019.


Conference passes are transferable but NON-refundable
---
Co-Organisers: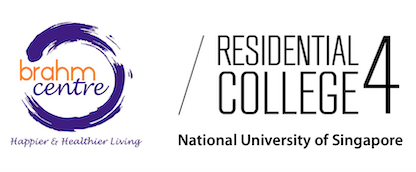 ---
Partners: