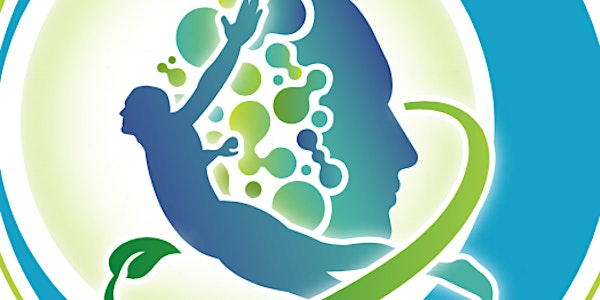 Singapore Mindfulness Conference 2020 -29/30 August Post-Conference Program
29 Aug Workshops and 30 Aug talk by Harvard's Dr Beth Frates on Lifestyle Medicine & A/Prof Angie Chew on Insights of Mindfulness Journey
About this event
The post-conference program comprise 4 workshops on 29 August and 2 talks on 30 August from 9:30am - 12pm including a closing by the organising committee members of Singapore Mindfulness Conference 2020!
9:30am Harvard's Dr Beth Frates on Improving Health with Lifestyle Medicine
10:30am NUS Adj A/Prof Angie Chew, CEO & Mindfulness Principal of Brahm Centre on Insights into the Mindfulness Journey - A Life Altering Experience
11:15am - 12pm Closing by the Organising Committee members of the Singapore Mindfulness Conference 2020
The theme of Singapore Mindfulness Conference (SMC) 2020 'Enhancing Resilience & Performance' was selected to reflect how we can thrive in the new norm. A focus on present awareness and responding mindfully to changes. Take action today - strengthen resilience and improve productivity at work or school. Empower yourself to lead happier and healthier lives.
This year SMC is online featuring physicians, neuroscientists and mindfulness experts from Harvard, Monash, Institute of Mental Health, Mindfulness in School Project, NUS, Duke-NUS, NHG, SingHealth speakers and more.
There are special sessions and workshops with Q&A for educators, parents and healthcare workers. For the full program including speakers' bio and workshops synopsis, please visit http://brahmcentre.com/smc2020/ (currently being updated)
Please submit FULL name and particulars for applications to be accepted.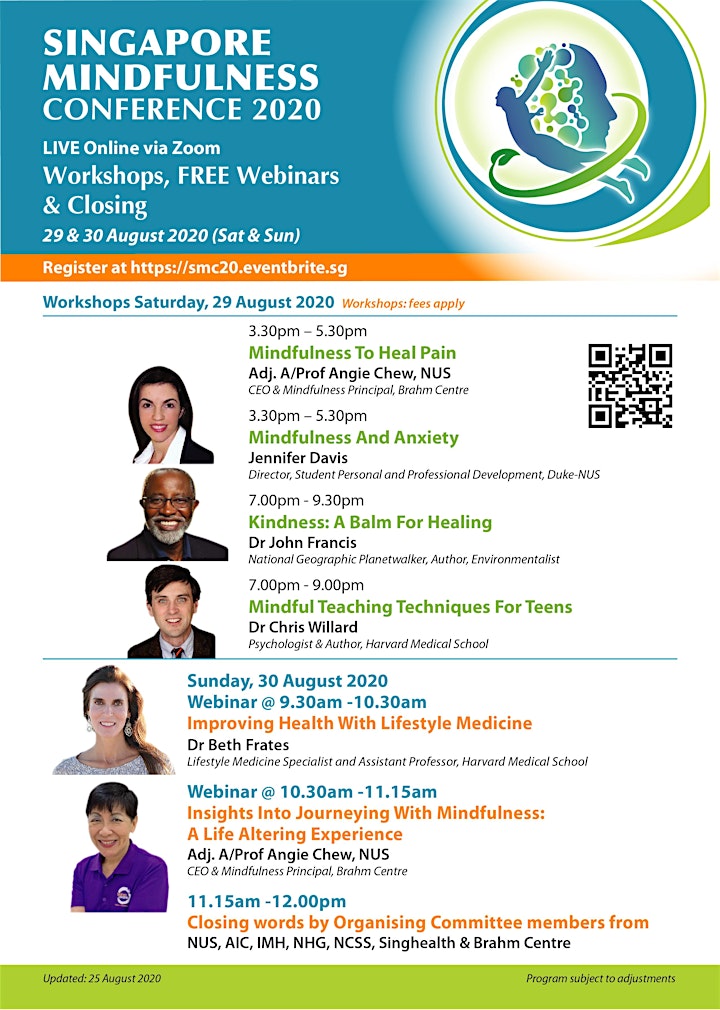 Brahm Centre is honoured to have Dr John Francis, National Geographic Planetwalker, Author & Environmentalist open the SMC 2020 with a keynote that examines our relationships with people and the planet.
Hear his motivation and experiences in remaining silent for 17 years. He will also be conducting 2 exclusive workshops. Sign up for them and take steps to self discovery. Be empowered to make a difference! 
It's not easy to raise children, especially if they are curious and energetic. Learn from Harvard's psychologist Dr Chris Willard on how he imparts mindfulness to his young children. He has published numerous books and appeared in Ted Talks. Tune in to his webinar and sign up to his workshops for mindful teaching techniques that benefit kids and teens.
Whilst we cannot make stress disappear, we can certainly cope with a better response.
Learn from Dr Faith Chua & Dr Huang Wanping (Tan Tock Seng Hospital) important skills and handy tips on how to recognise where you are in terms of your stress levels, how to incorporate recovery into your daily life, and most importantly, how to build up resilience in the long run against stress.
Sign up for the workshop ' Learning the Art of Becoming Resilient'