Event Information
Location
Zion Bishan Bible-Presbyterian Church
4 Bishan Street 13
Singapore, 579792
Singapore
Singapore Pastors Conference 2022: Gospel Ministry in a Changing World (12-13 July 2022): Jointly organised by Project Timothy and ETCAsia
About this event
Growing religious indifference. Confusion over gender identity. Cancel culture. Wokism. Those are just some of the challenges in popular culture today. How should the church respond? And what wisdom is there from God's word to keep preaching the gospel in such a changing climate?
Join us for our first ever Singapore Pastors Conference as we explore these issues and more!
About our speakers:
Andrew Sach is the pastor of Grace Church Greenwich in London. He also teaches at the Cornhill Training Course which equips pastors in word ministry. Andrew is a much sought after author and speaker. Among his many books are Dig Deeper, Pierced for our Transgressions, and Are you 100% sure you want to be an agnostic?
Marty Foord is Principal of the Evangelical Theological College of Asia (ETCAsia).
Ben Thompson is the Old Testament Lecturer at ETCAsia.
Jenny Foord is Dean of Women at ETCAsia.
Conference Schedule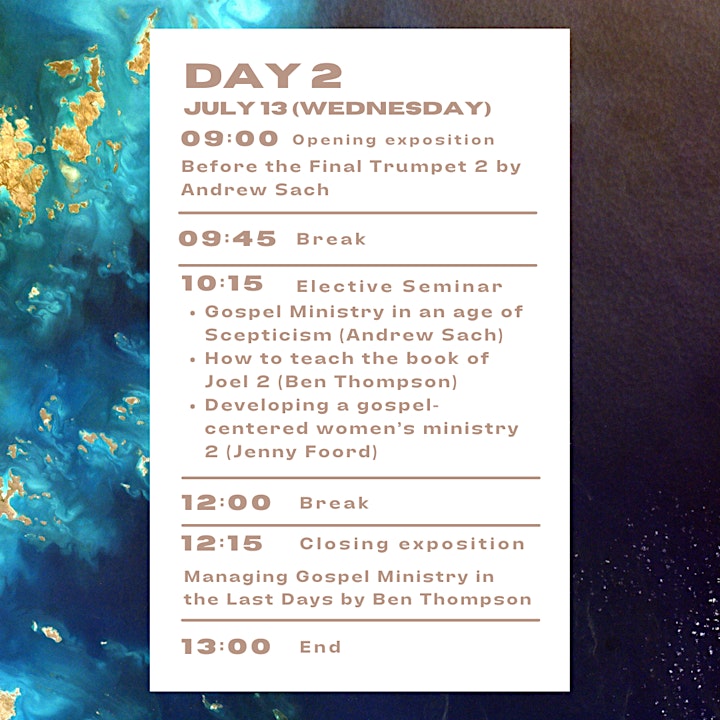 Date and time
Location
Zion Bishan Bible-Presbyterian Church
4 Bishan Street 13
Singapore, 579792
Singapore