Description
Registration Fee:
SGD 80 for IEEE Members, SGD 100 for others participants.
Join CRFID FREE for IEEE Members from the below link:
https://www.ieee.org/membership-catalog/productdetail/showProductDetailPage.html?product=CNCRFID741
Payment:
Option 1: Bank Transfer to DBS Bank Ltd (Account Name: IEEE Singapore Section, Account Number: 032-004861-7)
Option 2: Make Cheque payable to "IEEE Singapore Section" crossed and marked "A/C payee only", and mail to: Attn: Dr Nasimuddin, 1 Fusionopolis Way, #21-01 Connexis South Tower, Singapore 138632
---
IEEE CRFID Singapore Chapter (http://ewh.ieee.org/r10/singapore/rfid/) is organizing a 1-day RFID workshop on 30th October 2017 (Monday). Pls SAVE the DATE!
Radio Frequency Identification (RFID) is a horizontal technology that can enable business innovations across many industries beyond retail including hospitality, automotive, manufacturing, healthcare, pharmaceuticals, aerospace, transportation and logistics, etc. It plays an important role in the IoT, M2M and Smart City applications. IEEE CRFID Singapore Chapter is organizing an RFID workshop covering the fundamental theories and practical skills of RFID technology, advanced RFID antennas and various enterprise applications. Some industry product demo will be showcased during the workshop as well. Lunch with two tea breaks will be provided.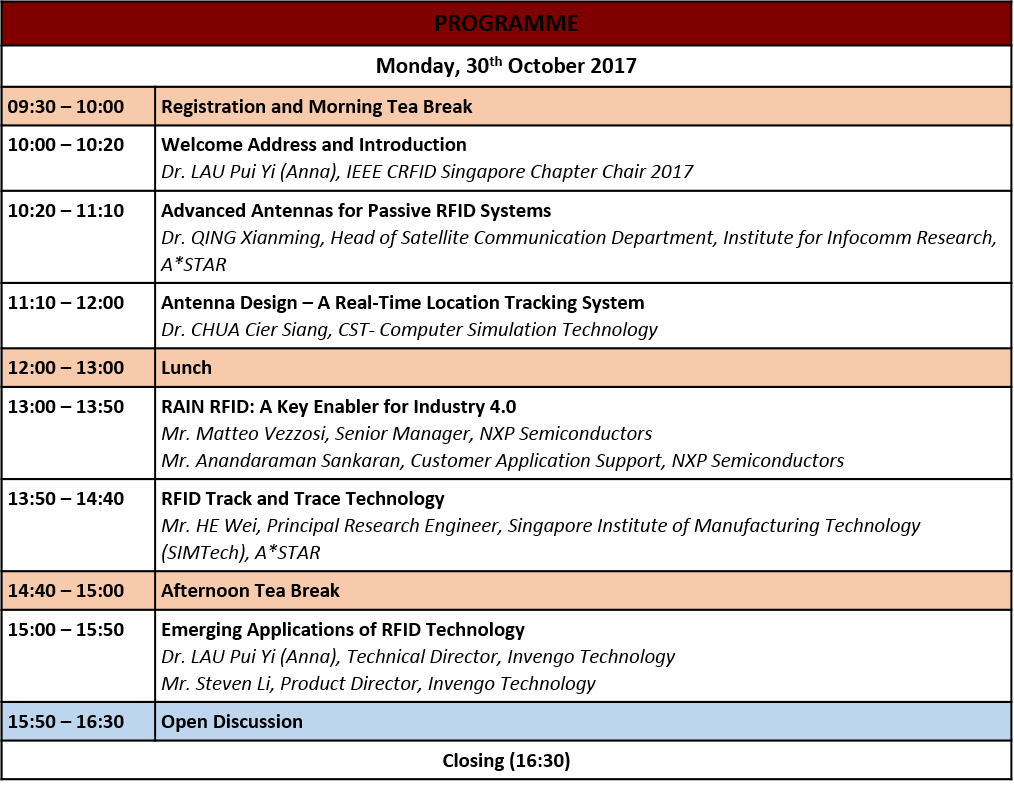 ---
More details and updates can be found from the chapter website.
Contact Us:
For registration and payment enquiries, please contact Dr. Nasimuddin, Email: nasimuddin@i2r.a-star.edu.sg
For general enquiries, please contact Dr. LIU Wei, Email: jocieu.ustc@gmail.com