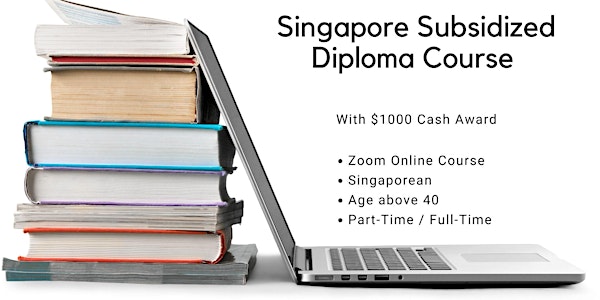 Singapore Subsidized Diploma Course with $1000 Cash Award
Good News Get $1000 Cash Award !!! Singapore Subsidized Diploma Conducted Via Zoom. Flexible Schedule
About this event
Singapore Subsidized Diploma. Comes with bilingual language (English / Chinese)
Requirements:
1. Singaporean.
2. Age 40 and above.
3. English is preferred.
4. Know basic computer knowledge.
5. Knowledge in Zoom.
6. Can pay via Skillsfuture.
Course conducted Full-Time, Part-Time or Combination. Flexible scheduling
Full Time : 9am to 6pm
Part-Time : 6pm to 11pm
Can complete the course with 6 weeks for Full-Time or 11 weeks Part-Time and get $1000 cash award.
Anyone can apply, even if you are working, studying, housewife, retiree, etc.