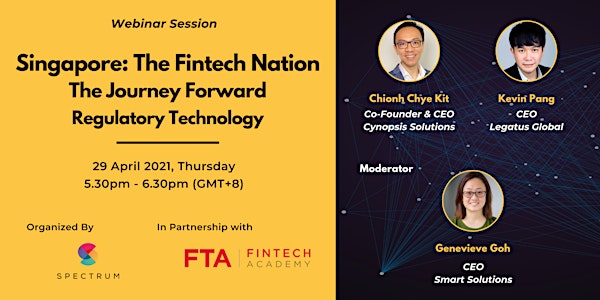 Singapore: The Fintech Nation - The Journey Forward (Regulatory Technology)
Join this free webinar to hear about Singapore's journey on becoming the world's fintech hub, covering AML/KYC and robo-advisory.
About this event
In partnership with Fintech Academy, we will continue to explore the factors that have enabled Singapore to achieve the "Fintech Nation" status. Join us and these experts who will delve deeper into Regulatory Technology (Regtech). More specifically, we will look into focus areas such as Know-Your-Client (KYC) processes during customer onboarding and Anti-Money Laundering (AML) policy in their respective expertise. This includes the robo-advisory landscape in how Big Data and Machine Learning are applied in finance and wealth management.
The Fintech journey of Singapore is nothing short of extraordinary. Despite its limited means, the city-state has become one of the world's leading Fintech hub by bringing together regulators, startups, investors and corporates to achieve a common goal. Being Kiasu (a Hokkien word which can be loosely translated to fear of missing out) and other unique characteristics of the Singaporean culture played a big part in this success as well as the regulators' forward-thinking policies.
About the Speakers
Chionh Chye Kit, Co-Founder & CEO, Cynopsis Solutions Pte. Ltd.
Chye Kit is the Co-Founder & CEO of Cynopsis Solutions, an award-winning end-to-end RegTech solution provider headquartered in Singapore with offices in United Kingdom, United States, Abu Dhabi, Vietnam and Taiwan. Cynopsis Solutions focus on simplifying complex know-your-customer (KYC) and anti-money laundering (AML) requirements by automating and digitising essential regulatory processes for clients in both financial and non-financial services sectors.
Under his leadership, Cynopsis Solutions is named as a Top 10 Fastest Growing Company in Singapore 2020 by The Straits Times and Top 50 High Growth Company in Asia Pacific 2020 by The Financial Times.
Chye Kit has more than 20 years of financial and capital markets experience in Asia, gained largely from working in Macquarie Group and ING Bank. He started his career in an external audit role with PwC specialising in audit of financial services clients. Prior to his entrepreneurship in 2014, Chye Kit spent more than a decade with Macquarie Group as Managing Director and Regional Head of Compliance, Asia.
Genevieve Goh, CEO, Smart Solutions Pte Ltd
Genevieve is currently CEO and founder of Smart Solution(S) Pte Ltd. While running the initial year of Smart Solutions, she was COO of Sense Infosys (a Singapore government invested company ) and was focused to provide sales, solutions and support leadership in the development of data fusion and risk intelligence products and solutions. In 2018, the sales and solutions team responsible of delivering key risk analytics solution was part of the expansion plan of Smart Solution(s) Pte Ltd and form the pioneer team.
With more than 15 years of experience in working with clients in various industry domain and advising on critical problem statements and alignment to available solutions available in the market. Prior to Smart Solutions(s), Genevieve has had the experience of working in Vietnam and have covered expansion of businesses in emerging markets and has vast insights on the intrinsic relationships in the high growth markets in ASIA.
She is trained as a data science practitioner in the last 2 years and have prior 13 years of sales and technical architecture skills to build performance and robust infrastructure to support critical business applications. Her focus has always been building customer centric solution without compromising quality and time and channels the team to focus on partnering our clients and partners for success.
Kevin Pang, CEO, Legatus Global Pte Ltd
Kevin is a 23 years veteran in the Global IT and Telecommunications industry with the likes of IBM, HP, CSC, BT, Orange, TaTa, Telstra and other global brand names. Kevin has extensive experience in the areas of IT and Telco Technologies, Cloud Computing, Cyber Security and Fintech, covering various verticals. His experiences is regional, covering the whole of APAC, with especially good synergies in Greater China due to his proficiency in Mandarin and Cantonese.
Being actively involved in the startup ecosystem, as Entrepreneur in Residence with Startupbootcamp Fintech 2015 - 2016, Kevin has contributed his vast experience to various startups with technology, product development, business modelling, strategic roadmapping and structuring to improve valuation, and is still currently a mentor and advisor to a variety of startups. Kevin is a registered mentor at Singapore Fintech Association, and is currently one of the Adjunct Lecturers for the Singapore Fintech Association Talent Program. He is currently heavily involved in the realm of blockchain and cryptocurrencies, giving advisory to his communities on regulatory updates and the development of STOs. With experiences in payment and remittance, he is involved in various payment related projects, (eg with Unionpay related project). Current engaging in Chinese DCEP development activities.
About The Book - SINGAPORE: THE FINTECH NATION
Fintech journey of Singapore has been a story of relentless pursuit of excellence to build a global financial service hub with limited means and lots of aspirations. The slogan of "Dream big. Start small. Move fast" brought together regulators, startups, investors, corporates and everyone else to achieve a common goal.
One of the critical superpowers of Singapore is a national character built on survival instinct and a distinctive obsession with being successful. Singaporeans by nature are Kiasu (a Hokkien word which can be loosely translated to fear of missing out), and they wear it as a badge of honor. Like Israeli Chutzpah, it has both positive and negative connotations. Being Kiasu (drives Singaporeans to be constantly paranoid, doing everything they can to achieve success. It creates a certain fanaticism about meritocracy and instils a belief that one can never be complacent. In a regulated industry, our fear is our biggest strength, pushing us to comply with a wide range of ever-evolving regulations. The durable social fabric supports an adherence to order and authority. It proves to be a significant asset when it comes to developing and supporting a heavily regulated industry like financial services.
Singapore attracts people across the region to build their ventures in the domains of finance and technology. This book traces Singapore's journey from 2015 till today starting with establishment of regional hubs and globalization of fintech innovation. The key principles which established Singapore as a Fintech Nation have been an obsession with excellence referred to as RFFL (Right First, Fast Later), a unique model of economic and legal policies known as Singanomics and lastly, an organized and controlled model of a new idea development termed Garden Innovation.
This book was developed through 57 one-on-one interviews with founders and enablers, bringing together the stories and journeys of founders and enablers of the fintech ecosystem including access to capital, customers, talent, and policy initiatives which have made them and Singapore successful. These narratives are set against the context of key regulatory policy decisions and background of how some of the foundation blocks of Fintech Nation were set up and evolved over time. It aims to inspire the next generation to build their ventures and bring technology to the masses, improving the lives of billions. It contains a special chapter from Chief Fintech Officer, Monetary Authority of Singapore, Sopnendu Mohanty covering the subject from the lenses of a regulator.