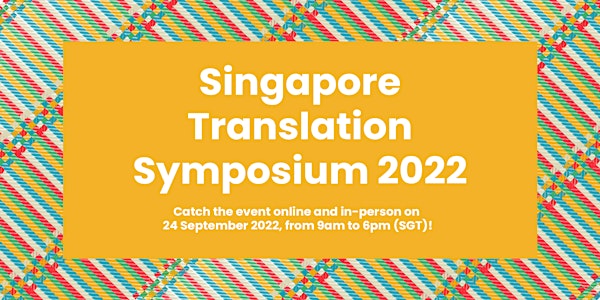 Singapore Translation Symposium 2022
The Singapore Translation Symposium returns this year on 24 September (Saturday)!
When and where
Location
Play Den @ The Arts House 1 Old Parliament Lane Singapore, 179429 Singapore
About this event
The Singapore Translation Symposium returns this year on 24 September (Saturday)! Convening translators, writers, experts and stakeholders in a series of talks and discussions, they will examine pertinent issues and topics, and explore opportunities for collaboration and knowledge-sharing to facilitate the capability development of the local translation industry and the exchange of best practices among practitioners. Topics for discussion this year include translation of theatre works and the impact of artificial intelligence technologies on literary translation.
Participants can also drop by the Arts House to participate in the Translation Circle!
For enquiries, please email programmes@bookcouncil.sg
Sessions
[Digital] KEYNOTE: MOVING FORWARD WITH TRANSLATION
Virtual on SBC Facebook
Screened at Play Den, The Arts House
Time: 0900 – 1030 (SGT)
Featuring: Daisy Rockwell, Jeremy Tiang,
Moderator: Nazry Bahrawi
In English
With an increased advocacy for the publishing of translated works and for the recognition of translators, what changes can emerging and established translators expect in the industry? Join our speakers as they examine the current landscape for literary translators amidst these developments.
Watch here: https://fb.me/e/1GudRdxN1
[In-person] TRANSLATING FOR THE STAGE
In-person at Play Den, The Arts House
Time: 1130 – 1230 (SGT)
Featuring: Meenakshy Bhaskar, Zelda Tatiana Ng, Zulfadli Rashid
Moderator: Sonya Wong
In English
This panel features four dramaturgs who have adapted literary works into a different genre to be performed in a different language from the original. They will share how they have adapted and translated the works for performance, placing emphasis on the considerations and challenges during the translation process.
[Virtual] ARTIFICIAL INTELLIGENCE (AI) AND LITERARY TRANSLATION
Virtual on SBC Facebook
Screened at Play Den, The Arts House
Time: 1500 – 1600 (SGT)
Featuring: Alvin Law, Francis Bond, Roy Youdale,
Moderator: Susan Xu Yun
In English
How can literary translators leverage Artificial Intelligence (AI) technologies to aid their work, or will such technologies eventually phase out the need for human translators? This panel explores the future of literary translation with the advancements in AI technology. The speakers will also discuss the benefits of adopting a collaborative mindset when engaging with AI technologies.
Watch here: https://fb.me/e/2kkOWDH05
[Virtual] JUDGING TRANSLATED LITERARY WORKS
Virtual on SBC Facebook
Screened at Play Den, The Arts House
Time: 1630 – 1800 (SGT)
Featuring: Ann Morgan, Elnathan John, Khademul Islam, Shash Trevett
Moderator: Christina Ng
In English
What goes into the judging of translated literary works? Issues about the work's merit in its original language and the judges' knowledge of the source language inevitably arise. Dive into this conundrum with the speakers as they discuss how the merit of translated works is decided and how to ensure the fairness of the judging process.
Watch here: https://fb.me/e/26CgnVKsu
[In-person] Let's Translate: Translation Circle!
In-person at Play Den, The Arts House
Time: 1330 – 1445 (SGT)
Looking to challenge yourself? Keen to try your hand at literary translation? We invite you to be a part of this Translation Circle! Bring a friend, work together with other participants, take turns to translate a poem. Even if it's your first time, fret not as we allow the usage of translation tools as well!
Speakers and Moderators
Alvin Lam is a translator and editor. Head of recruitment and quality assessment at Atlas Studios, he has worked on a wide array of genres in the Webnovel scene. His notable works include The Strongest System for novels as well as the transcription of Soul Land's(斗罗大陆) animation adaptation by Tencent Penguin Pictures.
Ann Morgan is an author, Royal Literary Fund advisory fellow and editor based in Folkestone, UK. In 2012, she set herself the challenge of reading a book from every country in a year, recording her quest at ayearofreadingtheworld.com. This led to her non-fiction book Reading the World: How I Read a Book from Every Country. Ann continues to blog, write and speak about international literature, as well as building a career as a novelist. Her debut novel was the international bestseller Beside Myself. Her second is Crossing Over.
Christina Ng is a Singaporean writer, journalist and translator based in Berlin. Her Chinese to English translations include poetry by Singaporean poets Liang Wern Fook, Ting Kheng Siong, Dan Ying and Chinese poet Hua Qing. Her translation of Liang Wern Fook's short story collection Joy of Being a Left-hander (tentative title) is forthcoming early next year from Balestier Press. She writes about travel, arts and culture in both English and Chinese.
Daisy Rockwell is an artist and translator of Hindi and Urdu literature into English living in the US. She was awarded the 2022 International Booker Prize for her translation of the Hindi novel Tomb of Sand, along with the author, Geetanjali Shree.
Elnathan John is a Nigerian lawyer, novelist, voice actor and satirist. He is also a freelance researcher and communications consultant with nearly ten years' experience in developing original work and contributing to research and publishing in both fiction and non fiction. His short stories have been shortlisted twice for the Caine Prize for African Writing, in 2013 and 2015. His novel, Born on a Tuesday won a Betty Trask Award and was shortlisted for the Nigeria Prize for Literature. It has been translated into German and French. His satire collection Be(com)ing Nigerian, A Guide was published by Cassava Republic Press in 2019. His most recent book, On Ajayi Crowther Street, a graphic novel, was also published 2019 and translated into German in 2022 by Avant Verlag under the title Lagos: Leben in Suburbia. Elnathan was on the jury of the 2019 Man Booker International Prize. He lives in Berlin.
Francis Bond is a Professor at the Asian Studies Department, Palacký University, Czechia. His main research interest is in natural language understanding. He is interested in both structure and meaning, cooperating with researchers across the globe to provide open language resources. Francis has developed and released large semantic networks for Chinese, Japanese, Malay and Indonesian and coordinates the Open Multilingual Wordnet.
Jeremy Tiang has translated more than twenty books from Chinese, including novels by Yeng Pway Ngon, Yan Ge, Shuang Xuetao, Zhang Yueran, Lo Yi-Chin, Chan Ho-Kei and Yan Ge. He also writes and translates plays, and his novel State of Emergency won the Singapore Literature Prize in 2018. He has been the London Book Fair's Translator of the Fair, an International Booker Prize judge, and the Princeton University Translator in Residence. He lives in New York City.
Khademul Islam is a writer, translator and editor based in Dhaka, Bangladesh. He was the literary editor of two dailies, Dhaka Tribune and Daily Star, where he encouraged English translations in Bangladesh. He is the Director of Bengal Lights Books publications, a board member of Dhaka Translation Centre, and the editor of the literary journal Bengal Lights. He has published two books of English translations of Bengali short fiction and poems. His short stories have been included in anthologies, and he is a frequent contributor to national and international publications. He is currently working on a non-fiction book to be published by Bloomsbury UK.
Meenakshy Bhaskar, Artistic Director of Bhaskar's Arts Academy, Singapore and Advisor of Nrityalaya Aesthetics Society, is the daughter of late pioneers of Singapore Dance, KP Bhaskar and Santha Bhaskar. She performed widely from her childhood to early adulthood as Singapore's cultural Ambassador. She is a Young Artist Awardee 1996. Her choreography, though firmly rooted in Bharathanatyam, reflects her eclectic background: Mohini Attam, Kathakali, Kuchipudi, Odissi, Chinese Dance, Malay Dance, Javanese and Balinese Dance, Modern Dance, Jazz, Ballet, Salsa and Mambo. She enjoys teaching, choreographing and collaborations.
Nazry Bahrawi is a literary translator, critic and academic. He translates to introduce Anglophone readers to the rich tradition of Bahasa literature. Trained in comparative literature, Nazry specialises in the study of non-material cultures through literary texts and films of the Malay Archipelago as part of the Indian Ocean cultural sphere. He is an editor-at-large at Wasafiri magazine and the essay and research editor for Journal of Practice, Research and Tangential Activities (PR&TA).
Roy Youdale is a Research Associate in Translation Studies at the University of Bristol. He is the author of Using computers in the translation of literary style: challenges and opportunities (Routledge, 2020) which focuses on the use of corpus linguistics and text-visualisation in the process of literary translation. He is a co-editor with Professors Andrew Rothwell and Andy Way of the forthcoming Routledge book, Computer-Assisted Literary Translation, and has had short story translations from Spanish published in the US and UK.
Sonya Wong is an independent artist who believes a myriad of skills set nurtures art creation. Her spectrum of exposure ranges from playwriting, acting, broadcast presenting, to researching, translating and teaching. She was active as an actor in the local stage scene, and is back again in recent years to pursue her craft in the arts after a seasonal break to hone other skills. Sonya finds joy in her current engagement, which includes lecturing at NUS, presenting radio programmes with Singapore Press Holdings, writing plays and regular training in performing.
Shash Trevett is a poet and a translator of Tamil poetry into English. Her poetry has appeared in journals and anthologies (including POETRY, Poetry London and The North), she has read widely across the U.K and is a winner of a Northern Writers' Award. Her pamphlet From a Borrowed Land was published in May 2021 (Smith|Doorstop) and she is currently working on her first collection, which will also be published by Smith|Doorstop. She has co-edited (with Vidyan Ravinthiran and Seni Seneviratne) Out of Sri Lanka: Tamil, Sinhala and English Poetry from Sri Lanka and its Diasporas (Bloodaxe 2023). Shash has been on judging panels for the PEN Translates awards and the London Book Fair, and was a Visible Communities Translator in Residence at the National Centre for Writing. Shash is a Ledbury Critic and is a Board Member of Modern Poetry in Translation.
Susan Xu Yun is the Head of Translation and Interpretation programme and Associate Professor at the School of Humanities and Behavioural Sciences, Singapore University of Social Sciences (SUSS). Her publications include a monograph, Translation of Autobiography: Narrating Self, Translating the Other, Vol. 136, Benjamins Translation Library. Susan is involved in developing the Bachelor of Arts in Translation and Interpretation and Graduate Diploma in Translation and Technology, the first and only programme of its type in Singapore. She pioneered in setting up Certification Examination for Professional Interpreters and Translators (CEPI/CEPT). She is a member of the Chinese Resource Panel for National Translation Committee, Singapore.
Zelda Tatiana Ng 顏橦 is a multitalented independent arts practitioner who founded GroundZ-0 原。空間 and is currently its Executive Producer and the Creative Director. GroundZ-0 has been invited and commissioned in various festivals in Singapore, such as the Singapore Writers Festival 2021 (The Arts House), Huayi Festival 2020 (Esplanade - Theatre on the Bay), Light to Night Festival 2019 - Bicentennial Edition (National Gallery Singapore) and Singapore International Festival of Arts 2018. In 2017, Zelda Tatiana participated in the Gekio (Asia) Playwright Competition in Nagoya, Japan, where her bilingual (Mandarin/Cantonese) work《我在你左右》(Always on My Mind) was selected as Judges' Favourite.
Zulfadli Rashid is a multi-hyphenated playwright; proficient in both English and Malay language. He is an Associate Artist with Teater Ekamatra and is also a founding member of the playwriting collective, Main Tulis Group. His notable plays include the award-nominated musical  Alkesah, A Clockwork Orange (a Malay-language stage adaptation of the Anthony Burgess' work), Harap (an adaptation from Haresh Sharma's  Hope),  The Chronicles of One and Zero: Kancil , and Balik.  His most recent transcreation of Chong Tze Chien's Poop! into Berak concluded its run at the Esplanade Theatre Studios to warm reviews. Zulfadli looks forward to collaborate with artistes across disciplines, languages, cultures, and nationalities; creating art that will entertain, enlighten, and inspire.