Location
Singjazz Club
101 Jalan Sultan
The Sultan Hotel
Singapore, Singapore 199002
Singapore
Description
The
SingJazz Club
presents
Thursday 21 April 2016 | Doors 9:00 PM
$10 in advance + booking fee | $15 day of show
Jazz vocalist and songwriter Juliet Pang, has an early background in folk, experimental, contemporary music. Early on in her career, she was at the time better known as 'ethereal voice' in one of Singapore's best-acclaimed cult movies, "Eating Air" ("吃风"). She also received a COMPASS Best Soundtrack Award (Lyrics Category) for her collaboration with Singaporean pop singer JJLin (林俊杰) on his composition "被风吹过的夏天" ("The Wind-blown Summer") that was later used as the theme song for popular TV-series "阴差阳错" ("From Zero to Hero").
In 2011, she released her debut album, "The Perfect Journey" ("完美之旅")consisting of 12 of her own contemporary compositions ranging from folk, alternative, pop, electro-acoustic and jazz. The album consisted of all her musical influences over her early journey as a recording artiste and a live performer.
Dedicated to her growth in jazz composition and performance after her fully original debut album, she formed White Noise Quartet. Together with accomplished Sydney pianist and husband, Didi Mudigdo, they focussed mainly on presenting original jazz and latin compositions. Together with versatile Singaporean drummer Tan Boon Gee and revered veteran bassist Eddie Jansen, they premiered at the Singapore Arts Festival 2012, and later released their live album "White Noise Live" (December 2012), a live recording of their performance at Esplanade Theatres by the Bay.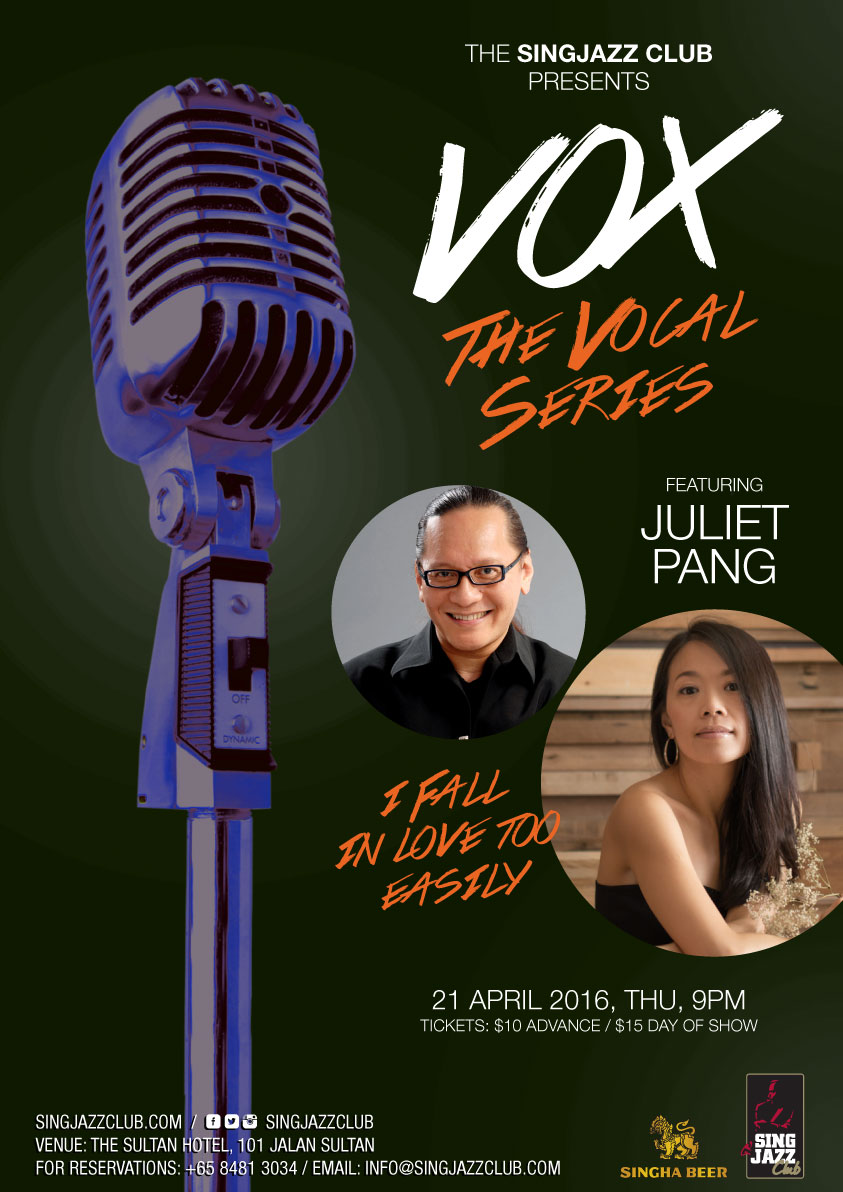 info & reservations +65 84813034
101 Jalan Sultan #02-00 | The Sultan Hotel | Singapore
singjazzclub.com | facebook.com/singjazzclub | twitter.com/singjazzclub | instagram.com/singjazzclub
- No refunds or exchanges allowed.
- Minimum age for admission: 18 years of age
- Dress Code: Smart Casual. No Flip-flops, Shorts, Singlets and - Bermudas etc will not be allowed into the venue.
- Management reserves the right to refuse entry
- Follow us on Twitter x Instagram: @SingJazzClub