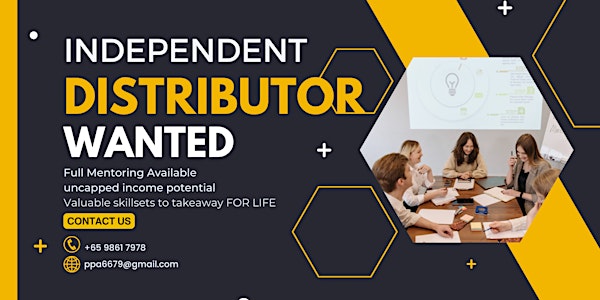 Skincare Consultant Business Opportunity
We Groom Next Generation of Leaders in Sales & Marketing
When and where
Location
CT Hub 2 114 Lavender Street Singapore, 338729 Singapore
About this event
According to Dictionary.com
"Workshop" is a meeting at which a group of people engage in intensive discussion and activity on a particular subject or project.
"e-commerce" is a commercial transactions conducted electronically on the internet.
We have these in place and any individuals wanting to dispute the fact that what we do is not workshop or E-commerce should kindly refer back to dictionary.com
Thank you!
--------------------------------------------------------------------------------------------------------
Do you feel overwhelmed in your business?
Are you not sure what you should be doing every day?
Are you working so hard you are missing out on life?
Are you frustrated that your team isn't duplicating?
Have you reached an income plateau in your business?
We are dedicated to your success and are willing to impart our knowledge to you and groom you to become the next generation of leaders in the industry. Using the power of empathy, quality products, and unparalleled leadership at the core of our business activities, we are poised to create massive momentum!
Hi! My name is Patrick Aung.
As one of the proud leader of the skin care company, I will actively take part in mentoring new distributors to reach desired goals as long as being coachable is the strong suit of the distributors.
Do drop a WhatsApp message to express your interest and we'll be in touch!
Patrick Aung
98617978
Do enjoy a short video about our products and services!