Description
Full Day, 10am to 6pm, SkillsFuture Approved Workshop.
Small Class Training, Max. 6 Participants
Workshop Objectives:
• Learn how to create better Visuals
• Learn how to translate an information into a infographic
• Use infographics in your marketing materials online and offline
By the end of the course, you will learn how to design awesome infographics for your Marketing, Social Media and Digital Marketing Campaigns.
Who should attend:
• Sales & Marketing Professionals who would like to stand out in this over crowded market
• Digital Marketing Professionals, Marketing Consultants
• Adult Educators who would like to use infographics in their teaching materials
• Business Owners who would like to communicate better with their potential customers and buyers



Overview of workshop topics:
1. Introduction to the workshop's objective:
- Theory on Visual Content Marketing
- Case Study and Statistics on engagement for infographics
- Learn about Ads and Graphics that work on Social Media

2. Hands-on activity: Creating a Social Media Post
- Learn about colour palettes, and what makes a social media post increase in engagements
- Learn how to create an Infographic Social Media Post step by step with Trainer

3. Hands-on activity: Creating an infographic
- Best practices when creating an infographic
- Learn how to create an infographic step by step with Trainer
- Design tips for your infographic, and how you can improve on your infographic by choosing the right fonts and colour
- Copywriting : Learn how to write better copy (Features VS Benefits)

4. Hands-on activity: Creating a corporate slide deck
- Tips and tricks to better presentation
- Demo by trainer of how to create typical corporate slide deck template layouts: 6 to 7 types.
- Class Activity: Design your corporate slide deck presentation
- Consultation with Trainer on your corporate slide deck design and layouts

5. Hands-on activity: Creating your very own infographic content or marketing collateral.
- Class Activity: Design your own infographic
- Consultation, and Q&A
What you'll need to bring to class:
• Mac Laptop & Charger
• Mouse & Mouse Pad
Singaporeans above 25 years old, workshop is SkillsFuture Approved & Claimable
No cash required. If you would like to use SkillsFuture Credits for this workshop, please email us directly at
skillsfuture@thegooddesigners.com
and we will send you payment instructions on how you can pay us directly with your SkillsFuture Credits.
SkillsFuture Course Code: CRS-N-0042070
Charmaine is the Founder and Lead Trainer of Sky Digital Agency and The Good Designers.
She is generous in dishing out tips and tricks, and always excited to bounce marketing ideas with participants, helping them to learn within their industry's needs and customer's journey. Charmaine makes learning interactive, candid and fun, helping learners to be excited about applying what they have learned in their work or business even after the workshop.

Always looking for opportunities to pay it forward in the community will her knowledge and skill sets. Charmaine also trains youth at risks (in collaboration with MSF) under The Good Designers.
The Good Designers currently has 7 Workshops Skills Future Approved and Claimable. From YouTube Marketing, Facebook Marketing, Adobe Photoshop and Coding workshops to Infographics Marketing!

More details about The Good Designers: Facebook | Instagram | YouTube | Website
Our Workshop Reviews on Facebook: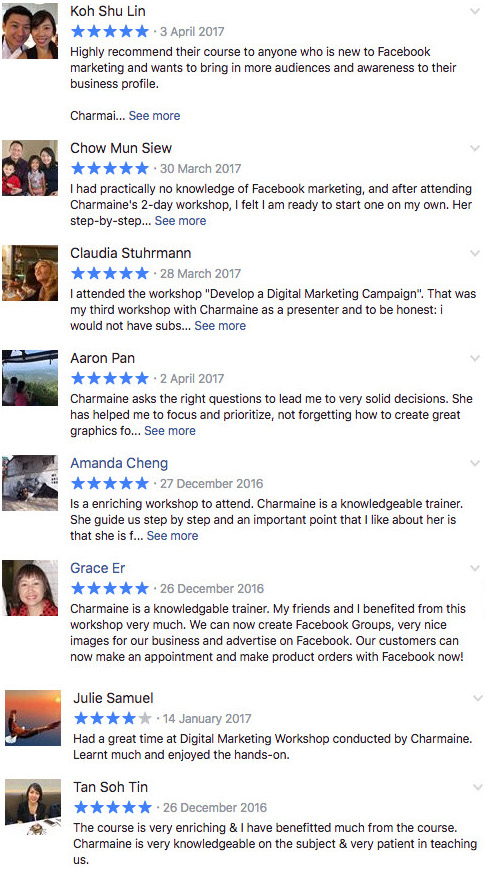 More workshop reviews are available on our Facebook Page
FAQs
1. Who can i contact should i have questions?
You may e-mail us at eventbrite@thegooddesigners.com

2. Is there a minimum class size to proceed?
Yes. We require a minimum class size of 3 people to proceed with the class.
In the event that there is insufficient participants, The Good Designers reserves the right to reschedule the class. Under such circumstances, we will inform you no later than 3 days before the event.
3. Where is the venue of the workshop?
6 Raffles Quay, #15-00, Singapore 048580

Nearest MRT: Raffles MRT, take exit "i" to Ascott at Raffles Place, 6 Raffles Quay is right after Ascott at Raffles Place.

4. I'm driving, where can I park?
There is parking space at the building 6 Raffles Quay itself at $2.50 per 30 min block.
For weekend classes, we recommend our participants to park at SGX Centre, at $3 per entry.
Charmaine conducting a 3 hour workshop with 40 training educators at Life Long Learning Centre under Institute of Adult Learning (IAL), on Ways to Effectively Retain Learning Through Better Visual Presentations.
Corporate Training with 15 Staff of Singapore University of Technology and Design.
Full Day Workshop Training: Infographics & Visual Content Marketing

Don't you just love the pantry. Makes learning more fun when you have different hot drinks to keep you awake! We mean... to help you focus!