Small Business Success: Experts' Exchange on Lead Generation & Conversion P...
Description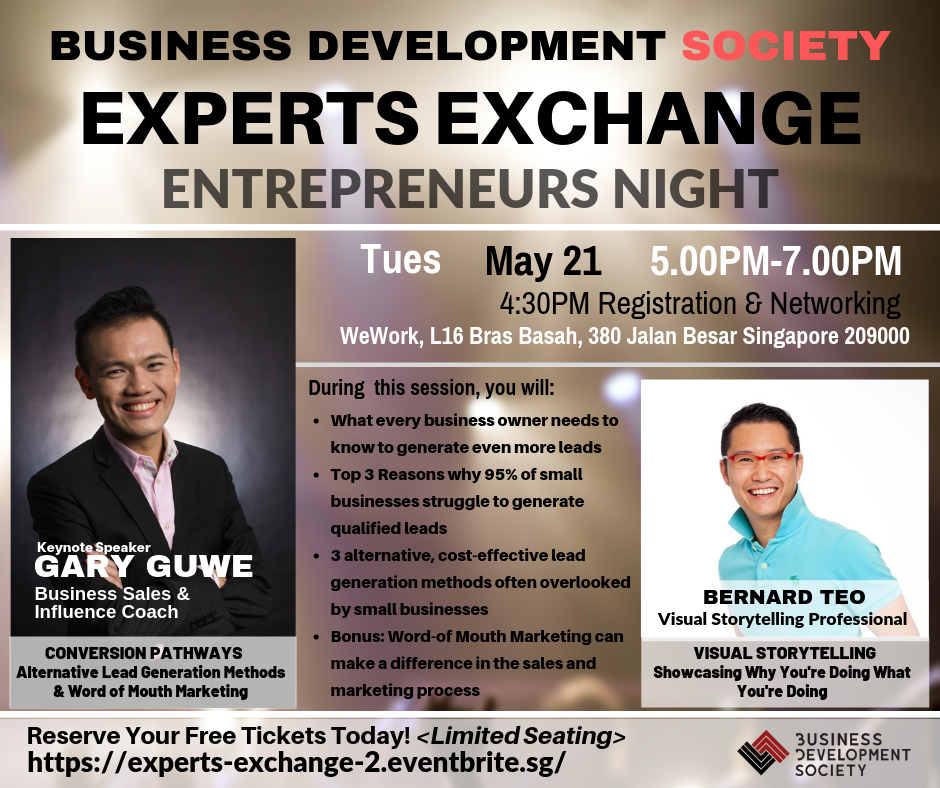 ---
Keynote Speaker
GARY GUWE
Business Sales & Influence Coach
Founder, Catalyst Empowerment Academy
Founder, Business Development Society
Associate Lecturer, ESSEC Business School
Topic: Conversion Pathways & Cost Effective Marketing
Sales is the lifeblood of any business; the ability to sell and close deals is not only critical for any business to survive, but also essential for all businesses to thrive.
Yet, many businesses constantly struggle to generate qualified leads, with many more resorting to costly marketing methods with less than meaningful ROI.
During this session, you will discover:
Conversion Pathways – What every business owner needs to know to generate even more leads

The top 3 Reasons why 95% of small businesses struggle to generate qualified leads

Three alternative albeit proven and cost-effective lead generation methods that are often overlooked by small businesses

Bonus: Gain insight into how intentional Word-of-Mouth Marketing can make a difference in the sales and marketing process
About the Speaker:
Gary is a multiple-award winning speaker and entrepreneur who brings with him 13 years of experience in the areas of public speaking, influential communications, high-performance sales & strategic team building.
He is the founder of corporate training & consultancy company – Catalyst Empowerment Academy – and the founder of the Business Development Society – a growing community of over 3500 SME owners that strives to grow together via community building & knowledge-sharing.
More than just an educator, Gary is a keen student of the science and art of communication and how one may use it to enhance both personal branding and one's sphere of influence in work, business and life.
Beyond mere theoretical knowledge, Gary's strengths lie in his ability to analyze patterns to distil and decipher critical insights, connect the dots, and share tools & principles that are practical and applicable to both work and life for his participants. His adaptability and ability to relate deeply with his audience and create a safe, comfortable environment are also some of the key reasons why he's sought after by business leaders in training and coaching their teams.
---
BERNARD TEO
Visual Storytelling Professional
Topic: Visual Storytelling - Why are you doing what you are doing?
About the Speaker:
Bernard Teo started his career in Wedding Photography in 1999 and has gone on to achieve a Distinction for his MA in Photojournalism and Documentary Photography from the University of the Arts London in 2016. To date, he has helped more than 450 couples relive moments of major milestones throughout their lives by helping them capture their stories. Now he wants to use the natural persuasiveness of Visual Storytelling to help small businesses tell their story and he usually starts with, " Why are you doing what you are doing"
In this upcoming session, Bernard will share why and how to make your story bring in more traffic to your social media platforms.
---
Note:
Please note that no dinner will be served; and only water, tea and coffee will be available at this event.
Getting There:
Public Transport/MRT
ARC 380 is within walking distance from Bendemeer MRT Stn (DT23), and about 10-15 mins walk from Lavender MRT Stn (EW11) and Farrer Park MRT Stn (NE8)
Location Map URL: https://goo.gl/maps/pCfDYkEs4ot
Driving & Parking
Street parking and multi-storey parking options available in the immediate vicinity.