Want to find ways to create possibilities, identify success and achieve better results in ministry?
About this event
Imagine what will happen if people in your organisation became solution-focused in their conversations and thinking patterns, instead of being stuck in problems?
What if they were to focus on possibilities, rather than obstacles?
What if colleagues consistently worked on how to take small steps forward and not get overwhelmed?
By focusing on positive goal orientation and what is already working well, this approach leverages on the positive drivers that initiate change. Small Steps To Big Changes® has transformed many people to be more engaged at work and take quick action steps to create more success for themselves. It develops possibility thinking and helps others move quickly towards it.
I've worked with many global companies and churches and I will be sharing ideas from my book "Small Steps The Big Changes" on how you can help your church overcome challenges.
In this 2-day workshop via Zoom, you will learn how to:
• Lead successful change in an ever-changing business environment.
• Create more wins for yourself and the team.
• Explore possibilities and quick action steps towards the outcome.
• Overcome procrastination and get buy-in.
• Handle tough situations and resistance from others.
• Create optimistic and solution-focused conversations.
Practical Application
Duration of 2-Day Program
Time: 9:30AM - 5:30PM, Singapore Time
Virtual Platform: Zoom
Training Materials will be provided and mailed to participants residing in Singapore!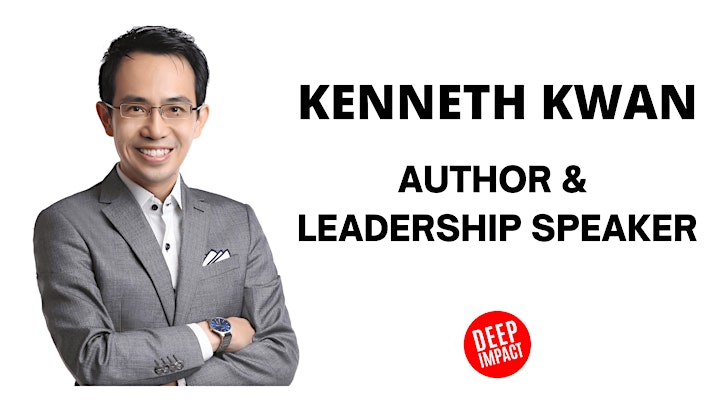 About the Trainer:
Kenneth Kwan is an author, global leadership speaker who has spoken to over tens of thousands of professionals in 18 countries. He has also been engaged to speak in many virtual business conferences and trainings. He is also a published author and his book "Small Steps To Big Changes" is a result of more than a decade of work with clients.
Currently, he serves in his church as an Executive Board member and had served as a volunteer with Singapore Youth For Christ during his young adult years.
More importantly, he knows how to turn your presentations and meetings into a fun, engaging and memorable session.
For more information on Kenneth, please click here .
Organiser of Small Steps To Big Changes for Leaders (Church Groups)
Companies and government agencies have partnered with Deep Impact to create meaningful experiences that enabled tens of thousands of participants in 18 countries to have a sustainable, transformational and long-lasting impact on their business performance. They seek educational experiences that deliver results and real value over a period of time.
With 12 years of diverse experience in conducting keynotes, facilitating strategic meetings and training, Deep Impact continues to deliver high-quality programs to educate people to lead high performing lives and make a deep impact in their workplace and homes.