SMCCI Charity Gala Dinner & Entrepreneur Awards 2016
Description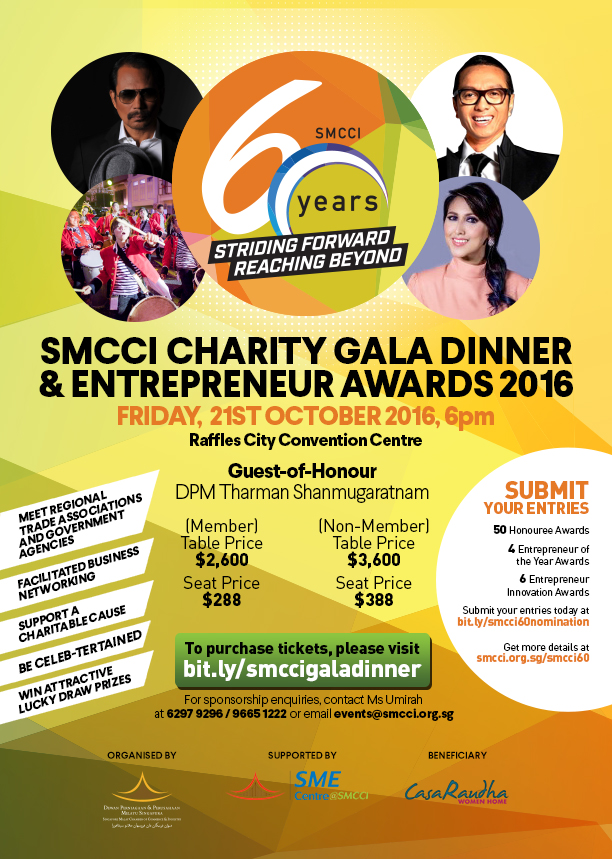 SMCCI60: CHARITY GALA DINNER & ENTREPRENEUR AWARDS 2016
As part of its 60th celebration, The Singapore Malay Chamber of Commerce and Industry (SMCCI) is organising its Charity Gala Dinner & Entrepreneur Awards on the 21st of October 2016. We are pleased to have DPM Tharman Shanmugaratnam grace the occasion as our Guest-of-Honour. Revolving around the theme 'SMCCI60: Striding Forward, Reaching Beyond', SMCCI wishes to acknowledge and celebrate achievements in the spirit of entrepreneurship within the Malay/Muslim business community over the past 60 years as well as pave the way for a brighter economy.
We would like to invite you to purchase tickets to celebrate this special occasion with us, as we commemorate 60 Entrepreneur Honourees in recognition of the spirit of enterprise, including 10 Malay/Muslim Entrepreneurs for their compelling contributions towards their enterprise's performance and the community over the years with the SMCCI Entrepreneur of the Year Awards (Honorary, Man, Woman & Youth Category) and 6 Entrepreneur Innovation Awards. For more information about the event, go to www.smcci.org.sg/smcci60.
To add to this celebration is a 'live' performance by the legendary M. Nasir and hosted by veteran entertainer Najip Ali alongside Nurul Aini. Enjoy the evening filled with great delicacies and a fulfilling networking session with more than 500 business contacts from trade associations and government agencies.
We look forward to having you celebrate this milestone with us!